Australian director Daina Reid earns DGA nom for Handmaid's Tale
Aussie woman feted for Handmaid's
Australian director Daina Reid has been bestowed with a rare honour: a nomination for her work on The Handmaid's Tale at the 71st Directors Guild of America Awards. Competition in the direction in a dramatic series category is tight, with Jason Bateman for Ozark, Lesli Linka Glatter for Homeland, Adam McKay for Succession and Chris Long for The Americans. If you were a betting man, Reid has a genuine shot; her only real competition is industry veteran Linka Glatter. Reid's credits include INXS: Never Tear Us Apart, Paper Giants; The Birth of Cleo and Howzat: Kerry Packer's War. The winners are announced on February 2.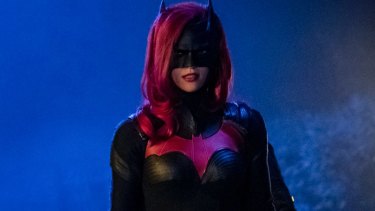 Salem slays em
Like sands through the hourglass, so does the long-running daytime serial Days of our Lives glide into a 55th season. The US network NBC has confirmed its daytime crown jewel will live to fight for another year. "It's a great day in Salem," says the show's producer Ken Corday, the son of founding producers Ted and Betty Corday. "Our dedicated and passionate fans, we owe it all to you," he says. The series airs in Australia on Foxtel and has, at times, starred high-profile Australian actors, notably Thaao Penghlis, who plays the show's suavely villainous Andre DiMera, twin brother of Tony. The series premiered in 1965.
Rosy deal for Rose
Australian actress Ruby Rose will don the cowl and cape once more, with US studio Warner Bros confirming it will proceed with a pilot for a Batwoman series. The deal was all but done as Rose took a guest starring bow in the Supergirl-Flash-Arrow crossover stunt Elseworlds in December, which makes the announcement that the pilot is a goer a mere formality. Game of Thrones director David Nutter is signed on to direct the pilot, and Caroline Dries and Greg Berlanti will produce. It will air on The CW in the US and, though no deal has been done, will likely follow the other Warner Bros-produced DC titles onto Foxtel in Australia.
From Vikings to outer space
Australian actor Travis Fimmel has locked in a lead role a new series, Raised by Wolves, which is being produced for the US channel TNT. Fimmel is best known for his role in Vikings which is filming its sixth and final season this year; Fimmel left the series after its fourth season when his character, Ragnar, was killed off. In Raised by Wolves Fimmel will play an android named Father who, with an android spouse, is raising human children on distant space colony. The first two episodes of Raised by Wolves will be directed by Oscar nominee Ridley Scott, who will also executive produce the series.
90210 revisited?
When is a reboot not a reboot? When a promised reboot of Beverly Hills 90210 turns out to be nothing but a reality TV red herring. Still, the show's original cast would do well to note the speed with which the idea of a return to the first 90210 was embraced by fans and critics alike. Former 90210 cast members Jennie Garth, Jason Priestley, Tori Spelling, Ian Ziering, Brian Austin Green and Gabrielle Carteris were shopping a mockumentary in which they would play themselves in their post-90210 lives, grappling with fame and mixed fortunes. Only two of the show's original cast are not involved in the project: Shannen Doherty and Luke Perry.
Evil Vulcans begone
Quick update for those following the interplantary politics of the Star Trek universe: the Romulan Empire has dissolved. Into what, we wonder? The news comes from Star Trek boss Alex Kurtzman who has given The Hollywood Reporter a glimpse into the new Captain Picard-led series, set after the events of the Next Generation movies. "Picard's life was radically altered by the dissolution of the Romulan Empire," Kurtman has said, so make of that what you will. (The Romulans, you may recall, were basically evil Vulcans.) Kurtzman also did not rule out appearances in the planned series by other TNG-era characters. "Anything could happen," he said.
Michael Idato is entertainment editor-at-large of The Sydney Morning Herald and The Age.
Most Viewed in Entertainment