DJ Casey Kasem, King of American Top 40, dies at 82
Casey Kasem, a disc jockey who never claimed to love rock 'n' roll but who built a long and lucrative career from it, creating and hosting one of radio's most popular syndicated pop music shows, American Top 40, died Sunday in a hospital in Gig Harbor, Washington. He was 82.
His death was announced by Danny Deraney, a spokesman for Kasem's daughter Kerri.
Kasem had Lewy body dementia, a progressive disease of the body's neurological and muscle cells.
In his final months, Kasem, who had lived in Beverly Hills, California, was at the center of a family legal battle over the terms of his death, pitting his wife, actress Jean Kasem, against his three adult children from a previous marriage. Jean Kasem removed her husband from a Santa Monica nursing home on May 7 and took him to stay with friends in Washington state. By court order, he was moved to the hospital on June 1.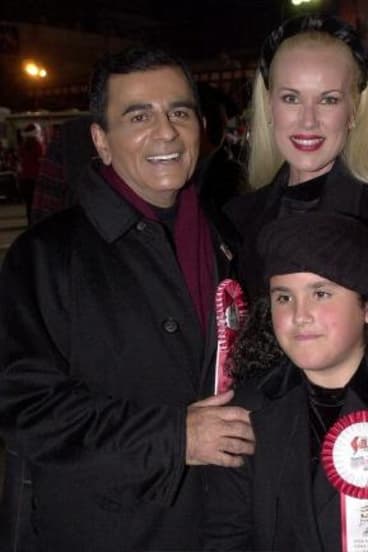 Kemal Amen Kasem was born in Detroit on April 27, 1932. His parents, Amin and Helen Kasem, were Lebanese immigrants who owned a grocery store. After graduating from Wayne State University in Detroit, he worked in local radio, produced broadcasts for the Armed Forces Network during a stint in the Army and landed in Los Angeles, at KRLA, where he developed his trademark of introducing records with historical tidbits about the artists and their songs. For a time he also had local television dance show.
Kasem had always wanted to be a movie actor, he told interviewers, but never had much success beyond cameo roles in films like New York, New York (1977), in which he played a 1940s DJ, and Ghostbusters (1984), in which he played himself.
His biggest role off the radio was in the TV cartoon series Scooby-Doo, Where Are You! as the voice of Shaggy, the canine hero's goofy companion. In the 1970s and '80s his voice was heard on television commercials for Sears, Ford, Chevron and Oscar Mayer.
In 1970, along with Don Bustany, a Hollywood movie producer and childhood friend, Kasem came up with the idea of a countdown radio show modeled after Your Hit Parade and proposed it to the syndication company Watermark Inc, which was later bought by ABC Radio Networks.
Casey Kasem's American Top 40, which first aired in the summer of 1970, was a weekly four-hour feast of homey sentiment and American optimism that ran headlong into the prevailing spirit of rebellion in the music culture of the day.
Kasem's American Top 40 radio show was broadcast in Australia on Sunday nights in the 1980s.
The show gave new life to the top 40 format at a time when the popularity of the 45 rpm was waning and FM DJs were experimenting with more personal formats, creating playlists from their favorite long-playing album cuts.
Kasem, instead, featured only the singles that Billboard magazine had ranked as the country's most popular in the past week, based on its analysis of airplay - a playlist, in effect, based on the national pop consensus.
Building a radio show on the notion that such a consensus existed was considered a risky proposition in that culturally splintered time. As Time magazine put it, "He embraced corniness as Vietnam-era cynicism peaked." But the format struck a chord.
Only five radio stations carried the debut of American Top 40 on July 4, 1970. But within a year more than 100 did, and by the mid-'70s it had reached nearly 1000 outlets "coast-to-coast," as Kasem liked to say, making him one of the best-known DJs in the country.
American Top 40 became a mainstay of US radio, offering a crowd-pleasing menu of hits seasoned with Kasem's heartfelt readings of listeners' song dedications, wholesome anecdotes about the lives of the pop stars, and an endless store of solid, if cringe-inducing, pieces of advice, like his touchstone signoff: "Keep your feet on the ground and keep reaching for the stars."
He modeled his radio show, he later told interviewers, on the old NBC radio program Your Hit Parade (also known as The Lucky Strike Hit Parade).
"I thought we'd be around for at least 20 years," he said. "Because I knew the formula worked."
Kasem also hosted a syndicated television version of the show in the 1980s. But his relationship with American Top 40 ended in 1988 because of a contract dispute with his syndication company. The next year, he started Casey's Top 40, a competing radio program on another network, bringing most of his old audience there with him.
About 10 years later, after acquiring the rights to the name, he was again hosting a show with the title American Top 40 (and for a time hosted both that and the competing Casey's Top 40.) He ended his three-decade run in 2004, handing the hosting duties to Ryan Seacrest, who continues in that role. Kasem retired in 2009.
Kasem, who had a financial interest in his shows, had a net worth estimated by several sources at $80 million. Last year he put his house in the Holmby Hills area of Los Angeles on the market for $42 million.
Rock 'n' roll was never his passion, he told interviewers. He knew his subject, and kept up with it in a professional way, but when home, he told Billboard, "I find myself just wanting to sit in my office and make it as quiet as possible."
"If I were doing a real rock show," he told The New York Times in 1990, "then it would matter to know how I felt about what I was playing." But, he added, "I'm just counting them down as they appear on the chart, one through 40. What really matters is what I say between the songs."
Between the songs, Kasem managed to herald the newest of the new with a broadcast style that felt comfortingly old. He set the tone with a neighbourly but precise 1940s-style diction, honed to amiable perfection in a second career as a voice-over artist. With plain-spoken warmth and a partiality to sentiments and phrases ("coast to coast" and "sweetheart" were his favorites, hands down), his delivery evoked another time.
"Hello again, everybody," he said to open most of his shows. "I'm Casey Kasem, and welcome to American Top 40. I'm all set to count down the 40 most popular songs in the USA."
When he used biographical teasers to introduce songs ("a high school dropout and a runaway, with a mother who was married six times - coming up," referring to Cher), Kasem echoed Paul Harvey on his folksy, long-running news broadcasts. But he told The Times that the technique harked back to his childhood in a Middle Eastern immigrant neighbourhood of Detroit.
"I was drawing on the Arabic tradition of storytelling one-upmanship," he said. "When I was a kid, men would gather in my parents' living room and tell tales and try to outdo each other. I couldn't understand the language, but I was fascinated."
Following the Israeli invasion of Lebanon in 1982, Kasem, whose parents belonged to the Druze sect in Lebanon, an offshoot of Islam, became a vocal advocate for Middle East peace and Arab-American causes. In later years he was active in promoting Arab-Israeli dialogue, making personal appearances at mosques and synagogues around the country.
In addition to his wife, who played the tall, blond, dimwitted character Loretta Tortelli on the sitcom Cheers, and their daughter, Liberty, his survivors include his three children from a previous marriage, which ended in divorce: Julie, Michael and Kerri Kasem.
In 2007, after he learned he had Lewy body dementia, Casey Kasem gave his three eldest children legal authority to act as his health care proxy at whatever point he became unable to make decisions himself. The agreement stipulated that he did not want to be kept alive with "any form of life-sustaining procedures, including nutrition and hydration," if he lost all cognitive function and was given no hope of recovery. Differences between the three older children and Kasem's wife played out in increasingly bitter courtroom clashes in the final months.
Kasem, with an audience of 10 million listeners in his heyday, made politeness and decorum hallmarks of his broadcast. His courtly voice seemed capable of rendering the most raunchy song titles in appropriate-sounding phonemes, and when not able, to swerve around the problem effortlessly.
He would not say I Want Your Sex when that was the title of a 1987 hit song, for instance. Instead, Kasem introduced that one as "George Michael's latest."
Given the audience he imagined for himself, Kasem could hardly do otherwise. "I picture people in a car, with Mom and Dad in the front seat, a couple of kids in the back seat, and a grandparent as well," he told Billboard.
In another interview, he said: "I feel good that you can be going to synagogue or church and listen to me, and nobody is going to be embarrassed by the language that I use, the innuendo. Quite frankly, I think we're good for America."
- New York Times, with Deborough Gough
Most Viewed in Entertainment
Morning & Afternoon Newsletter
Delivered Mon–Fri.