Father knows best
Dad's the word for this Puberty Blues star, Claire Low writes.
Jeremy Lindsay Taylor will be recognisable to fans of Underbelly and Bikie Wars. For Puberty Blues, he had to tap into his softer side to play a 1970s suburban dad, Martin Vickers, the father of Debbie (Ashleigh Cummings).
Taylor got up close and personal with Relax about impending fatherhood in real life as well as fatherhood on-screen.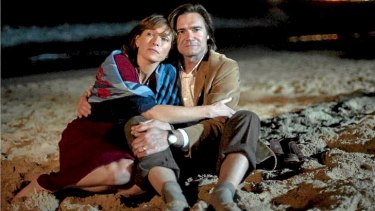 Were you a fan of the book at all?
I'd seen the movie all those years ago; I hadn't read the book. When I got the role I read the book and was kind of shocked at how vivid it was. It didn't pull any punches and wasn't sugar-coated. I was excited to hear that's where the series was heading - close to the book, raw and real.
Your character is a typical suburban dad of the time. Did you do anything special to get into character?
There's a lot of me there but also not, as well. I mean I used a few different people [for inspiration]. His journey was an extensive one which is a joy to play. He was at a point in his life when he was thinking, 'What have I actually done with my life?' and it was a nice journey he had. It was a real challenge to play him after playing so many dark characters. You have to be vulnerable and that's kind of scary. Claudia [Karvan, who plays his wife] and I were both cast against type. At first we were a bit nervous about it but once we got going and supported each other we enjoyed it.
Claudia is extraordinary, what's it like acting opposite her?
Incredible. Yeah, she is a true professional and a lot of fun. She doesn't take herself too seriously; we had a lot of fun on that set.
A lot of conflict in Puberty Blues comes from the way the young surfers treat girls. Is their experience similar to yours?
Not really, no.
Tell me about yourself at that age.
I was raised to respect women. I had an older sister who made me respect women. It took me a while to get the confidence to talk to girls.
Those young boys are pretty rare. They're very experienced and confident. That wasn't my childhood.
At the heart of it it's a coming-of-age story. Do you have some coming-of-age tales?
Not really, no. I grew up on five acres. It was different from the beach culture and my [upbringing] was more about going and seeing rock bands and riding horses and motorbikes.
That sounds relatively wholesome.
Yeah. Relatively. I had my moments and that's as far as I'm going to go there.
Are you a father yourself?
No, expecting.
Does that add an extra layer of interest? You're to be a dad and here you are acting like a dad?
Definitely. It's kind of scary. It feels like just yesterday I was playing a school kid myself in Heartbreak High and now I'm playing a father of two kids - a teenage girl and a boy. Yeah, it definitely made me think a lot about it. If I have a girl that will be very interesting indeed because of the insight this show has given me into young girls and their antics.
I was hoping if life imitated art at all, I could ask you about watching your own kids come of age. Somehow fathers in particular seem to really struggle with watching their daughters hit puberty.
I guess they know what boys are like as well and what kids get up to. It must be very daunting, I would imagine. You can't protect them forever and they have to live their own lives. That's what's great about Debbie and Sue [the lead characters] - they find that strength to rise above all that crap the boys put them through.
Did you enjoy the nostalgic elements of Puberty Blues being set in the 1970s?
It helps you become part of that world. The Vickers' home was like a museum of the '70s … The haircuts, it all helps. As for wardrobe, I wore a lot of brown. Everyone I know who has seen it finds themselves going back to the '70s and that's great. That's what TV should be - escapism.
What's next in the pipeline?
We all have our fingers crossed for a second series.
What, ultimately, would you like viewers to get out of your performance as Martin Vickers?
I'd like them to see a fully-formed real human being on the screen. Not see any kind of stereotypes, just a living person who is not Jeremy Lindsay Taylor. That is what I work hardest at.
Most Viewed in Entertainment