Free-to-air TV: Friday, March 1
The Doctor Blake Mysteries, ABC1, 8.30pm
THE only problem with The Doctor Blake Mysteries is that as the series tries, and succeeds, in replicating and giving us a truer sense of Australia in the late 1950s, due to legislation no one is ever seen smoking. This was a time when even the cat had a ciggie out the side of its mouth. But that aside, this is, from what I can gather, a clever and realistic presentation of life in a very different time. It's a more relaxed and simple existence, especially in lovely rural towns where begonia festivals are the highlight. Feuding families, mystery and murder, and a twist left right to the end I never saw coming. And if you smoke, maybe just blow it at the television and recreate the period for yourself.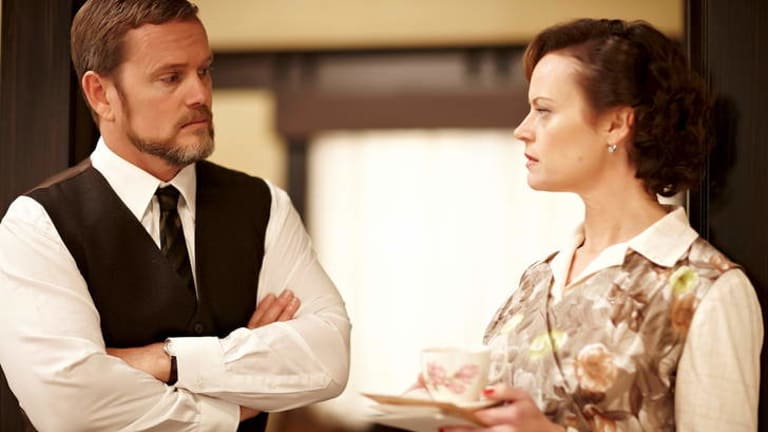 LUKE STREVENS
The Living Room, Channel Ten, 9.30pm
ANY other night of the week and this oddly shaped lifestyle show would surely have been buried by now, sharing a grave with long-forgotten programs such as Money for Jam. But while the ABC makes hay with its period drama The Doctor Blake Mysteries, Seven mops up with its enduring Better Homes and Gardens and Nine rolls over with a movie, Ten is at least providing an alternative. If only it were a better show. Although the presenters try hard to dispense with the cloying cheesiness that comes with the format, there's little left to wring from the predictable line-up of stories on travel, cooking and you guessed it, notable houses. Tonight's segments include Miguel Maestre and Bondi vet Chris Brown abseiling the Strathgordon Dam (do your bit for the folks in Tassie doing it tough after the bushfires), Barry du Bois visiting an architectural extravaganza of a bush shed, and a truly idiotic story on how to save housekeeping money.
PAUL KALINA
Better Homes and Gardens, Channel Seven, 7.30pm
I MUST confess that I am extremely jealous of David Koch, tonight's extra-special guest. Though it might look as if he's on simply to cross-promote the Sunrise program, also on Seven, he is actually appearing on BHG to make me green with envy as he drives the very Ford Mustang I have always wanted to own and then shows us his house, which can only be described as utterly awesome. Everyone on this show lives the good life: cooking delectable food in front of a scene that can only be described as paradise; enjoying the new surfboard table next to a beautiful tropical island vista. We return to reality only when Dr Harry has to deal with a problem chicken, Fluffy. There's one in every coop, isn't there? Silly Fluffy won't stop trying to incubate her eggs even though there isn't a rooster anywhere to be seen. Never fear, the doc is here with a foolproof plan. I do wonder if anyone ever watches this show and then actually goes out and makes the stuff, for some of it is really worthwhile - like the worm garden - but for me, I just can't stop thinking about that Mustang. Damn you Kochie, damn you.
LUKE STREVENS
Most Viewed in Entertainment
Morning & Afternoon Newsletter
Delivered Mon–Fri.