Free-to-air TV: Thursday, February 7
My Kitchen Rules, Channel Seven, 7.30pm
WELL, we've whizzed through group one and now we're on to group two, again starting with a Melbourne pair, cousins Sam and Chris. Again, they're enormously likeable but - without wanting to spoil too much - it's fair to say they're not up to the standard of Kerrie and Craig. In the end, though, this isn't about the food, is it? After years of MasterChef (and Ready Steady Cook, and good old Huey), I don't know that any home viewer is really in need of amateur instruction on how to prepare risotto. What the cooking provides is open flames, sharp knives and common ground on which everyone feels like an expert and therefore feels more than qualified to pass judgment. So while Sam and Chris faff about with their pasta, what we're watching for is the conversation around the table and that's always especially awkward, fraught and lively when the contestants are just getting to know each other, as they are tonight. Along with Sam and Chris, we have personal trainers Luke and Scott, who are likeable but doomed given they're dedicated to proving healthy food can be delicious; Dan and his wife, Steph, the tattooed lady; there has to be a ditzy pair, and that's Jenna and Joanna; there's a feisty mother and daughter, Lisa and Candice; and the (sigh) life of the party, Ali and Samuel. As always, it's a mix designed to create interest, and fireworks, and the makers of this series know just how to deliver, from the zooming close-ups to the lingering holds on awkward pauses. So if, when it comes to actual food preparation there's not a lot to get you ''inspirated'' (to borrow a term from the cupcake queens), there's certainly plenty to keep you entertained.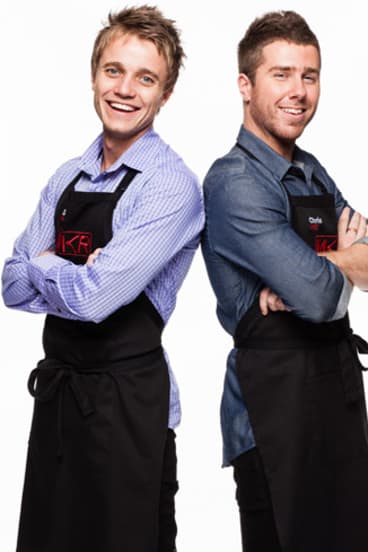 Catalyst, ABC1, 8pm
THE wonderful thing about Catalyst and its predecessors (including the now-amusingly titled Towards 2000) was their ability to address important and often complex scientific issues intelligently but make them accessible and entertaining. In an age when science rules our lives like never before, the ability to deliver that is even more important. So it was with some sadness I watched this first in an ''on the road'' series of specials, in which three escapees from Beauty and the Geek take primary school science and make it all slightly embarrassing.
Bones: series return, Channel Seven, 8.30pm
CYNDI Lauper guest stars in a sentimental episode that centres on the corpse of a young teenage boy. This gets everyone thinking of their own kids (they've been breeding like rabbits at the Jeffersonian) and when psychic Avalon (Lauper) tells the crew the boy's spirit is calling her - and watching them - one by one even the most sceptical begin to address the dead boy's skeleton as if he were alive. This conceit is assisted by spooky swirls of smoke into and out of the ad breaks, and half the action shot from the point of view of the boy. Bonesmore than survived the transition from Bones and Booth's unrequited love to requited love. Bones' continuing efforts to become a Real Girl and the pair's odd-couple chemistry were, and are, wonderfully entertaining. WhereBones is starting to struggle is in its crime of the day. They've explored the extremes of gore and improbability and, if this set-up is a cute twist, it's also evidence the writers are wondering what the hell to throw at us next.
Most Viewed in Entertainment
Morning & Afternoon Newsletter
Delivered Mon–Fri.