Free-to-air TV: Thursday, January 17
The Hour, ABC1, 9pm
IT'S lazy but inevitable that The Hour, set in 1957 at the BBC, draws comparisons with Mad Men, given the lush production design and lingering camerawork, but it's a decidedly different pace of storytelling. Only three episodes in and there are marital problems (between Hector, played by the brilliant Dominic West, and his wife Marnie, Oona Chaplin), a nod to the social changes of the day with the controversial Wolfenden Report, which sought to overturn the laws governing homosexuality, plus ongoing Cold War paranoia. Stylish and mostly well written (although some of the references to the social upheavals of the time feel a little heavy-handed), The Hour is certainly more compelling viewing than the ultra-contemporary The Newsroom.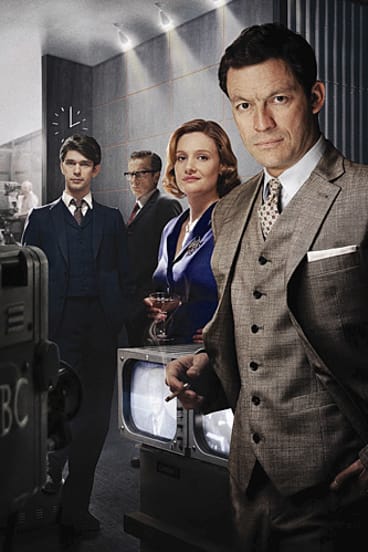 Nigellissima, ABC1, 8.30pm
INSPIRED, apparently, by her gap year working as a chambermaid in Florence, Nigella Lawson's latest series aims to evoke ''the spirit of Italy'' merely by using ingredients available in the average supermarket. Yes, it features her signature soft-focus camerawork and faux dinner guests but, unlike many cooking shows, Nigella squeezes a lot of actual cooking into her programs and, as anyone who's followed her recipes will testify, they're very achievable. Especially as she's a great fan of ''cheating'', often using substitute ingredients or frozen fruit and veggies. Tonight she cooks her guests a roast pork loin, broad beans, peas and artichokes, and berries ''blanketed'' in white chocolate and limoncello dressing. All narrated with Nigella-esque language - she ''clatters'' peas into the pan, ''tumbles'' in berries and ''scritches'' ingredients around. The camera pans sexily around Nigella's state-of-the-art kitchen (actually a set built to replicate her actual kitchen, apparently), all stainless steel and exotic utensils, overlooking a small garden where, in this episode, Nigella takes espresso and fresh-baked sambuca kisses - tiny, deep-fried doughnut-like fancies she describes as ''light fluttering caresses in the mouth''. Ahem.
Most Viewed in Entertainment
Morning & Afternoon Newsletter
Delivered Mon–Fri.