Free-to-air TV: Tuesday, November 20
The Big Bang Theory, Channel Nine, 8.30pm
THE rest of Channel Nine's schedule has become predictably packed with repeats of this comedy as the ratings year winds down, however on Tuesday night you can still watch episodes so fresh they're sizzling (and not able to be previewed, they're getting here so fast). But going on the form of this season so far, you won't be disappointed. Wolowitz is back from space, of course, returning the four friends to their proper configuration, and the addition of the two lady geeks to the mix gives everyone a bit more room to move. As always, its Jim Parson's Sheldon who provides the comic anchor - and he really does it superbly - but everyone plays their part and it's fun simply to see Johnny Galecki as the romantic lead. Who would have thought? The other thing that's always nice about Big Bang is the tenor of the gags.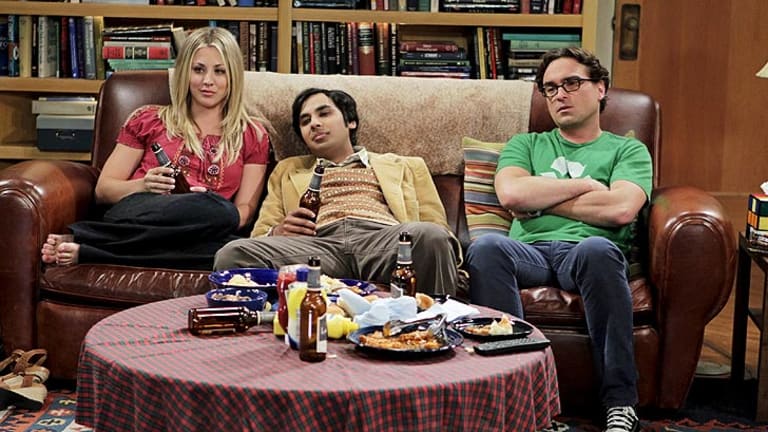 The X Factor: final, Channel Seven, 7.30pm
WHILE the talent on display in this series has undoubtedly been genuine, the judging appears to have been almost a complete piece of fiction. I'm sure I'm not the only one to have been scratching their heads or exclaiming what the f--k! at various post-performance pronouncements, many of which are then absolutely contradicted by the same judges the next night. (''I know I said they'd have to try harder, but it was a brilliant performance, they're true artists, and no professional could have done any better than that …'') Of course, it's one of the oldest tricks in the book - bag a contestant in order to get the at-home audience voting for them. Which perhaps explains Guy Sebastian's increasingly desperate attempts to keep ''the overs'' in the mix. And at least it's been an entertainment. Tonight, of course, it's no longer about the judges. It's all about the kids. Or ''the artists'' as we're repeatedly reminded on this show. And after an hour or more of palaver and several extravagant song-and-dance numbers, we will eventually discover just which of the final two acts will walk off with the prize.
Grimm: series permiere, Channel Seven, 9.30pm
THERE are lots of supernatural fantasy thrillers doing the rounds at the moment, from the sublime heights of Game of Thrones to the camp pleasures of Once upon a Time and 666 Park Avenue, but this clever series - concluding its second season on pay TV and starting it's first here tonight - is unquestionably one of the best. Like Once upon a Time, it takes familiar fairy tales and twists them into all sorts of strange and intriguing shapes. (And we're pretty sure it sometimes just makes up ''fairytales'' in order to advance the plot - but it does it very convincingly.) It also works extremely well as a crime caper. Our hero, Nick, is both a demon hunter (apparently Grimm's ''fairytales'' were not fairytales at all, but the diaries of generations of hunters) and an ordinary police detective. So each week is a whodunit, but with a deliciously supernatural bent. Most importantly, it has some truly wonderful characters, several of whom you'll meet tonight: Nick himself; his complex, conflicted Captain Renard; and the one who goes on to regularly steal the show, a chap called Monroe (you'll just have to watch to discover more).
Croker Island Exodus, 8.30pm, ABC1
THERE'S nothing wrong with popcorn TV: the stuff you watch to switch your brain off. But I do love TV that simultaneously manages to engage, entertain and educate, especially when that education is about our own history and society. And that's what this terrific documentary does brilliantly, retailing an almost unknown snippet from our wartime history. Croker Island was a Methodist mission off the coast of Darwin. When the Japanese started attacking our northern shores, it was ordered to evacuate but no one bothered to actually organise how that might be done. Using lovely re-enactments, interviews with survivors and terrific archival footage, this tells the story of how innocent twentysomething Sister Somerville almost single-handedly managed to get 95 children off the island, through Arnhem Land and the Red Centre, and eventually to Sydney. It's an extraordinary tale.
Most Viewed in Entertainment
Morning & Afternoon Newsletter
Delivered Mon–Fri.