Free-to-air TV: Wednesday, December 12
Wedding Band, Channel Ten, 7.30pm
BOUNCING off the great premise of an ingeniously adaptable band for hire, this sophisticated screwball comedy is full of searing insight into the mating game from the lads' perspective. After a killer first scene in which the boys (Brian Austin Green, Peter Cambor, Derek Miller, Harold Perrineau) officiate at a science-fiction lovers' wedding, the plot takes a worrisome turn into corn territory as they hatch a scheme to make their nerdy schoolboy fans cool enough to win the girls of their dreams. The brilliant writing, especially Asher Roth's lyrics that Tommy (Green) sings to a pumping teenage crowd, saves the inherently Samaritan message from tasting too sugary.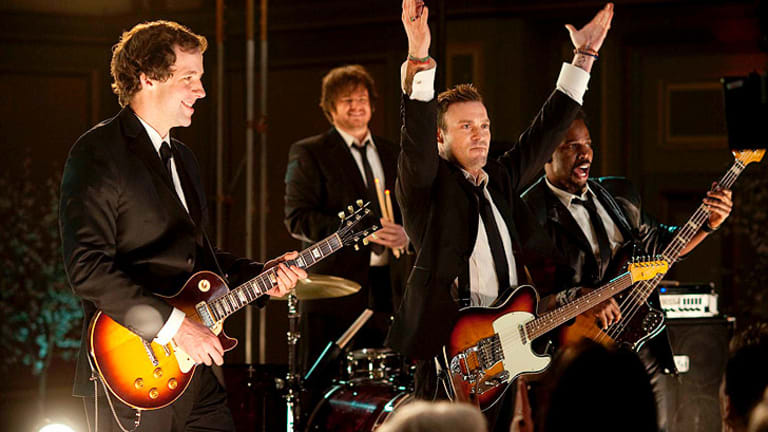 Joan Rivers: A Piece of Work, ABC2, 9.30pm
PUTTING aside all preconceptions of Joan Rivers (as the famously self-effacing comedian says, her name is a punchline for jokes about ageing and plastic surgery), this is an insightful, painfully honest portrait of a true performer, in the old-school showbiz sense of the word. Her life, as she paints it with strokes of biting cynicism, is one utterly devoted to her craft, and her supersonic drive to stay at the top of her game, relevant in a shifting entertainment industry that grossly undervalues old women. Rivers is just as hungry for the limelight in her 70s as when she was a strikingly handsome blonde comic 40 years ago on The Johnny Carson Show. She emerges through the devastating grind of the working actor as a fascinating and loveable person.
Grimm, Channel Seven, 8.30pm
MARRYING the television cop with the eminently fashionable supernatural felon, this enjoyably ridiculous police procedural economically travels the emotional breadth of a feature film. With storylines of almost epic proportions, it invokes a world of animalistic instinct clashing with modern values. The outlandish premise demands serious suspension of disbelief. Like the Snow White detective series Once upon a Time, Grimm hinges on a dusty prop, in this case an ancient tome of Grimms' Fairy Tales possessing magical powers to bring mythical creatures to life. Thus, the hapless detective and unwitting ''Grimm'', Nick Burkhardt (David Giuntoli), must negotiate with people who are half beasts, such as a fire chief masquerading as a ''Bauerschwein''; and the murderous ''Blutbad'', Angelina (Jaime Ray Newman, Drop Dead Diva), who is half-woman, half-wolf. Needless to say, it all ends in a predictable triumph, overshadowed by the threat of it happening again next week.
Anger Management, Channel Nine, 10.30pm
THE way Charlie Sheen carries himself in this snappy, gentle comedy, it's conceivable his self-broadcast meltdown was a spectacularly successful publicity ruse. With the timing honed on Two and Half Men, Sheen guides the cast through delightfully silly scenarios while stealing the best lines for himself. The thrill of watching an actor famously back from the brink is matched by his comedic skill; the banter is quick and reliably funny.
Most Viewed in Entertainment
Morning & Afternoon Newsletter
Delivered Mon–Fri.