Green Guide letters: TV viewers bite back
Cutting-edge TV
Oddlands (ABC) was a standout production. Two disabled young men never put a foot wrong in their roles as cleaners in a toxic wasteland. They are the eternal optimists, always hoping for the kind of normal life they will, sadly, never achieve. This is television at the cutting edge, imaginative, confronting and ultimately chilling.

Helen Scheller, Benalla
Mean spirit
Brickbats to both Channels Nine and Ten for ignoring this year's female Moomba monarch in their news coverage on the parade; is it because Jane Bunn is a Seven personality? If so, it shows a mean spirit and goes against what Moomba represents.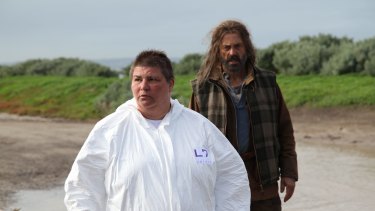 Roger Farrer, Hampton
Witty insights
As sad and tragic as John Clarke's passing was to rob us of our weekly Clarke and Dawe fix, what a blessing it is to have Sammy J fill the void. His clever, witty insights into the political shenanigans of Canberra are the work of a genius.

Greig Morris, Tullamarine
Sammy J 'pure gold'
Sammy J's five minutes every Thursday evening is the highlight of our viewing week. The "auction" of retiring Liberal ministers last Thursday was pure gold. The song about Julie Bishop and her shoes the previous week had us rolling on the floor. Most cathartic after all the rubbish of real politics.
Jan Hart, Narre Warren South

How not to behave
Married At First Sight is supposed to be an experiment in finding love. Unfortunately, and very alarmingly, what we, the viewers, have been witness to has been abuse. Mike has been gaslighting Heidi in his attempts to navigate their relationship. One of the so-called experts, John Aikin, has jumped on board to support Mike and encourage this insidious behaviour. Rather than this show being an experiment, it is a demonstration of how not to behave in many instances, and Channel Nine needs to have a think about the show's moral judgment.
Liz Danenberg, Mildura

Vital viewing
The extraordinary, powerful, beautifully made documentary After The Apology (on SBS on Demand) deals with the current escalating removal of Aboriginal children from their families conducted in a terrifying way by government agencies and the police. The stories of four Aboriginal grandmothers from Grandmothers Against Removals (GMAR) are deeply disturbing and inspiring. It's only on until end of March and is vital viewing.
Carole Sklan, Brunswick

Suffering from Sydney focus
Here's one for new ABC chair Ita Buttrose to solve: the Sydney-centric Sunday midday news. On March 10 us Victorians were forced to endure the NSW premier's policy speech; almost for the full half hour!

Jim McLeod, Sale
Neighbours brings diversity
If Maureen Kutner (Letters, 7/3) has never watched Neighbours, I'm unaware of her qualification to compare it with ABC's The Heights, nor deem the former to be "white bread and Vegemite", lacking in realism or multiculturalism. However, I'm excited she's come out from behind her self-proclaimed snobbery to try something new. I suggest she broadens her world and visits the long-running Neighbours with its diverse cast, topical storylines and dedication to tackling community issues such as marriage equality and ovarian cancer.

Fiona Lowe Geelong
Better left black and white
The current SBS series Australia in Colour fails to impress. Black and white images contain 256 shades of grey. To make a black and white field appear green, for example, takes just a tint of green. Colourising does not add multi-tonal colours, it simply tints specific areas of grey in one base colour. That's why all the scenes depicted resemble the old water colour painting books, nothing like Kodak's Kodachrome vividness of years past. When Ted Turner purchased the entire MGM film library in the late 1980s he wanted to colourise every black and white film. His colouring escapades faded in the mid to late 1990s when they colourised a Frank Sinatra movie Man with the Golden Arm and gave him brown eyes. Sinatra of course was known as ''Ol' blue eyes". Whilst SBS touts the colourisation of Australia's black and white film history as an "archival series'' it is one series that should not be shown to students studying our film culture of the past. It is rather ironic that the 2019 Academy Award for best Cinematography in a feature film went to Roma ... a film shot in black and white.
Dennis Nicholson, Burwood
Most Viewed in Entertainment