Hewitt the ace in the commentary box
Lleyton Hewitt has always been ratings gold for Channel Seven.
This year's Australian Open has been no exception, even if our most recognisable tennis player was knocked out of his home grand slam on the first day at Melbourne Park.
Hewitt's early departure has at least granted Seven the chance to use the 31-year-old tour veteran as a special comments man alongside Bruce McAvaney and Jim Courier, and he has proved as adept in the commentary bunker as he is slugging it out on the baseline.
His insights have been welcomed by viewers and have provided another element to Seven's coverage, especially for players we don't know much about or only get a look at a few times per year.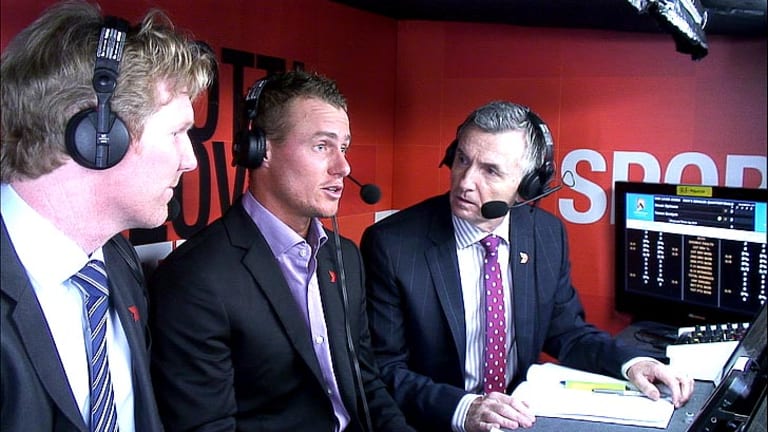 In last night's quarter-final between Novak Djokovic and Tomas Berdych, Hewitt outlined the how and why behind the Czech's change of serving strategy in the second set to get back into the match. He also provided a glimpse into on-court psychology, noting the moment Berdych subliminally remembered who he was playing when he missed an easy volley.
For Seven's head of sport, Saul Shtein, it was this mixture of experience, the knowledge only a current-day player could bring and thoughtful communication that made Hewitt a worthwhile addition.
"I'll never forget the first night he did commentary for us. He talked about Rod Laver Arena being on a slope and serving uphill and downhill. I thought, 'Oh my goodness.' It's one thing as a player to know what those things are but it's another to be able to communicate them," Shtein said.
"Some of the insights and the personalities, even last night when he talked about liking to be able to hit up with Berdych because he brings a rhythm to his (Hewitt's) game. We have a mantra in commentary: don't just tell us what they do, tell us who they are and tell us something we don't know, and Lleyton has been able to bring those elements to the table."
Hewitt worked for Seven on the 2011 and 2012 Opens once he was eliminated. His knowledge and passion for AFL also earned him a place in a pre-game show for a match between Hawthorn and St Kilda last year. But this year's work is a bit more formal, as the two parties signed a contract last year allowing Hewitt to call matches depending on his schedule.
Shtein concedes he would prefer not having his recruit around, as that would mean his Open chances were still alive. But this year Hewitt will be in the booth for both men's semi-finals, although he is unavailable for the final due to Davis Cup commitments.
The commentary also works for Hewitt's camp. His manager, David Drysdale, said broadcasting was a possible career move once the former world No.1 stopped playing, although he plans on playing the 2014 Australian Open at least.
Drysdale said Hewitt's work with Seven had also given people an insight into the man whose personality and on-court demeanour has often polarised Australians.
"It's very pleasing the public seem to enjoy his commentary," Drysdale said.
"And I think they see another side of Lleyton and the fact he is very knowledgable and enjoys a bit of fun and that he's actually a really good bloke. What you see on court isn't necessarily what you see off court."
Shtein said a full-time commentary career beckoned for Hewitt if he wanted it.
"It's really up to Lleyton because he's hit the ground running and I put him up as a world-class commentator. So it comes back to whatever he wants to do if he wants to head in that direction," he said.
Adam Cooper joined The Age in 2011 after a decade with AAP, the country's news service. Email or tweet Adam with your news tips.
Most Viewed in Entertainment
Morning & Afternoon Newsletter
Delivered Mon–Fri.