Logies upset - piqued to the Rafters
THE Logie Awards telecast is still 27 days away and there is already a big upset.
The top-rating award magnet Packed to the Rafters - which has 11 Logies from 34 previous nominations - has failed to book a starting position for the 2012 Gold Logie.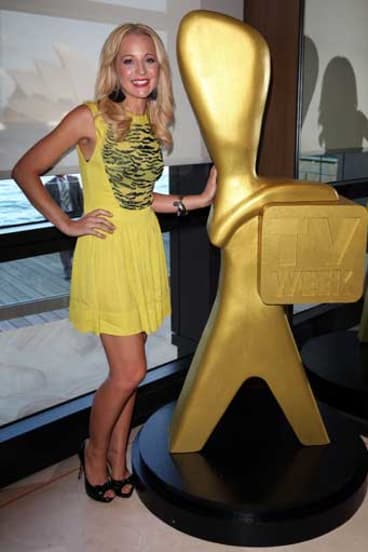 Instead, the six contenders for the night's top award are the comedians Adam Hills and Hamish Blake, The Project's co-presenter Carrie Bickmore, the actors Asher Keddie and Esther Anderson and last year's winner, Today host Karl Stefanovic.
The category's golden girl, Rebecca Gibney, was overlooked this year, as the event's growing online presence breaks from its traditional focus on lead actresses, such as past soap opera ''golden girls'' Lisa McCune, Kate Ritchie and Georgie Parker.
The shift has also accelerated the widening of a noticeable schism between the awards and the magazine masthead, TV Week, which owns them.
This year only one of the six Gold Logie contenders, Esther Anderson, would be a potential big seller on the magazine's cover, whose readership still prefers the stars of Seven's broad-demographic dramas Home and Away and Packed to the Rafters.
But the biggest clash on Logie night will not be on the red carpet. Seven and Ten are tipped to launch their big mid-year reality franchises, Dancing with the Stars and MasterChef, against Nine's awards telecast.
The strategic move breaks a long-held tradition of soft programming against the Logies to support the industry.
It also confirms this year's ratings war is a ''gloves off'' war of attrition.
There is speculation Nine may use the Logies telecast to launch one of its mid-year reality franchises, such as The Block or Celebrity Apprentice.
That possibility might have prompted Seven and Ten to take a more aggressive stance against the Logies telecast.
Seven, in particular, with a convincing start to the year and a widening margin over Nine, will use any opportunity to bruise its long-time nemesis.
Most of the nominations contained few surprises, reflecting a strong presence from ratings leader Seven and growing prominence in the outstanding categories for the ABC, SBS and Foxtel.
Seven led the form, with 31 nominations, followed by Ten (25), Nine (21), the ABC (21, including one for the digital channel ABC3, Foxtel (eight) and SBS (seven). The eight Foxtel nominations went to Showcase and TV1 (two each) with the rest split among Lifestyle, Nickelodeon, Sky News Australia and the History Channel.
This year's recipient of the TV Week Hall of Fame Logie has not yet been announced. Speculation is rife that it will be the much-loved music journalist Molly Meldrum.
The Logies will be broadcast on Sunday, April 15.
Michael Idato is a Senior Writer based in Los Angeles for The Sydney Morning Herald.
Most Viewed in Entertainment
Morning & Afternoon Newsletter
Delivered Mon–Fri.