Silly, sweet and totes awkward
Rosehaven is everything you would expect from Celia Pacquola and Luke McGregor.
ROSEHAVEN
New series ★★★
Wednesday 12 October 9pm, ABC
Celia Pacquola and Luke McGregor star in this new series of their own creation that perfectly captures the style of both. Luke McGregor plays, well, Luke McGregor – here, called Daniel – who returns to small town Tassie to care for his irascible mother. Pacquola is his best mate, Em, who unexpectedly also lobs up in Rosehaven when her marriage goes awry. Sweet, silly, sometimes sad and frequently totes awkward it's everything you'd expect from these two. It also makes you wonder why no one has explored the comedic potential of real estate agents before now.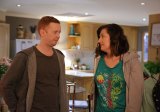 MAN UP
New series ★★★★
Tuesday 11 October 8.30pm, ABC
Gus Worland, the ultimate bloke's bloke, fronts this terrific new series that's launching the ABC's annual Mental As… week. After being the ultimate unmentionable for so long, we are finally allowed to talk about suicide and in Man Up Worland addresses the troubling state of men's mental health in Australia, the associated appalling rates of suicide in men under 45, and how both tie in to entrenched ideas of what it means to be a man. Moving, funny, and an extraordinarily important conversation to have.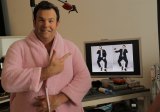 COLD FEET
New series ★★★☆
Tuesday 8.45pm, Seven
The show that launched a thousand careers – including that of its creator, Mike Bullen – is back, 20 years after we first met Adam, Rachel, Karen and the crew. And if the style Bullen more or less invented – the dramedy, spiked with social issues and dressed with popular music – is now standard fare, there's a huge amount of pleasure in catching up with our old friends. And certainly Bullen and his team have lost none of their insight, wit, or style.
GREAT AUSTRALIAN BAKE OFF
Series return ★★★☆
Tuesday 8.30pm, Lifestyle Food
Whatever your feelings about baking, the one thing that's impossible to resist in Great Australian Bake Off is its enormous good will. Everyone involved is just so darned nice, from hosts Claire Hooper and Mel Buttle to the delightful selection of contestants who seem just as keen to help each other out as they are to complete their own creations. We begin season two, appropriately, with a cake bake-off. The technical challenge – one of Matt Moran's recipes – looks absolutely delicious. Also. I learnt what an "ombre" cake is.
Most Viewed in Entertainment