Our pick, streaming: Sarah Jane Adventures on Stan and How Clean Is Your Crime Scene? on Netflix
Did you ever suspect that your teacher was an alien – specifically a big, fat, green, flatulent one? If so, your fears won't be allayed by this enjoyable Doctor Who spin-off created by Russell Davies. The title character, Sarah Jane Smith (the late Elisabeth Sladen), was a companion of the good Doctor back in the 1970s, and even here she still had a keen eye for an alien conspiracy. Much of this show's ground-level sleuthing, though, is to be done by Sarah Jane's young neighbour, Maria (Yasmin Paige), in the company of Sarah Jane's adopted son, Luke (Tommy Knight). Luke, it soon becomes apparent, is not quite your regular human adolescent. The early episodes have a serviceable storyline that alights briefly on topics such as divorce and the fear of making social mistakes. It's interesting to see sci-fi being made as something of a Girl's Own adventure, but there are enough fart noises for boys not to feel left out. Just the thing to help parents and grandparents start indoctrinating a new generation into the ways of Whovianism.
The Sarah Jane Adventures is on Stan.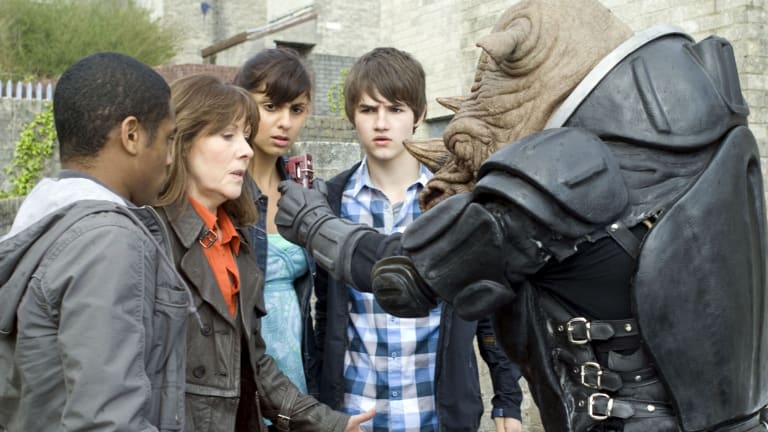 This grimly compelling documentary series follows the day-to-day work of the folks at a busy crime-scene cleaning business in Oakland, California. Oakland is a violent place, and at time of filming the company, established by former US Navy rescue diver Neal Smither, was turning over several million dollars a year. The cleaners themselves were earning decent but unspectacular money for being on 24-hour call for jobs that range from cleaning up blood and brains after car accidents, murders and suicides to removing decomposing bodies, emptying hoarders' filthy houses and cleaning vomit out of police cars. Smither, who cheerfully describes himself as abrasive and antisocial, decided to go into the business after seeing Harvey Keitel's character at work in Pulp Fiction. "It's exciting. It's exciting," Smither tells the camera. "You see stuff that's just bizarre." Smither's staff are rather less excited about the work, and some of them use dark humour to get through it. Joe, a 22-year-old ex-Marine, memorably describes bending and stretching to pick up pieces of flesh and bone as "ghetto pilates". It's a fascinating glimpse inside a rarely seen occupation that has many unpleasant hazards. As confronting as the content can be, the screen provides some distance, and the British program-makers take a suitably unsensational approach.
How Clean Is Your Crime Scene? is on Netflix.
Most Viewed in Entertainment