FREE TO AIR
Winners & Losers, Channel Seven, 9.30pm
NOW this is more like it - still light and frothy and tied up neatly by episode's end, but with the finesse and intelligence underpinning it all that has been lacking for a while. One of the interesting things about these Channel Seven dramas is the way they're helping jobbing actors find their sweet spot. Brooke Satchwell has never been as good as she has been in the latest season of Rafters. And now Peta Sergeant (Satisfaction, Canal Road) - guest-starring here as Dr Cat - is more comfortable and more believable (and looks more right) than she ever has. Virginia Gay also, finally, has something to work with tonight and if every minute her foul sister Jasmine spends onscreen is a still a minute too many (really, are we supposed to like her?), there are some interesting issues dealt with in a reasonably grown-up manner. All up, one of the most satisfying instalments in some time.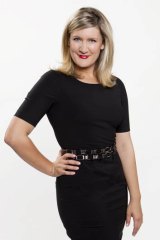 Cougar Town, Channel Seven, 10.30pm
THE original premise of this series has, thankfully, faded quietly into the background. Now it's just an old-fashioned family sitcom, with Jules about to make an age-appropriate marriage and the gang all very jolly about it. Three seasons in, I understand why people might like this. If you're hooked into the characters - acerbic Ellie, her long-suffering husband, Andy, Jules' redneck ex, Bobby, et al - then there'll be pleasure in watching them go through their paces. As a stand-alone? This one is for the fans.
Don't Tell the Bride: series premiere, Channel Ten, 7pm
NO PREVIEWS were available for this new series but if the British original is anything to go by, the show won't be anything as dramatic as those promos. But that's not a bad thing. The premise is that soon-to-be-weds are given a large sum of money ($25,000) on the condition that the groom organises everything about the wedding, from the bride's dress to the catering. And if there's something a bit dated about laughing at hapless men tackling secret women's business, there's also something sweet about these blokes braving the foreign lands of bridal stores and florists, earnestly trying to please their ladies.
Anger Management, Channel Nine, 8.30pm
ON THE upside, fans of Two and a Half Men will probably find plenty to enjoy in this new sitcom starring Charlie Sheen. Good news for them, and for Channel Nine. (And for Charlie Sheen). For the rest of us, though, this lame, predictable effort just makes us feel a little tired. Based on the movie of the same name and featuring Charlie as an anger-management therapist called Charlie, it's a classic sofa-and-two-doors scenario with a group meeting every week to discuss their issues (sitting on the sofa), occasionally entering and exiting by the doors on either side of the sofa, and trading quips in between. Tonight's ep is typical. Charlie decides sleep deprivation will bring out his clients' deeply buried issues. They stay up all night and go a little crazy. Clunky lines are thrown around. Credits roll.
MELINDA HOUSTON
---

PAY TV
Dr G: Medical Examiner, Bio, 7.30pm
MEDICAL examiner Jan Garavaglia has two curious cases tonight. The first is that of an 18-year-old footballer who died after complaining of back pain. In sequences that seem partly taken from the actual autopsy and partly re-enacted, she methodically looks for one cause of death after another. It is important that she find out as quickly as possible - if it was meningococcal meningitis or a drug-resistant superbug, there could be serious public-health implications. The second case is that of a middle-aged woman who bled to death from a head wound suffered in her own home, possibly during an assault.
Who Do You Think You Are?: Boris Johnson, BBC Knowledge, 8.30pm
The London mayor, who thinks he's part Jewish, part English, part American and part Turkish, sets out to discover who his ancestors really were.
Cooking Paradiso with Stefano de Pieri, LifeStyle Food, 9pm
I Didn't Know I Was Pregnant, Discovery Home & Health, 8.30pm
BRAD NEWSOME
---
MOVIES
Priceless (2006), SBS Two, 9.30pm
JACQUES (Vernon Dobtcheff) is 70-ish and his partner, Irene (Audrey Tautou), a mere four decades younger. They have gone to celebrate her birthday at the Carlton Hotel in Cannes. But Irene is not exactly the grateful type and, with Jacques snoring soundly, she heads downstairs for some amatory pleasure by seducing Jean (Gad Elmaleh). However, her radar is seriously off kilter and Jean is no wealthy benefactor to wayward women, but the hotel bartender. Not one to ignore an opportunity, however, Jean exploits her confusion by whizzing her off to the Imperial Suite. The million-dollar question is what Irene will do when she finally realises she is bedding a pauper. Can true love emerge from the heartless love games that people play? Tatou has great fun playing the disreputable minx, confident her infectious charm will win over audiences when her character cannot. Said to be inspired by Breakfast at Tiffany's, this film by Pierre Salvadori is a mild pleasure.
Unknown (2011), Movie One (pay TV), 8.30pm
ANOTHER European mystery thriller starring Liam Neeson, this time as a biochemist who loses his identity in Berlin and is disowned by his wife. Intermittently gripping.
Most Viewed in Entertainment