Weekend free-to-air TV: February 16
David Attenborough's Africa: Kalahari, Channel Ten, 6.30pm
THE latest instalment of David Attenborough's nature series is brilliant, beautiful, heartbreaking and life-affirming. The photography is reliably stunning - peering into birds' nests, tracking leopards, and following the appropriately named cartwheel spider as it tumbles down a desert dune. The first episode, which screens tonight, focuses on the Kalahari and the animals that dwell above and under this vast expanse of desert in southern Africa. And it doesn't matter how many nature docos you might have seen, this never gets old, especially watching never-before-seen footage of black rhinos congregating at a waterhole. Generally regarded as cranky buggers during the day, the rhinos like to hang out together at night and are affectionate with each other. As usual, Attenborough's narration is top-notch; he could commentate the goings-on at the local dog park and it would be enthralling. Long may the old master reign.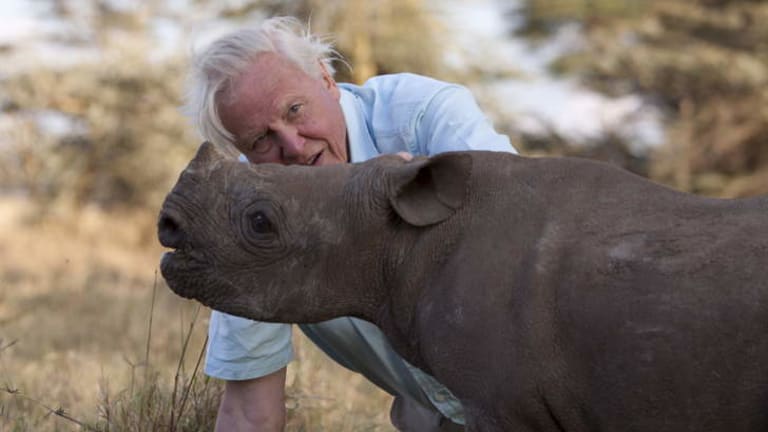 Prisoners of War, SBS One, 8.30pm
THIS Israeli drama is where Homeland got its start. In this version, three Israeli soldiers who went missing in Lebanon are freed 17 years later. But one returns in a coffin, while the other two are under suspicion because of discrepancies in their stories.
If, like me, you switch on episode five not having watched any of the previous Prisoners of War episodes but having watched Homeland, it won't be too hard to figure out what's going on. Tonight the remains of Amiel Ben-Horin are buried. His death is shown through flashbacks to the prison where he and the other soldiers, Nimrod Klein (Yoram Toledano) and Uri Zach (Ishai Golan), were held. There are hints of a possible plot between the two survivors, but nothing concrete. Prisoners of War is different enough from Homeland to be enjoyed on its own merits, but it lacks the tension and ''Whaaaaat?'' factor that made the American version a must-see drama.
The Paradise, ABC1, 7.30pm
ACCORDING to the publicity blurb, ''a shocking discovery in ladieswear causes ripples through the store''. What on earth can it be - Downton Abbey's missing cousin Patrick? Richard III's remains? Alas, it's neither. Rather, it's a baby - a foundling - discovered in a wicker basket in the ladies' change room. But it's not just a baby; it's a publicity opportunity for the store's ambitious owner, John Moray (Emun Elliott). Sound interesting? No, didn't think so. The Paradise is sumptuous to look at - it's set in the Victorian splendour of Britain's first department store - but it's stuffed with the stereotypes and cliches found in your typical bonnet-and-bustle drama: a handsome lead man who's torn in love and haunted by his past; a wide-eyed heroine who has virtue and brains; some scheming women plotting to bring down said heroine; and an orphan - gah! There would be more value and drama in playing the security footage from David Jones than watching this.
LOUISE RUGENDYKE
Sunday
Modern Family, Channel Ten, 7pm
MODERN Family may not be in the same class of genre pastiche as Community or The Simpsons, but it has a bit of fun tonight riffing on the thriller genre, and particularly Bond motifs, in what is the highlight of an episode that otherwise treads familiar ground. Claire and Cam's project to build a baseball diamond rapidly escalates into a desire to flip a house, much to the terror of Phil and Mitchell, who only lack the ability to say no. Meanwhile, Gloria sings a lot tonight, so lightning-quick use of the mute button (alternatively a set of earplugs) would be a necessary precaution.
The Simpsons, Channel Ten, 6pm
AS THE years have passed, The Simpsons has not only lost its novelty value, but also some of the edge that once made it one of the best comedies on television. Some institutions remain, however, including the annual Halloween Treehouse of Horror episodes, which take advantage of the variation in format to deliver some of the biggest laughs. This year, the evil minds behind the yellow family go back in time to explain how Marge is to blame for the Mayan-predicted end of the world, before envisaging Armageddon as enacted by three Mayan supervillains reminiscent of the Kryptonian criminals from Superman II. The episode then sweeps through supercolliders, mini black holes (and the politically correct term for them), and satires of Paranormal Activity, Back to the Future and Austin Powers. The Cletus quote ''I's rich! I's poor and shackless'' has the potential to become a keeper. On the other hand, it can only be hoped that Homer's new use for the word ''cinnamon'' will never be spoken of again. And just to prove there's life in the old dog yet, the episode will be followed by The Longest Daycare, the Simpsons short film nominated for an Academy Award this year. Five minutes long - but genuinely Oscar worthy - the film, a glorious satire of every escape film made (yet quite distinct in style from Toy Story 3), is well worth tuning in for.
Elementary, Channel Ten, 8.30pm
NOW up to its third episode, this modern-day Sherlock Holmes investigative drama has established its premise and has really hit its stride, allowing the procedural element of the mystery of the week to take centre stage. Tonight's tale of a serial child killer will leave most parents checking their window locks. While the villainy portrayed is seriously twisted, the chemistry between Lucy Liu and Jonny Lee Miller grows, and this show proves it will be able to keep up the momentum for a full series.
Tropfest, SBS One, 8.30pm
THE little short-film festival that started life in a Darlinghurst cafe has grown into the massive short-film festival that takes place in Sydney's Domain. This year, it takes another step into adulthood - the 21st instalment is the first to be broadcast live on free-to-air TV. With 12 short films featuring the Tropfest Signature Item for 2013 - the balloon - it will be a great opportunity for Australian audiences to experience some of the other great traditions of Tropfest, including the inevitable rain, possibly an inebriated presenter, and controversy about the winner. Tropfest, an institution in Australian film, has played a role in a number of Australian Hollywood careers, including those of founder John Polson and one of this year's judges, Sam Worthington.
GILES HARDIE
Most Viewed in Entertainment
Morning & Afternoon Newsletter
Delivered Mon–Fri.