Why Sarah Ferguson won't be easily forgotten as ABC's 7.30 presenter
Is there a more closely monitored maternity leave in this country than that of Leigh Sales? The host of the ABC's current affairs flagship 7.30 finished up in February of this year, prior to the birth of her second child, and her place was taken by award-winning Four Corners reporter Sarah Ferguson, who has proven to be a capable host and, crucially, a formidable interviewer.
Sales is by no means a pushover, but surely some of Ferguson's bruised subjects are counting down the days until her predecessor's six months away ends? If Education Minister Christopher Pyne, who made the mistake of trying to mock Ferguson during a recent post-federal budget discussion and was met with short shrift, had any sense he'd be around at Sales' home, offering to hang out laundry, change nappies, or anything else that might facilitate her early return.
Ferguson is strictly business; even her welcomes are pared-down and delivered at a decent clip. Born and raised in Britain, but a resident here for more than two decades, she has a hybrid accent that does wonderful things with certain words – every MH370 link she does should by law use "radar" at least once – but she also literally gets more into a 10-minute slot than her contemporaries.
Ferguson is not ferocious or pushy or bossy – or any other coded phrase a forthright woman in the public eye often attracts – she's in fact unyielding, determined and precise. She doesn't appear ready to concede ground in the interest of moving on, which matters in the context of 7.30, a crucial platform in Australia public discussion, because successive generations of politicians believe (or have been taught) that blind persistence will win them the day, or at least avoid defeat.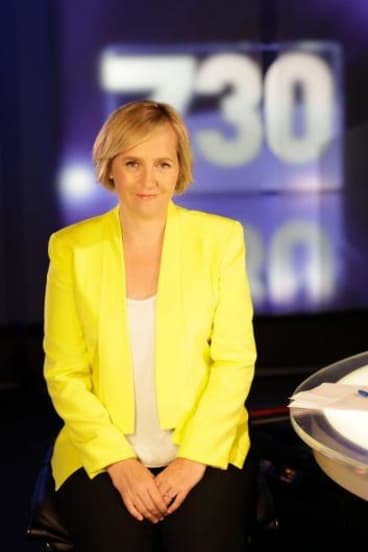 Letting a politician speak, as they like to self-righteously demand when pressed, doesn't actually make for better answers, just for longer, repetitive ones. So if Ferguson interrupts a response, as she did several times last week with Minister of Immigration and Border Protection Scott Morrison, then the standby narrative is reset and there's more chance for a fresh attempt at a knowledgeable question begetting a genuine answer (okay, only a miniscule chance when it comes to Morrison, an otherworldly disseminator of spin).
Unlike 7.30's former political editor Chris Uhlmann, Ferguson isn't a point scorer, bogged down in trying to get a tiny victory, but there is no denying her persistence. The 12 minutes Treasurer Joe Hockey spent with Ferguson upon the budget's release was full of taut exchanges where semantics wasn't an escape hatch. "I don't need to teach you, Treasurer, what a tax is," Ferguson noted at one point, having already taught him several other things.
Ultimately it was a robust, enquiring exchange. Joe Hockey survived, and in some instances thrived during the interview, and it's perfectly okay for those in a position of power to be challenged in such a clear manner. If they're willing to meet Ferguson head on, i.e. not trying the now discredited Christopher Pyne manoeuvre, then there is hope for them.
The inexperienced, however, should probably steer clear. A week ago Ferguson dissected Dio Wang, the Palmer United Party's senator-elect from Western Australia, whose business relationship with his leader predated his political conversion. Her questions fell into place one after the other, revealing a dangerous logic Wang didn't understand until he was making it worryingly clear on national television.
At one point, during a discussion of allegations that business funds had been sidelined into political campaigning, Wang attempted to suggest some invoices had been mislabeled, before a John Clarke and Bryan Dawe-worthy piece of dialogue where Wang managed to say he wasn't sure about the veracity of the allegation, and then that he was sure they were wrong. "You just said you were unsure about the allegations," Ferguson calmly said, shortly before putting Wang out of his misery by concluding the live cross.
It appears unlikely Ferguson would be influenced by circumstances, but perhaps there's something to be said for going into such a prominent post with a pre-determined length of incumbency. Sarah Ferguson might only be fronting 7.30 for six months, but she won't be quickly forgotten afterwards.

Craig Mathieson has been the film critic for The Sunday Age since March 2012, having previously held the same position for Rolling Stone and The Bulletin. The former magazine editor writes widely on film, music and television, and is still able to quote sizeable chunks of the dialogue from Michael Mann's Heat.
Most Viewed in Entertainment
Morning & Afternoon Newsletter
Delivered Mon–Fri.