Vivid Sydney up in lights
If, after five years, you're still unsure what Vivid Sydney is, creative advisor Ignatius Jones tried to make it clear during the event's launch on Thursday.
"It is not an arts festival in the old sense of the word," he said. "It's a celebration and promotion of Sydney's creative industries.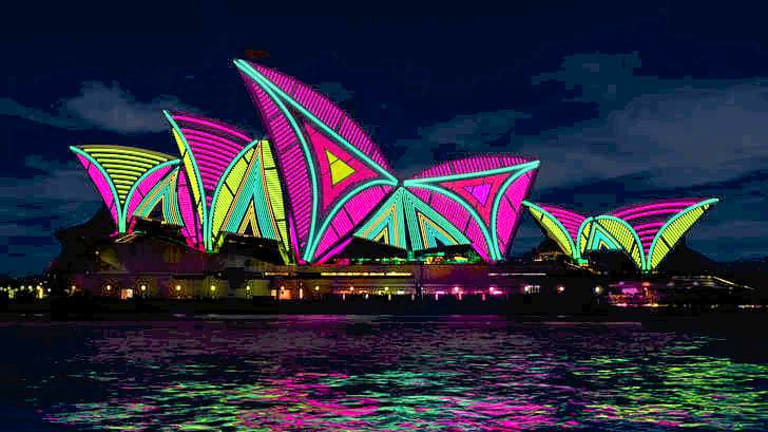 "[It] brings together creative practitioners from around the world to share ideas, network and create new business in a city lit up with all the latest and brightest the creative industries can throw at it."
Jones said Destination NSW had taken a "gamble" in developing the event, but that the 18-day festival was now a drawcard for workers in the creative industries.
Last year's Vivid Sydney attracted crowds of more than 500,000 and generated around $10 million in income for the state, said NSW Deputy Premier Andrew Stoner at the launch.
Destination NSW declined to reveal the cost of staging the festival.
The lighting of the Opera House sails is the festival's signature event. This year it will be designed by Sydney-based company The Spinifex Group.
An image of the Opera House's sails decorated with fluorescent lines and shapes was revealed by Mr Stoner at the launch.
Spinifex's creative director Richard Lindsay said the Opera House lighting design would be inspired by aspects of Sydney's neon life including the Coca-Cola sign at Kings Cross.
"Our main objective was to do something much more tangible audience-wise," he said. "We just wanted to make it that little bit more fun and entertaining."
The festival showcases music and other events as well as a light program that includes the illumination of several city buildings and an expanded "Light Walk" stretching from Campbell's Cove to Walsh Bay as well as Carriageworks and the Seymour Centre in the Inner West.
The Vivid Live music program is headlined by German pop pioneers Kraftwerk.
The Vivid Light Walk will feature large-scale multimedia screens showing the work of photographers including a century of photos from The Sydney Morning Herald, documenting a changing Sydney.
Visitors will be able to control the projection on Customs House at Circular Quay, making it appear to dance, as their movements on a mini dance floor trigger real-time animations on the building's facade.
Vivid Ideas will feature more than 100 events including talks and panels by British trend forecaster Ruby Psuedo, American clothing entrepreneur Johnny Cupcakes, British artist David Shrigley and Chris Ying from US food magazine Lucky Peach.
Vivid Sydney runs from May 24 to June 10.
Andrew Taylor is a Senior Reporter for The Sydney Morning Herald.