Voice of an angel
She's a celebrated opera singer who also sings pop and now Sumi Jo is coming to Canberra. She speaks to Julieanne Strachan about Dame Joan Sutherland, Voices in the Forest and her role as an Artist for Peace
World-class soprano Sumi Jo sang the voice of the devil in Roman Polanski's movie thriller The Ninth Gate, but, with her lyrical warmth and precision, she really sounds far more like an angel. Her voice is often praised for its agility and she is noted for her remarkable flexibility, which enables her to sing a wide range of classical and popular music.
Jo, who was in Seoul earlier this week when she spoke to Panorama, is poised to visit Canberra later this month to star in the annual Voices in the Forest concert at the National Arboretum.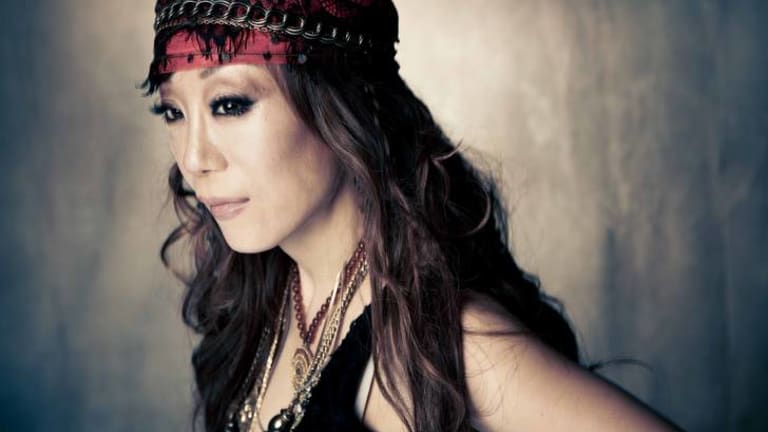 She is on a world tour and will make stops in Vienna and Ukraine before arriving in Sydney for a concert on November 18, ahead of a Melbourne performance on November 20 and will come to Canberra for the show on November 24. Jo knows she has a long trip ahead of her, but despite the long hours of flying, she says she is really looking forward to returning to Australia.
''I have always loved Australia because of Dame Joan Sutherland,'' she says. ''My mother's dream was to become an opera singer but she could not realise her dream.
''So when she realised she was expecting me, she listened to a Joan Sutherland recording many times and my destiny was decided. I had no choice, my mother pushed me in that direction and I am very grateful to my mother.''
Jo recently celebrated 26 years of performing internationally. She was born in Seoul in South Korea and studied in her native country before enrolling in the Conservatory of the Accademia di Santa Cecilia in Rome.
She had a recital debut in Seoul, which was followed by concerts with the Korean Broadcasting Company Orchestra.
Her first operatic role was as Susanna in Le Nozze di Figaro, which was performed in Seoul.
Jo says she has taken a lot of her inspiration from the late Dame Joan Sutherland and was fortunate to meet her.
''I grew up listening to Dame Joan Sutherland and it's sort of destiny because my first solo recording was made by her husband [maestro] Richard Bonynge,'' she says.
''It's an amazing connection to have. Richard Bonynge wanted to do something for my kind of voice and he knew I grew up listening to Dame Joan Sutherland and he chose me to do the aria that he had selected. It was called Carnaval!
''He told me that when it was released Dame Joan Sutherland listened to it three times in a row and she loved it so much she wanted me to visit her in Switzerland.
''She said it was one of her favourite albums.''
Jo's mother was thrilled, to say the least. ''She was really, very happy because Dame Joan Sutherland is her icon,'' Jo says.
Jo, who has sung many performances in large indoor venues, says she still enjoys the challenge of open-air performances.
''With a piano and no microphone the audience can really hear the human voice and, I think, have a deeper connection with the music,'' she says.
''Canberra is going to be an open-air orchestra with microphones in the Arboretum, which is an important place. There will be lots of people there and it will be a lot of fun. I must say I do enjoy both styles of performances.''
Jo performed at the Sydney Opera House last year in a concert to celebrate the friendship between Australia and Korea, with 2011 marking 60 years of relations between the two countries. Jo is a cultural ambassador for her country and has performed similar concerts all over the world.
''Wherever I go, I like to sing their music, it is like a gift to them,'' she says. ''For instance, I am singing a waltz in Vienna. Musically, we can change and celebrate more deeply. Music is a true way to connect between us.''
It is that desire to connect with her audience that sees Jo continue to reach out to people who would not ordinarily choose to watch classical music concerts.
Instead of staying rigidly within her genre, Jo likes to branch out into popular music, often via films, to get her voice out to a larger audience.
''Classical music is something that tends to have an elite audience,'' she says. ''Like opera, for instance - not many people understand it, so for a wider
public I will sing sometimes for a soap opera or a movie.
''For example, I sung for a film called Eat Pray Love. You can hear my aria when Julia Roberts is eating spaghetti in Rome. I was also in a Roman Polanski movie, starring Johnny Depp, called The Ninth Gate. In that one I sung the voice of the devil.
''I also sung for an HBO drama with Kate Winslet. I am doing all this because it is a way to have my voice heard by this bigger audience. I feel very, very flexible, to not just use my voice the classical way, I am also challenging what I can do with my voice.
''In Australia, I have never sung these kinds of numbers so the audience can see me as an international crossover singer and I am excited about that.''
Jo says that she hopes other singers will challenge themselves to reach further in their musical careers.
''Classical singers live a bit of an isolated life because we are the 'divas' and the 'prima donnas' - you have to think about protecting your throat,'' she says.
''But if you open your thoughts and your mind and have a look around you, you can do a lot more with your music to give a lot to society. That is a message that I would like to send to other musicians - to make use of our talents to make the world a better place and not just beautiful music.''
It's an area that Jo has explored extensively with her career, not only as a beacon of musical diplomacy for her homeland, but in other causes close to her heart.
Jo has been named a designated UNESCO Artist for Peace, in recognition of her commitment to the promotion of Korean culture.
She supports human rights causes, women's rights movements and pushes for greater protection of animals.
''Women are often so underpaid and there are so many working mothers and they are having a difficult time,'' she says.
''But at the same time we need to think about animals - we need to defend them because they cannot defend themselves.
''I am working in Korea to give rights to dogs. I love dogs… they are the best friends of humans.
''I am also helping the Red Cross in Korea.''
Just a few days before Panorama spoke to Jo, a CNN camera crew followed her to an animal shelter to film her speaking about the work she has been doing to improve the welfare of dogs in her native country.
CNN has done the interview to highlight Jo's contribution to culture and society and to recognise her leadership in those areas.
Jo herself has three dogs, which are waiting for her in Rome.
''They are my family,'' she says.
''I am not married and I don't have kids so they have sort of become my babies. I am going to miss them terribly because I am on tour until next year.''
Indeed, if Jo ever gets the chance, she may well have another career in animal welfare.
''I wanted to be a veterinarian,'' she says.
''I love animals and nature. I'm perfectly happy as an opera singer but if I'm born again in the next lifetime I would like to work as a veterinarian or do something with animals.''
Sumi Jo performs in Canberra on November 24 as part of Voices in the Forest at the National Arboretum. Visit voicesintheforest.com.au. Tickets can be booked by phoning Canberra Ticketing on 6275 2700.
Most Viewed in Entertainment
Morning & Afternoon Newsletter
Delivered Mon–Fri.