Wickety Wak member passes away
Fans of the Brisbane comedy cabaret band Wickety Wak are mourning the loss of one of its members.
Pahnie Jantzen passed away on Thursday night after a brief illness, aged 73.
Wickety Wak was one of the most successful Australian bands of the 1970s and 1980s, famous for its musical parodies, camp costumes and high-energy stage antics.
New Zealand-born Jantzen was beloved for his smooth voice and impressions of Louis Armstrong, Chubby Checker and Stevie Wonder.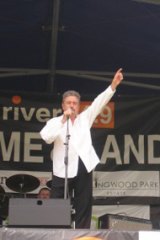 Wickety Wak frontman Greg Doolan said Jantzen had a unique stage aura.
"Everyone loved Pahnie, there was no person in the world he ever offended, he was the nicest human being that I'd ever met," he told Fairfax Media.
"He had a lovely humanity to him and I think that's what really underpinned Wickety Wak's success."
Jantzen's last performance with the band was at Twin Towns on St Patrick's Day, as part of their Celtic Blunder show with the Four Kinsmen.
"It was the most amazing night of my career," Doolan said.
Jantzen received a standing ovation when Doolan brought him on, then took the microphone to sing What a Wonderful World from his wheelchair.
"I've never seen a whole auditorium crying, I've never seen 14 people onstage crying, the only person who wasn't crying was Pahnie," Doolan said.
"It was possibly the most powerful three minutes I've ever witnessed on stage."
Doolan formed Wickety Wak in 1975, finding bass player Jantzen in a "dingy" nightclub in Fortitude Valley.
"It boasted some of the nastiest people in Brisbane, not a club you'd frequent, but somehow when he was smiling, the crowd of people there were just smiling back at him," he said.
"I didn't want any big heads, I didn't want any superstars, I wanted Wickety Wak to be a real earthy sort of band that anyone could approach and Pahnie had that."
The band initially made $400 a week playing five nights a week at the Kuraby Hotel in Underwood, but tripled that when they moved to the National Hotel in Brisbane and pretended to be from Perth.
By the time they revealed that they were locals, they were ingrained as Brisbane entertainment kings, gathering thousands of fans and even recording ten TV specials.
Wickety Wak officially retired in 1990 after selling out three live performances at the Boondall Entertainment Centre but reformed in 2006 for the Gympie Music Muster.
Doolan, Tony Jeffrey and Robbie Roselund are still touring around southeast Queensland together.
Jantzen was diagnosed with liver, lungs and spine cancer three months ago.
His family and doctors decided against chemotherapy as he had been suffering from dementia.
Pahnie Jantzen will be farewelled in a traditional Maori funeral service at his South Maclean property on Tuesday.
Natalie Bochenski is a reporter for Brisbane Times.
Most Viewed in Entertainment