Operation to save whale calf resumes
Wildlife officers have resumed an operation to disentangle a whale calf dragging ropes and buoys as it swims with its mother off the coast from Sydney.
The two were spotted in Sydney Harbour on Thursday afternoon, prompting a National Parks and Wildlife Service (NPWS) operation to free the calf.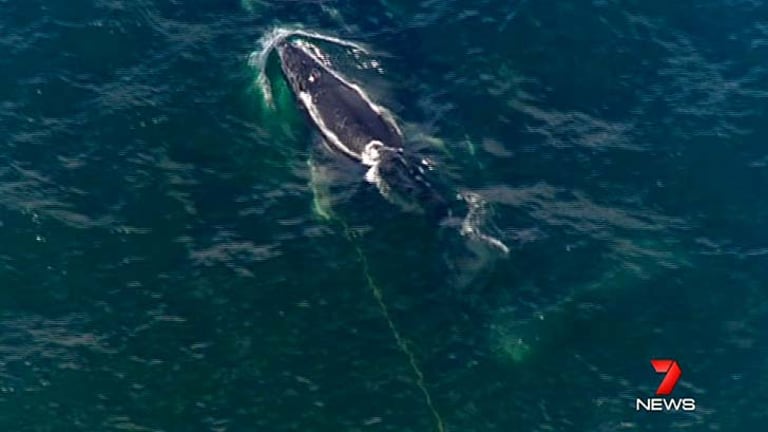 The whales are heading south along the coast on the annual humpback migration.
A crew assessed the calf off Sydney's Long Reef beach on Thursday evening but the presence of a protective mother and a thirdq whale, along with fading light and stormy weather, forced a halt to any disentanglement bid.
On Friday morning, NPWS marine fauna program coordinator Geoff Ross said disentanglement teams had been trying to locate the calf since 6am because it had moved in the night.
"We're trying to find the animal - as you can imagine, once you lose track of these animals it's [difficult because it's] a very big sea," Mr Ross said.
He said the search was focusing on the area between Long Reef, where the calf was last sighted, and North Head.
Disentanglement crews would try to attach buoys to the animal to slow it down, then pick which ropes needed to be cut off to ensure they fell away safely, he said.
Mr Ross said the entanglement was not life threatening for the calf, and if his team missed the whale on its southern migration it could carry the ropes "for years".
Shona Lorigan from the Organisation for the Rescue and Research of Cetaceans of Australia (ORRCA) has told AAP the group's volunteers would be "on the headlands" along the coast on Friday to spot the whales.
Most Viewed in Environment
Morning & Afternoon Newsletter
Delivered Mon–Fri.