Quolls abscond from sanctuary at Mulligans Flat near Canberra
While the predator-proof fence at Mulligans Flat Woodland Sanctuary has proved expert at keeping the foxes out, it's had less success keeping the quolls in.
Up to seven eastern quolls have escaped after they scaled the electric fence of their new home in Canberra's north, leaving conservationists scrambling to apprehend the tiny escapees.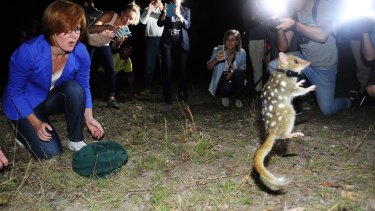 Fourteen of the spotted creatures were released - wearing radio collars - at Mulligans Flat at the beginning of March but four have since fallen victim to foxes.
The rest have been brought back into the sanctuary.
One of the female quolls is a serial escape artist and was once picked up as far away as Sutton, Jason Cummings, general manager of the Woodland and Wetlands Trust, said.
Another quoll was fished out of a hedge at a house in Forde, he added.
"What we're finding is the quolls are testing the boundaries of this predator-proof fence. Some of them are wanting to get up and personal with Canberra's residents," Mr Cummings told ABC Radio.
But ACT Parks and Conservation director Daniel Iglesias said it's no surprise the quolls have been breaking out of the sanctuary to explore their new habitat.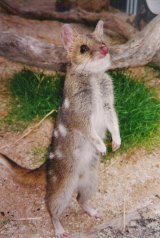 "We knew [they could climb] before we brought them in, in fact our sister sanctuary in Victoria ... warned us about this," Mr Iglesias said.
"We knew we were dealing with a species which is an expert climber. Whilst our predator-proof fence is expert at keeping the foxes out, it hasn't been tested at keeping the climbing critters in."
The team plans to retrofit the fence in order to keep the quolls in.
The quolls were released into the sanctuary near Forde earlier this month after at least an 80-year absence from the ACT.
The release of the nocturnal rabbit-sized mammals was part of a $1.8 million Australian Research Council biodiversity project in partnership with the ACT Government, the Australian National University, CSIRO and James Cook University.
If you spy a quoll where it probably shouldn't be, you can report it via Access Canberra on 13 22 81.
Katie Burgess is a reporter for the Canberra Times, covering ACT politics.
Most Viewed in Environment