Wildcare rescuers take charge as native animals find themselves in unusual positions
A wombat in a bathroom, a blue-tongue lizard beneath the floorboards and a possum stuck in the zip of a camper trailer.
Wildcare wildlife rescue organisation attracts almost 2000 calls a year but some are more unusual than others.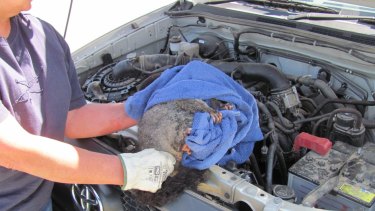 Wildcare species co-ordinator Helen Stevens said in 2015 volunteers were called out to a variety of wildlife related incidents. Most commonly, she said, were dog and cat attacks on native animals, motor vehicle collisions and wildlife caught in netting and fencing.
"There are also those calls that are a little bit more unusual," Ms Stevens said.
"It is amazing the situations our wildlife find themselves in."
A wombat was rescued from the bathroom of a display home in Googong; a brown snake was saved from the rat trap it was caught in; a sulphur crested cockatoo was removed from a Queanbeyan church after trying to drown out the sermon; and a microbat took refuge in a car.
Ms Stevens, who is also the macropod co-ordinator, said pools in particular proved intoxicating for wallabies while snakes were often found in water tanks.
Possums and birds also seemed to get themselves into plenty of mischief last year.
Wildcare rescuers saved a tiny possum nicknamed Radiator from a car in Googong.
When a tradesman heard a sound under the bonnet he popped it open to find a possum looking at him from the air filter before it took refuge in the radiator fan.
"He had post-traumatic stress disorder and for the first couple of months in care he would freeze and look terrified when he saw a human," Wildcare volunteer Diane Hinton recalled.
"He is slowly getting his bravado back but it has been a long, slow journey."
Another possum, this time an adult male, was found in a camper trailer when the owners returned from the coast. As they unzipped the trailer, the canvas became stuck and they realised there was fur in the zip. An intrepid Wildcare volunteer drove almost four hours to return the possum to his home in the bush.
There were a number of battered birds rescued from cars, unbelievably still alive in some situations.
At Christmas near Yass a galah was hit by a car and became stuck in the grill. The driver continued on the trip to Canberra, parked the car in a garage for the night before noticing the bird was still alive when trying to remove it the following morning.
To report any wildlife needing rescuing or to join the team of volunteers at Wildcare, phone 6299 1966.
Kimberley Le Lievre is the Editor of The Sunday Canberra Times
Most Viewed in Environment