Darkness lights up Twittersphere as Earth Hour goes viral
THE lights went out around the globe like a Mexican wave in a football stadium at the weekend, as successive settlements observed Earth Hour.
In Sydney, the team that orchestrated the symbolic hour of reduced power followed its path through more than 130 countries and territories by watching the Twitterstream race across the continents.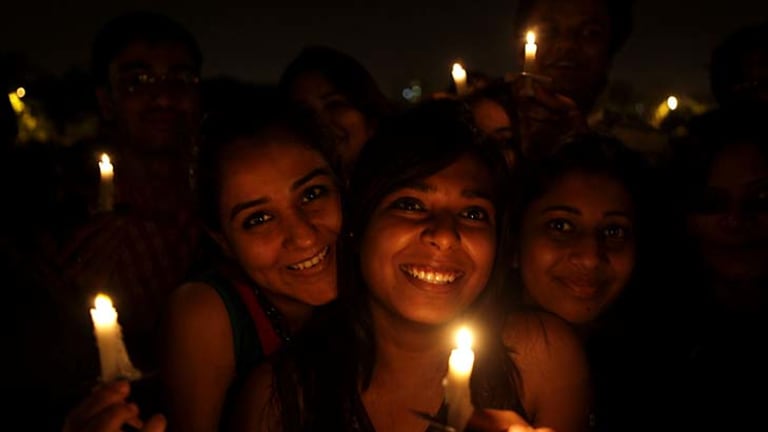 ''You can tell where it is really big because it trends on Twitter,'' said the Earth Hour co-founder Andy Ridley. ''We were both
No. 1 and 2 in Colombia because of using both English and Spanish … It is totally, totally viral now.''
The 500,000 light bulbs in the world's tallest building, the 828 metre Burj Kalifa tower in Dubai, were turned off. Organisers said six of the world's 10 biggest skyscrapers had registered to plunge into darkness.
In Athens the Acropolis was temporarily returned to the shadows of pre-electric times, while Moscow extinguished the floodlights on 70 buildings and bridges. Other great monuments, including Christ the Redeemer statue in Rio de Janeiro, the Eiffel Tower and the London Eye receded into darkness.
In Australia, where polling showed about four in 10 people took part, the Sydney Opera House, Federal Parliament and Federation Square in Melbourne flicked their switches.
A shelter for people in north-eastern Japan made homeless by the recent earthquake and tsunami observed the hour with a power switch-off and prayers for the dead and missing, said Takamaso Higuchi, the national chief executive of WWF.
Amid criticism that one hour is tokenistic, organisers urged participants to move ''beyond the hour''. In China 84 cities agreed. Chengdu has pledged 60,000 low-cost rental bicycles and Shenyang 38,000 hectares of tree planting.
- with agencies
Fairfax Media, publisher of the Herald, is an organiser of Earth Hour.
Most Viewed in Environment
Morning & Afternoon Newsletter
Delivered Mon–Fri.