Lightning keeps firefighters busy as cooler conditions arrive
Lightning storms triggered more than 100 bushfires around the state over the weekend, including one at Wollemi National Park on the north-western outskirts of Sydney.

NSW Rural Fire Service Superintendent Matt Inwood said there were several fires burning in the national park, near the outer Sydney suburb of Kurrajong as this afternoon.

An RFS spokesman said 134 fires were burning around the state, 43 of which were still not contained. The fires at the national park were the closest ones to Sydney.
Observatory under threat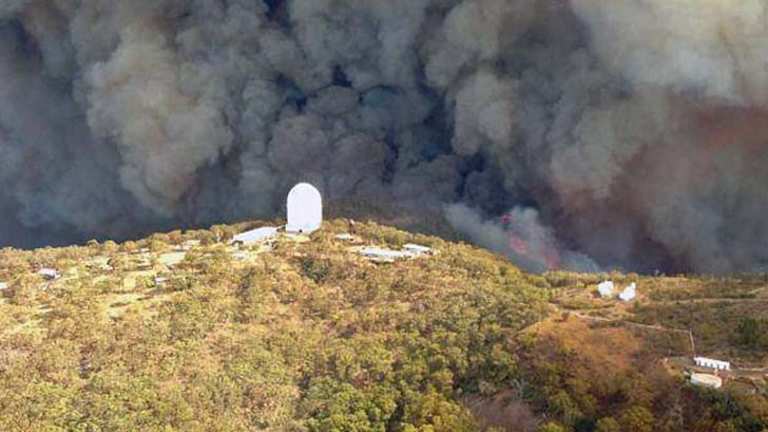 Meanwhile, residents at Mt Woorut in northern NSW are being advised to evacuate the area due to an uncontrolled bushfire burning in Warrumbungle National Park.
The bush fire is currently burning north of Timor Road towards Siding Spring Observatory.
Siding Spring Observatory is Australia's largest optical astronomy research facility.
The fire, west of Coonabarabran, is threatening about a dozen isolated properties at Mt Woorut and an emergency warning has been issued.
Firefighters and waterbombing aircraft are on scene while police evacuate the area.
The NSW Rural Fire Service has advised all people around the Siding Spring Observatory to leave immediately if the path is clear along Timor Road in an easterly direction towards Coonabarabran.
Firefighters have issued watch and act warnings for four other fires. These are at Nangar Road, Eugowra, Rocky Glen Road Bendermeer and Sulcor Mine Fire Dam Flat Rd Attunga both in the Tamworth area, and at Chauvel Road Tabulum, Tenterfield.
Wollemi road
Putty Road was closed to traffic in both directions because one of the fires in the Wollemi national park, at Tinda Creek, was about four kilometres west of the road. The blaze is about 50 kilometres north of Windsor.

Bureau of Meteorology forecaster Jane Golding said temperatures in western NSW would drop 10 to 15 degrees on Monday to the low- to mid-30s from the mid- to high-40s experienced across the region at the weekend.

Ms Golding said temperatures in Sydney were not expected to exceed 25 degrees on Monday and Tuesday but would increase again on Wednesday with the mercury climbing towards the 40s by Thursday and Friday.

A fire at Attunga, about 25 kilometres west of Tamworth, is one of the blazes still out of control, with one house still in danger as of this afternoon.


Most Viewed in Environment
Morning & Afternoon Newsletter
Delivered Mon–Fri.