Sydney weather: Here comes the sun - and a heatwave
Hang in there, Sydney, summer is about to return with a blast of warmth and even sunshine.
The city has been due for some beachy weather especially after Wednesday's top of just 18.6 degrees - the lowest for a January day in 28 years, according to the Bureau of Meteorology.
The 142 millimetres of rain up until Thursday morning was also the city's wettest four-day spell in January since 1997.
Temperatures, though, are about to start climbing, reaching 25 degrees on Friday and twin tops of 27 degrees forecast for Saturday and Sunday.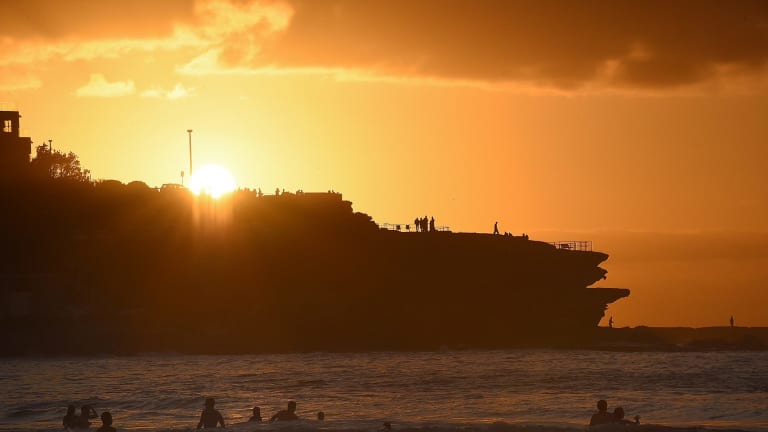 Based on a comparison of the past 30 days and the historic maximums for those days, the revival of summer will make for a low-intensity heatwave over much of eastern Australia starting from Saturday, the bureau said:
Guy Dixon, a meteorologist with Weatherzone, said that while there is a bit of variation in the models, next week should bring further warming across NSW.
"By Tuesday, hot air is likely to be spanning the majority of the state including the Sydney Basin," Mr Dixon said. Temperatures across Sydney should range from the high 20s to mid 30s.
The bureau is predicting tops of 30-31 degrees for the city from Monday to Thursday, while inland sites such as Penrith can expect maximums of 35-37 degrees.
The temperature jump could even feel like a severe heatwave for most of NSW for the three days from Monday, the bureau said.
Mr Dixon said a low-pressure trough should bring more moisture and instability to NSW so that showers and even thunderstorms are possible during the afternoon throughout next week.
"The early stages of each day will be on the clearer side before clouds build up each afternoon," Mr Dixon said. A morning trip to the beach will be the better option.
The expected return of warmth to Sydney is one reminder that conditions have generally been much warmer than average - excluding the chilly start to 2016.
December was the 48th consecutive month of above-average mean temperatures for the city, said Agata Imielska, a senior climatologist with the bureau. Last year was Sydney's fifth-warmest year on record.
"If you look out the window it can be really hard to imagine," Dr Imielska said on a cloudy Thursday afternoon. "But you can get really hot temperatures just around the corner."
Mopping up
Communities along the NSW coast, meanwhile, continue to mop up after heavy rains this week.
Bungwahl, near the Myall Lakes, collected 455mm of rain in four days, while Moruya on the South Coast was drenched with 410mm during the wet spell, Dr Imielska said.
Newcastle's Nobby's Head site collected 200.6mm on Wednesday, making it the wettest January day in records going back to 1862. Nearby Williamtown had 325.2mm during the four days, its second wettest spell since the site opened in 1942.
The Hunter has again begun the job of picking up the pieces after a record January downpour saw residents evacuated from homes in Raymond Terrace and Dungog, and hundreds were left isolated by floodwaters that had begun to recede.
In the rural townships of Wallalong and Osterly in Port Stephens more than 1000 people were still isolated, while in the 500-strong suburb of Oakhampton a limited number of residents were able to leave with an escort through a private four-wheeled-drive accessible road.
The State Emergency Service received more than 900 calls for assistance in the area in the three days from Tuesday, and was still conducting welfare checks and working to get supplies into cut off areas.
In Raymond Terrace, where more than 80 residents were evacuated on Wednesday, flood waters had proved "remarkably resilient" according to SES spokesman Phil Campbell.
More than 200 millimetres of rain fell in the areas surrounding the Port Stephens town, but flooding was restricted to six low-lying streets on the still-swollen banks of the Hunter River.
Meanwhile the chief executive of the Australian Rail Track Corporation, Jonathan Vandervoort, says it will be two weeks before more than half a million tonnes of coal left stranded by the flooding of rail lines in the Hunter Valley would reach the Port of Newcastle.
Death at sea
Flooding at Sandgate on the Hunter Valley rail network left 45 coal trains stranded during the heavy rain, and rail services only restarted after water levels subsided on Thursday.
"This is typically an amount we will shift over a 24-hour period, so we expect to be able to recover those tonnages over the next few weeks," he said.
One man was presumed dead after falling from a yacht of Port Stephens, and emergency crews were needed for at least eight floodwater rescues, but Mr Campbell said the region had "dodged a bullet".

Peter Hannam is Environment Editor at The Sydney Morning Herald. He covers broad environmental issues ranging from climate change to renewable energy for Fairfax Media.
Most Viewed in Environment
Morning & Afternoon Newsletter
Delivered Mon–Fri.