Weather set to turn wild in Sydney as snow falls across NSW
Heavy rain and damaging winds are hitting Sydney this afternoon, as part of a weather system that brought unseasonal snow to the Blue Mountains.
A strong southerly change has come through the airport, Weatherzone meteorologist Brett Dutschke said at noon.
Heavy rain was predicted for lunch time, before easing off and will mostly clear in the late afternoon.
Mr Dutschke said the main feature of the low pressure system over the coast was strong winds.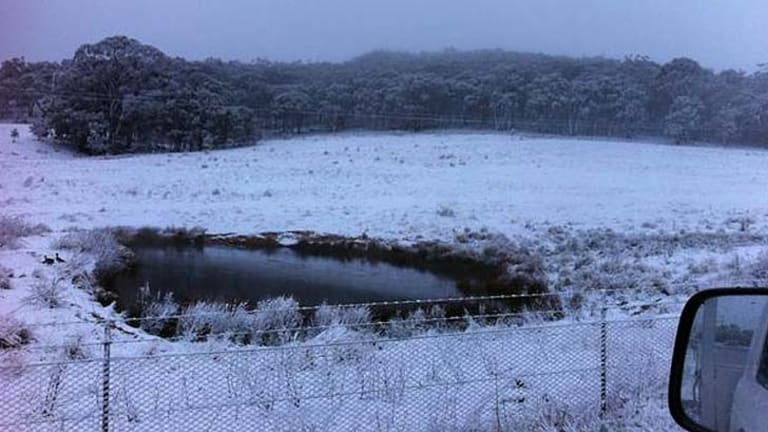 "It will be windiest on the coast; that's where the biggest risk of getting damaging winds are.
"The winds are a chance of reaching 100km/h on the coast, so certainly strong enough to bring down trees, power lines and unroof buildings.
"So it'll be fairly dangerous near the coast during the afternoon."
The wind is expected to stay strong right into the evening. Near the coast, wind damage is likely. Trees and power lines could go down and roofs could be damaged.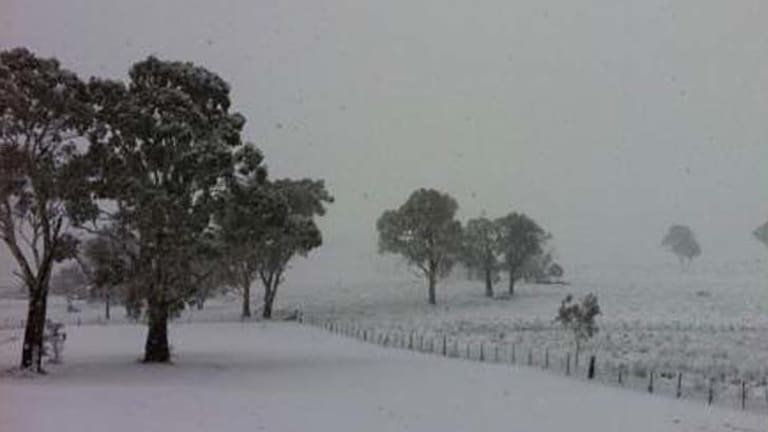 Inland suburbs are likely to be windy and wet but not as bad as coastal suburbs.
The surf is getting larger and waves of about three metres are hitting beaches. The damaging surf is set to peak this evening and is likely to exceed four metres on south-facing beaches, from Maroubra to Bondi.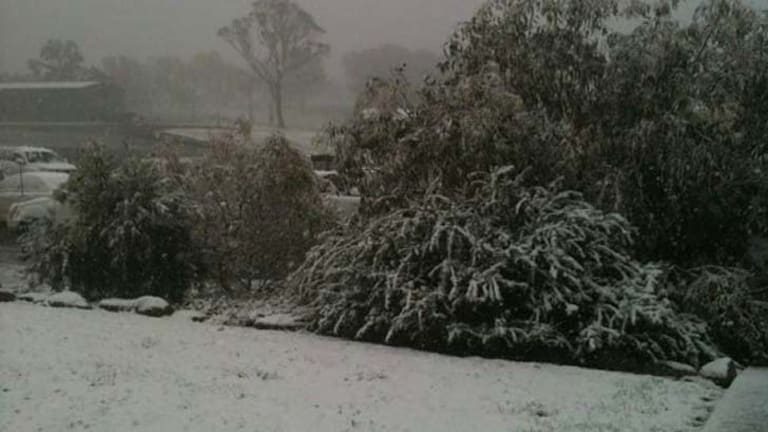 Manly is likely to be more sheltered, although ferries will not be running between Manly and Circular Quay because of the rough weather. The wind will ease off at Manly this evening although the timing is not that easy to pin down, Mr Dutschke said. He could not speculate on when the weather might ease enough for the ferries to be back in action.
Flash flooding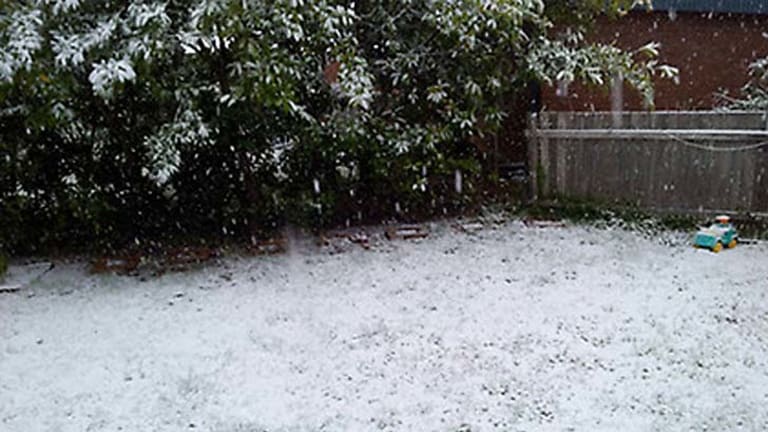 We do get this late season snow but it doesn't happen very often. The last time was in 2008 when we saw snow in the Snowy Mountains and central tablelands in November
There is a risk of flash flooding, particularly in Sydney's southern and eastern suburbs during lunch time and early afternoon, Mr Dutschke said.
"There will be a couple of hours of heavy rain," Mr Dutschke said.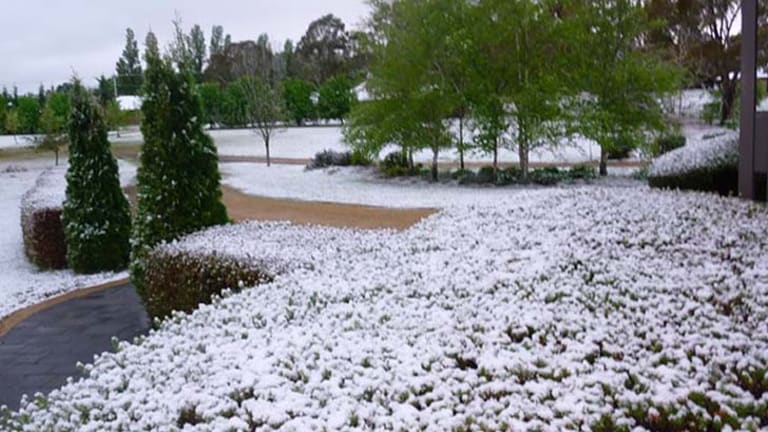 "With the wind and heavy rain, try to avoid the roads," he said.
"If you're on the coast, a low lying area, you might get a bit of flooding from seawater inundating with the larger waves, but that would probably only be a brief feature."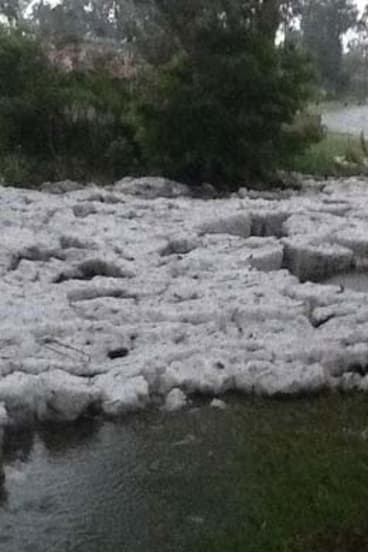 Weekend outlook
Tomorrow will be a mostly sunny day, generally dry, with much less wind and about 5 to 8 degrees warmer.
The surf will still be at a dangerous height of about three metres.
By Sunday, the surf will drop below dangerous levels
Heavy snow
Parts of New South Wales have experienced their heaviest snow in years - and it's come in mid-October - as the state shivers through a severe cold change.
The Bureau of Meteorology has issued a severe weather warning for Sydney and the NSW coast up to the Hunter region today, with predictions of dangerous winds, flash flooding and huge waves that are set to worsen throughout today.
Snow has been reported between the Blue Mountains and Canberra, with the nation's capital enduring its coldest October day in more than 40 years yesterday, staying below 9 degrees all day.
Glen Innes had its heaviest snow in five years, while Guyra had unusually heavy snow that would normally only occur once every 20 years, Mr Dutschke said.
Snow has been falling in Orange and has been heavy in Oberon, Crookwell and Bowral. As much as 20 centimetres has reportedly settled on the ground in the Crookwell area.
"We do get this late season snow but it doesn't happen very often," weather bureau meteorologist Julie Evans said.
"The last time was in 2008 when we saw snow in the Snowy Mountains and central tablelands in November."
The pool of cold, dry air responsible for these snowfalls is moving away to the east, causing snow to turn to rain on the southern tablelands and predicted to do the same in the Blue Mountains by lunchtime.
Meanwhile, more than 200mm of rain has fallen at Ulladulla, on the south coast, since yesterday morning, the heaviest rainfall in the town in 20 years.
The Transport Management Centre said snow, ice and heavy rain were affecting many roads in NSW and motorists are advised to plan ahead by checking the Live Traffic website.
The weather bureau reported other severe weather events in the state, including eight-metre waves at Batemans Bay overnight and gale force winds on the south coast.
Warnings
The NSW State Emergency Service advises people to move their cars away from trees, secure loose items around the yard and to avoid driving, walking and riding through flood waters.
Ausgrid urges people to stay clear of fallen powerlines.
"Powerlines carry live electricity 24 hours a day," an Ausgrid statement said.
"It is extremely dangerous to touch or go near fallen wires, no matter what the circumstances."
Sydney Ferries are not running between Manly and Circular Quay because of rough seas and strong winds, the Transport Management Centre said.
Blue Mountains bus services have been suspended west of Lawson due to snow and ice which has closed the Great Western Highway at Wentworth Falls and Bells Line of Road at Mount Tomah.
As a result, private bus tickets are able to be used on CityRail Trains. Additionally, the 9.09am Central to Katoomba train will extend to Mount Victoria and an additional service will operate at 11.33am from Mount Victoria stopping at all stations to Springwood.
For the latest public transport information go to www.131500.com.au or call 131500.
Sydney weather statistics can be seen here.
Weatherzone.com.au is owned by Fairfax Media, publisher of this website.
- with AAP
Most Viewed in Environment
Morning & Afternoon Newsletter
Delivered Mon–Fri.