A Place To Call Home rises from the ashes
Saved from the axe, A Place To Call Home returns with old faces, but a new direction, writes Nick Galvin.
When Channel Seven canned A Place To Call Home after just two series, the show's army of passionate fans refused to take the decision lying down.
Instead, they made their frustration known by sitting down in a nationwide picnic protest in 15 cities and towns, from Perth to the Gold Coast.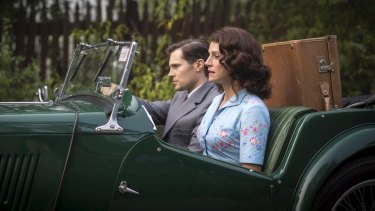 And while the simultaneous unfurling of tartan rugs and pouring of homemade lemonade was unlikely to have struck fear into the steely hearts of TV executives, their decorous protest and a significant and vocal online campaign did go a long way towards saving the show.
In an unprecedented deal, Foxtel stepped in and commissioned Seven to produce at least two more series of the 1950s Australian melodrama, complete with its original cast, including Marta Dusseldorp, Noni Hazlehurst and Brett Climo.
Producer and director Chris Martin-Jones says the outcry from viewers definitely played its part in the decision.
"The amount of people and the amount of passion they showed probably encouraged Foxtel to think, 'Wow, this is something that has a built-in fan base'," he says.
And for the cast and crew there was also elation at the Foxtel deal.
"There was a sense that there was more to come for the show," Martin-Jones says. "That it had been cut off too soon."
For Brett Climo, who plays the central character of George Bligh, news that Seven had shelved the series came as a big blow, personally and professionally.
"I was very disappointed," says Climo. "So many people said, 'Where is it? What happened? Why did they do this?' The hardest part was that we had ticked all the boxes and delivered the product that everyone wanted. There was really no answer to the questions, which made it quite frustrating. I truly believed in this product.
"I was most disappointed for a long time. I honestly felt that I just wouldn't find a character like this again."
Naturally, Climo was thrilled when the series came back from the dead, giving him the chance to keep playing the genial and upright George.
I think the cliffhanger ending will be a real lure for a lot of people.

Chris Martin-Jones
He too, gives credit to the passionate fans who mobilised on and offline.
"I don't like to generalise, but they are very discerning about what they watch," says Climo.
"It's almost as though they were surprised that they liked this drama so much. It wasn't your normal commercial television fare.
"It's a show that strikes a chord with people who wouldn't be normally watching drama."
However, by the time the on-again, off-again negotiations concluded and news of the dramatic reprieve came through, the production team faced a big, practical problem.
All the props and costumes had already been sold off in a massive garage sale, which meant they had to scramble to beg, buy and borrow as much of it back as possible.
Production designer Fiona Donovan was one of the team charged with hunting down or recreating the vital items.
"Costume had to find every single bit of clothing that the cast were wearing," she says.
"A lot of the costumes ended up in the 1950s dance scene and we were able to put a call out and get quite a few back.
"We found all but one item and we had to digitally reproduce the fabric on that."
But while tracking down dresses and props was a laborious task, getting the original team back together was relatively straightforward.
"We got 95 per cent of the people back," says Martin-Jones.
"Like the fans, everyone who works on the show is very passionate about it. For the craftsmen and the department heads in wardrobe, make-up, production design, art department props, etcetera, it's a really fun show for them to do.
"They love working on it."
However, one key person who will not be returning for series three and four is the creator of A Place to Call Home and head writer, Bevan Lee, well known to Australian audiences through shows such as Packed To The Rafters and Winners And Losers.
But Martin-Jones is confident the absence of Lee, who had already sketched out the narrative arc of a third series, will not be an issue.
"We've used a lot of Bevan's ideas," he says.
"It hasn't changed very much at all. The sprit of Bevan lives on and we honoured what he has set up."
Intriguingly, two endings to series two were shot. The first, which was screened, wrapped up each story line in a slightly hasty fashion (and which Donovan says "kind of made no sense"), while the second leaves many questions unanswered and provides a dramatic springboard for the third series.
It's that second ending that will form the beginning of series three in a movie-length premiere.
"We all felt passionately about the original ending but we knew we had to do one that was also strong enough to keep the fans happy," says Martin-Jones.
"I think it [the cliffhanger ending] will be a real lure for a lot of people. If you are a fan of the show, you'll want to come back and see it."
As for quite why events surrounding the Bligh family in the rural NSW town of Inverness have proved so captivating, Donovan believes the mid-'50s setting has a lot to do with it.
"People have a rose-coloured view of the '50s," she says. "For people who lived then, it's long enough ago that they remember the good things and people who didn't live then hanker for a time like that."
WHAT
An Audience with A Place To Call Home
WHEN
Sunday, Soho, 7.30pm
Season three begins Sunday September 27