There are certain dishes that have a sense of occasion about them. In high school, my friend Tim's mum made the best nachos. No trip to Tim's house to play music or shoot pool was complete unless his mum was serving a bowl of her signature dish. These days, nachos are a Sunday night treat for my family. We all get together to watch a movie, no cutlery required, just dive in and try not to get any on the sofa. We've tried fancier versions, with slow-cooked beef rib or cheek, and while delicious, we keep coming back to the simple formula of mince, garlic and onions, browned off and cooked with tomatoes and spices.
I wouldn't describe this as a signature dish, but it has a reassuringly familiar taste every time. It's also a reminder that food doesn't need to be complicated, or difficult, or gourmet to taste great … and to become a starting point for a well-loved family ritual.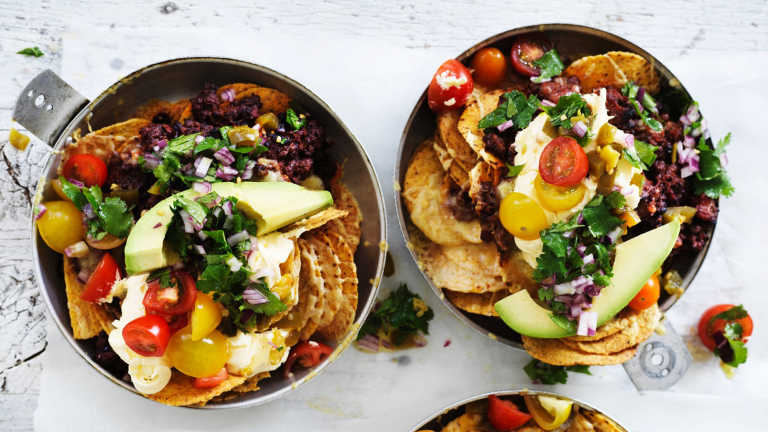 Beef nachos with coriander salsa
Serves 4
You can use a packet Mexican seasoning if you like, but it's very simple to make your own with just a few ingredients that you probably already have in your pantry.
• ¼ cup olive oil
• 1 brown onion, diced
• 4 cloves garlic, minced
• 500g beef mince
• 2 tbsp tomato paste
• 1 can diced peeled tomatoes
• 1 tsp salt
• 1 tbsp soy sauce
• 1 tsp sugar
• 300g unsalted corn chips
• 1½ cups shredded tasty cheese
• ½ cup sour cream
• 2 cups mixed cherry tomatoes, halved
• 1 avocado, sliced
Coriander salsa
• ½ red onion, finely diced
• ½ cup finely shredded coriander
• 3 pickled jalapeño chillies, diced
• juice of 1-2 limes
• ½ tsp sugar
• pinch of salt
Seasoning mix
• 1 tsp celery salt, or ordinary salt
• 1 tsp smoked paprika
• 1 tsp hot chilli powder
• 2 tsp ground coriander
• 2 tsp ground cumin
• ½ tsp black pepper
• 1 tsp dried oregano
Heat a medium saucepan over medium heat and add the oil, onion and garlic. Fry for a few minutes until fragrant, then add the beef and brown well. Add the tomato paste and canned tomatoes along with the seasoning mix, salt, soy sauce and sugar. Simmer for about 30 minutes until the mixture is thickened and rich. Taste and adjust the seasoning as necessary.
For the coriander salsa, combine all the ingredients together and mix well. Heat your oven to 200˚C (180˚C fan-forced). Place the corn chips into a baking dish and pour the beef mixture on top. Scatter liberally with the cheese and bake for 10 minutes, until the cheese has melted. Top with the sour cream, cherry tomatoes, coriander salsa and avocado and serve immediately.
Mexican chocolate pancakes
Serves 4
If you're having these for breakfast, make regular-sized pancakes. But if you're staying on the couch after your nachos, keep them to pikelet size. They'll be easier to eat that way.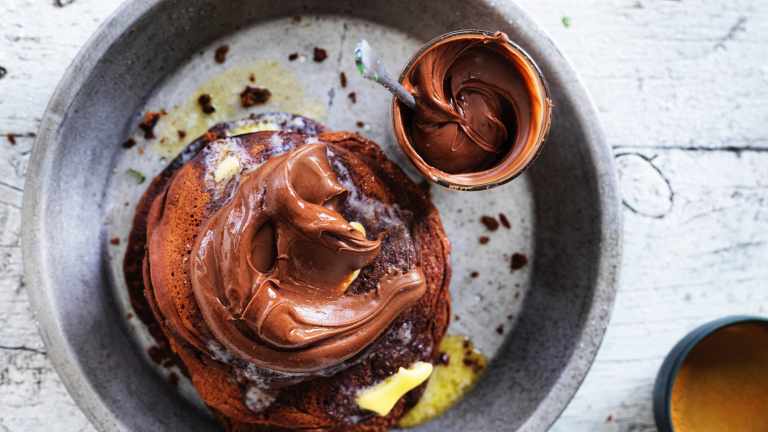 • 1 cup milk
• 180g cooking chocolate (70% cocoa), chopped
• 1½ cups self-raising flour
• 3 tsp baking powder
• 2 tbsp caster sugar
• generous pinch of salt
• 1 tsp ground cinnamon
• 1 egg, separated
• 50g melted butter, to serve
• ¼ cup Nutella, to serve
• ¼ cup icing sugar, to serve
Bring the milk to a simmer in a small saucepan and whisk in the chocolate. Set aside to cool for about 10 minutes. Sift the flour and baking powder together, then stir through the sugar, salt, cinnamon and egg yolk. Gently mix with the chocolate milk to create a batter. Pass the batter through a sieve to remove any lumps, then stir through the egg white.
Heat a non-stick frying pan over low-medium heat and, without adding any oil or butter, add ½ cup of the batter (less if making pikeletsized pancakes) and fry for about 3-4 minutes on one side, then flip and cook for a further 2-3 minutes on the other, until the pancakes are cooked through. Repeat with the rest of the batter. Transfer the pancakes to a plate once cooked, drizzle with melted butter, spread with a little Nutella, dust with icing sugar and serve.
This article appears in Sunday Life magazine within the Sun-Herald and the Sunday Age on sale November 4.