There's no better example of cultural cringe in Australia than the attitude of so many of us towards our national cuisine. Ours is one of the finest in the world – varied, experimental, steeped in history and tradition, and underpinned by high-quality produce. I've heard too many Aussies write off our food as "just Vegemite and meat pies", preferring fare from Asia, Europe and/or the Americas. Yet we've absorbed these cuisines and made them part of our own; we should be proud of that.
Noodles, for example, are as much Australian as they are Asian, and our pasta dishes don't have to be designated "Italian". Imagine if the Italians kept calling spaghetti "Chinese" – after all, they've only had it for about 500 years. After the English claimed chicken tikka masala, it brought on a renaissance of pride in good British grub, and there's a valuable lesson in that for us – we need to embrace our cuisine as truly Australian, no matter where it started out.
And no – I don't give a stuff that pavlova comes from New Zealand.
Prawn cocktail pie
Serves 8-10
If the pie is Australia's national dish, this chilled savoury version is perfect to share with a crowd on Australia Day.
• 1 stalk celery, finely diced
• 3 spring onions, finely sliced
• 1 cup whole-egg mayonnaise
• 1 cup sour cream
• 2 cups shredded iceberg lettuce
• 24 large cooked prawns, peeled, with tails on
• 1 cup mixed cherry tomatoes, halved
• ½ cup cocktail onions
• ½ cup cornichons, sliced lengthways
• 2 tbsp finely chopped chives
• 1 tbsp finely chopped parsley
• lemon wedges, to serve Shortcrust pie case
• 225g plain flour
• 125g chilled butter, cut into cubes, plus extra for greasing
• ¼ tsp salt Spicy tomato cocktail sauce
• 125ml tomato passata
• juice of 1 lemon (about 80ml)
• 1 tbsp olive oil
• 2 tsp Worcestershire sauce
• 1 tsp Tabasco
• ¼ tsp caster sugar
• ¼ tsp horseradish, or to taste
• salt and pepper, to taste
To make the shortcrust pie case, preheat oven to 200°C. Combine the flour, butter and salt for the pastry in a food processor and blend until they resemble coarse breadcrumbs. Add 2 tbsp of cold water a little at a time and pulse until the mixture comes together in a mass. Lightly knead a few times to form a consistent dough, wrap in cling film and refrigerate for 20 minutes.
Roll out the dough to a ½ cm thick circle and press into a 22cm fluted tart tin. Put in the freezer for 10 minutes to firm, then line and weight with pastry weights and bake for 10 minutes. Remove the weights and bake for a further 5-10 minutes, until golden brown. Allow to cool to room temperature in the tin and then chill until ready to use. For the spicy tomato cocktail sauce, combine all the ingredients using a stick blender. Season to taste and toss through the prawns.
Combine the celery, spring onion, mayonnaise and sour cream and spread onto the base of the pie case. Scatter with iceberg lettuce, then place the prawns on top. Scatter with the cherry tomatoes, cocktail onions, cornichons, parsley and chives. Serve immediately with lemon wedges.
Adam's tip Even if you peel prawns before poaching, poach the shells with them anyway and use as little water as possible. This will maximise the flavour. And never boil prawns vigorously, as that will make them tough.
Aussie steak tartare with Vegemite toast
Serves 4
The savoury kick of Vegemite is welcome here: it helps make up for the lack of savoury crust that well-cooked meats have.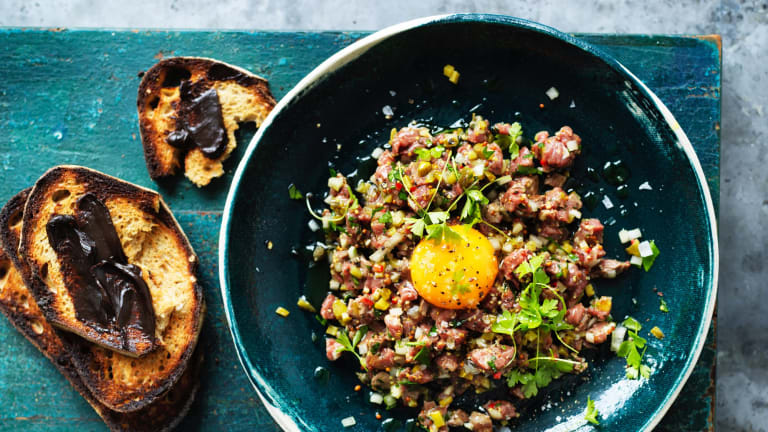 • 1 tsp extra virgin olive oil, for frying, plus 1½ tbsp extra, for mixing
• 300g fillet steak
• ½ tsp flake salt
• 1 eschalot, finely minced
• 2 cloves garlic, finely minced
• 1 bird's eye chilli, seeds removed and finely minced
• 2 tsp capers, finely minced
• 5 cornichons, finely minced
• 1 tsp brandy
• 1 tbsp seeded mustard
• 1 tbsp shredded parsley
• 4 slices brown bread, crusts removed
• 30g butter
• 1 tbsp Vegemite
• 1 egg yolk
• freshly ground black pepper, to serve
Heat a frying pan over very high heat and add a teaspoon of the oil. Sear the steak on all sides just for a few seconds. The steak should be browned on the outside, but still completely raw in the centre. Chill the steak in the fridge for 15 minutes, then coarsely mince with a knife. Combine the minced steak with the reserved oil, salt, eschalot, garlic, chilli, capers, cornichons, brandy, mustard and half the parsley. Mix well.
Toast the bread and spread generously with butter and very lightly with Vegemite. Cut each slice into 4 triangles. Arrange the meat on a serving plate and top with the egg yolk. Scatter with the remaining parsley, grind plenty of black pepper on top and serve immediately with the toast.