Lives: Johannesburg, South Africa. Age: 63. Represented by: Annandale Galleries, Sydney; no Melbourne gallery.
His thing: Large-scale prints and drawings, small sculptures and maquettes relating to opera and multimedia performances.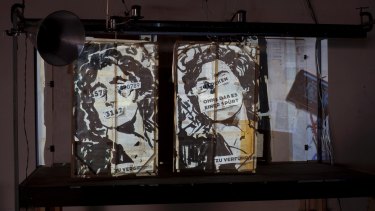 Our take: South Africa's William Kentridge has become one of the world's leading contemporary artists, known for an oeuvre that ranges from etching to full-scale theatrical productions. As a complement to Kentridge's exhibition that which we do not remember, at the Art Gallery of NSW until February 3, Annandale Galleries is hosting Right Into Her Arms (pictured). The title comes from Alban Berg's opera Lulu, which Kentridge directed for performances in Amsterdam, New York and London in 2015. He quickly went on to direct Berg's earlier opera, Wozzeck, which debuted in Salzburg in 2017, and is set to travel to Sydney in January, then on to New York and Toronto.
Kentridge's recent work also includes two gigantic multimedia pieces: Triumphs and Laments in Rome in April 2016, and The Head & the Load at Tate Modern, London, in July this year. Given the complexity of these projects, which involved hundreds of collaborators, one can only gasp at the artist's energy and productivity. Annandale Galleries has been showing Kentridge's work since 1995, and has put together an exhibition that includes drawings, sculptures, large-scale prints and even a model theatre for Lulu. It's a concentrated overview of four highly productive years.
Can I afford it? It's difficult to name a record price for an artist who creates operas and installations. Bill Gregory of Annandale Galleries says "over $1 million" would be a conservative estimate. This show's most expensive item is the model theatre, Right Into Her Arms (244cm x 300cm x 125cm, pictured left), at $550,000. It's the last of an edition of three and has an audio-visual component that runs for 11 minutes. Other works are more accessibly priced, with the cheapest being the etching Rider (40.5cm x 50cm, edition of 40), for $6500. Anyone who started collected Kentridge in 1995 has made a sound investment.
Where can I have a squiz? Annandale Galleries, 110 Trafalgar Street, Annandale, Sydney, until December 8; annandalegalleries.com.au.
To read more from Good Weekend magazine, visit our page at The Sydney Morning Herald or The Age.