Coinciding with the release of his memoir, Antonio Carluccio has gathered favourite recipes from seven of his cookbooks into The Collection. He shares three recipes ahead of his appearance at the Crave food festival in Sydney next month.
Shoulder of lamb with mushrooms
Serves 6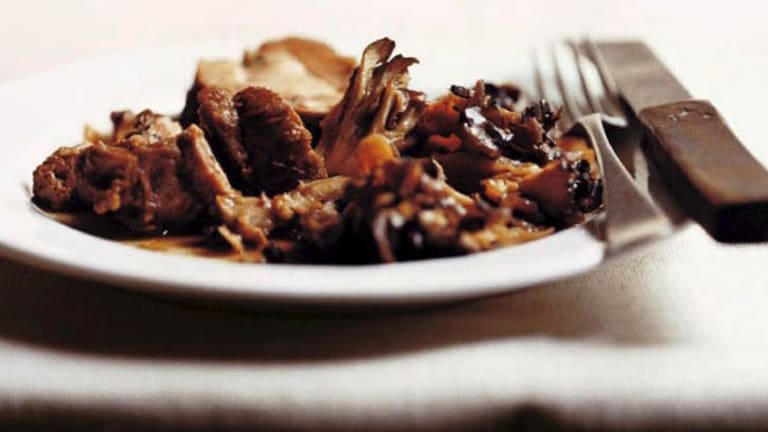 200g hen of the woods mushrooms (or use oyster mushrooms), cleaned weight
15g dried ceps
4 small shoulders of lamb, boned (get your butcher to do this for you)
1 tbsp each of chopped parsley and rosemary
1 tbsp chopped garlic
salt and pepper
8 tbsp olive oil
1 onion, finely chopped
1 celery stalk, trimmed and finely chopped
1 tbsp black peppercorns
500ml chicken or vegetable stock
300ml white wine
2 tbsp Worcestershire sauce
Clean the fresh mushrooms thoroughly, and separate into small lobes. Soak the dried ceps in warm water for 20 minutes, then drain, reserving the water, and finely chop. Remove most of the fat from the lamb shoulders, trimming them well. You want each piece to weigh about 200g. Lay the pieces, boned side up, on the work surface.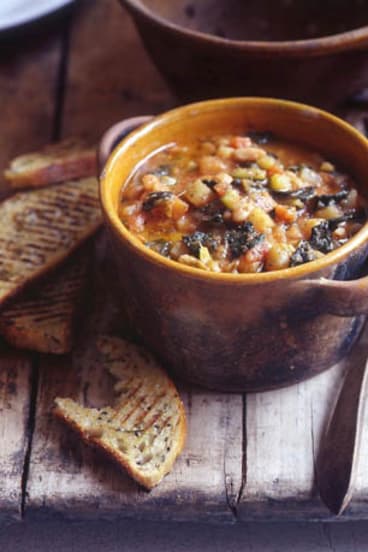 Mix the chopped herbs and garlic together, season with salt and pepper, and divide between the pieces of lamb, spreading the mixture evenly on the meat. Fold each piece of lamb over, then roll and tie into an even shape with kitchen string. Dust with flour and fry in a casserole dish in the olive oil until brown on all sides, turning every few minutes. Add the onion, celery and peppercorns to the casserole dish and saute briefly, then add the stock, wine and Worcestershire sauce.
Cover and cook on top of the stove over a gentle heat for an hour. Turn occasionally. After an hour, much of the liquid will have evaporated, but there should still be enough to serve as a sauce. Add the mushrooms, fresh and dried, plus a little of the soaking water if necessary, and cook for a further 30 minutes. Check the seasoning before serving.
Ribollita - 'reboiled' cabbage soup
Serves 6
300g cannellini beans, soaked for 12 hours
400g cavolo nero, or outer leaves of a Savoy cabbage
2 leeks trimmed and cut into thin discs
1 large carrot, cubed
2 celery stalks, trimmed and cubed
50ml olive oil, preferably Tuscan, as required
2 large potatoes, peeled and cubed
2 courgettes, trimmed and cubed
400g polpa di pomodoro or chunky passata
300g silverbeet, green part only, cut into strips
1 small thyme sprig
salt and pepper
6 slices of stale bread, toasted
extra virgin olive oil, to serve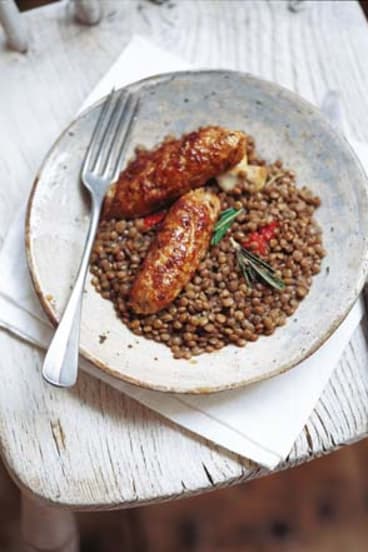 Drain the beans and cook in plenty of water (without salt) for one and a half hours until tender. Puree 150 grams of the cooked cannellini beans in a blender.
Trim the black leafy part of the cavolo nero from the white stalk. Put the leeks, carrot and celery in a pan with the olive oil, and sweat gently for 10 minutes. Add the potatoes, courgettes, cabbage and tomato pulp and cook for an hour. Then add the silverbeet and thyme, and cook for another 20 minutes. Now add the pureed cannellini beans and the rest of the beans whole, and cook for another 30 minutes. When everything is soft and cooked, taste the soup and correct the seasoning. To serve, put a slice of toasted bread in each deep soup bowl and pour the soup on top, letting it soak into the bread. Drizzle generously with good extra-virgin olive oil, and grate on lots of black pepper.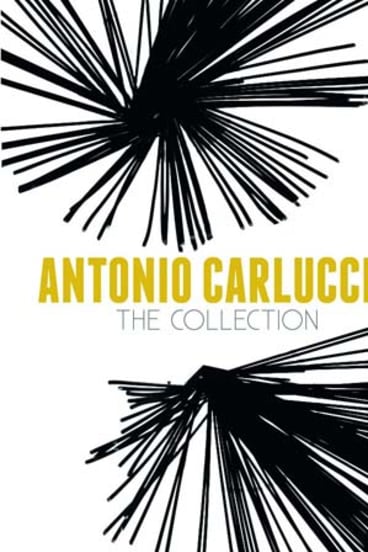 If you want to reheat the soup from cold, put the whole lot in a pan (apart from the bread, of course), and cook gently for 30 minutes before serving.
Lentil and homemade sausage stew
Serves 4
2 garlic cloves, squashed
50g sundried tomatoes, cut into strips
7 tbsp extra virgin olive oil
250g Castelluccio lentils
450ml chicken stock
2 celery stalks, with leaves, trimmed and chopped
salt and pepper
Sausages
500g minced pork
50ml strong red wine
1 tsp fennel seeds
1 mild chilli, finely chopped
1 tsp chopped rosemary
Fry the garlic and sundried tomatoes in six tablespoons of olive oil for a few minutes in a large pan. When the garlic starts to turn pale golden, add the lentils, stock and celery. Cook for 30 minutes or until the lentils are soft. Cover; keep warm over low heat.
Meanwhile, in a medium-sized bowl, mix the sausage ingredients together well and season with salt and pepper. Take a handful of mince and roll it into a sausage shape, eight centimetres long and three centimetres in diameter. Wrap tightly in a piece of foil, closing by turning the ends as you would a sweet.
Bring a large pan of water to the boil. Poach the sausages in the boiling water until they pop up to the surface, about two to three minutes. Leave to cool a little, then take off the foil. This poaching should ensure that the sausages hold together.
Moisten the sausages with the remaining olive oil, then fry until golden on all sides, about five minutes. Add the sausages to the warm lentils, and cook gently together for five minutes. Eat with bread or, if you like, with a few boiled potatoes.
>>Recipes from Antonio Carluccio: The Collection (Quadrille, October 2012, $49.95).
Morning & Afternoon Newsletter
Delivered Mon–Fri.