Conquering hero far from home
LAST night Hollywood action hero and former Home and Away star Chris Hemsworth was named GQ Australia's man of the year, the grand prix of an annual gong show for the nation's prime cuts of manhood. But what made Hemsworth an intriguing recipient was that he took the gong, as voted by the magazine's readers, after beating Keith Urban, Hugh Jackman, Matthew Cowdrey, Michael Clarke, Guy Sebastian, and most interestingly, his kid brother Liam Hemsworth.
Not that Liam has much time to worry, he is reportedly busy planning three weddings with his US pop star fiancee Miley Cyrus. Neither of the Hemsworths made it back for last night's event at the Ivy, with Chris filming Thor 2 in Iceland and Liam up to his eyeballs in baby's breath at the Cyrus ranch, leaving it to proud parents Craig and Leonie to accept their son's trophy.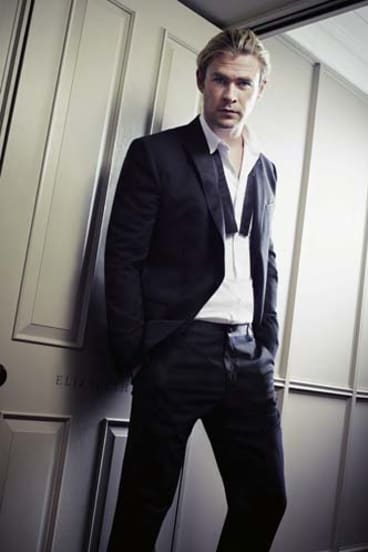 Chris has truly hit the big time since quitting Summer Bay for Hollywood and landing the blockbuster Thor films, which saw him grow his hair out, bleach it blond and develop the sort of pectorals that would do Dolly Parton proud (and Melissa George thinks she has problems).
In Thor his nemesis is his brother, Loki, a fraught fraternal relationship of which Chris recently told the British press: ''But it was different than your normal good guy, bad guy scenario. They're brothers, you know? Anyone with siblings understands that. 'That's it, I'm never talking to you again … want to play football?' ''
Meanwhile, it wasn't all about the Hemsworths last night. GQ anointed a few other deserving chaps, including Cowdrey, who was named sportsman of the year. Emerging actor Callan McAuliffe was ''breakthrough'' of the year, Hamish MacDonald was named media personality of the year, Richard Roxburgh was given actor of the year and Matthew Mitcham was bestowed with the curious honour of being named something called ''the social force of the year''.

Senior journalist Andrew Hornery is the man behind The Sydney Morning Herald's Private Sydney column. If they are worth knowing about, they are on the PS radar.
Morning & Afternoon Newsletter
Delivered Mon–Fri.