The old-fashioned Hollywood image of the American Indian – the war-whooping brave in headdress and facepaint – is so ubiquitous as to be unremarkable in Australia. Few eyebrows were raised when fashion designer Camilla Franks wore an extravagant feathered bonnet for a recent Good Weekend cover, suspecting "she was a Native American in a past life."
The Real Housewives of Melbourne pulled out similar war bonnets this year, dancing around and "woo woo woo"-ing. High street fashion stores stock Navajo-print leggings, "Aztec" headbands and buckskin boots.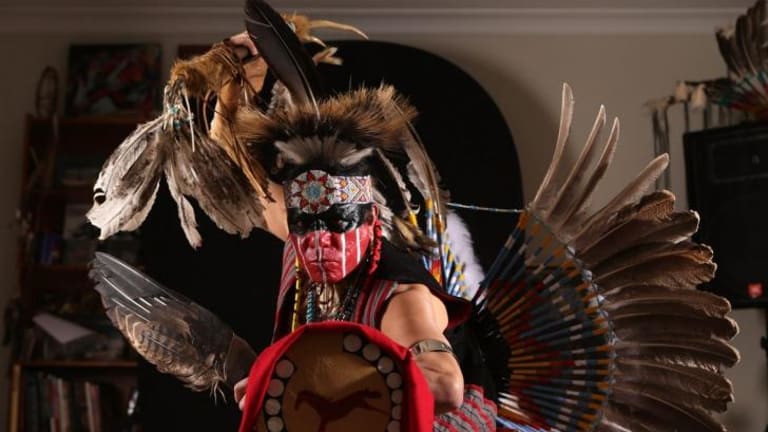 For great swathes of history, wearing this attire signalled a cultural heritage that could occasion persecution and death. Now it's apparently a signal that you know how to party. At music festivals – the most common place to spot birds of this feather – wearing a knock-off band T-shirt may be a bigger faux pas than ripping off another culture. But a backlash has long been brewing in the Americas and this month hit Australia on two fronts.
The Meredith Music Festival banned the wearing of headdresses and other culturally sensitive items, while a new festival drew criticism for basing its entire brand around the same imagery.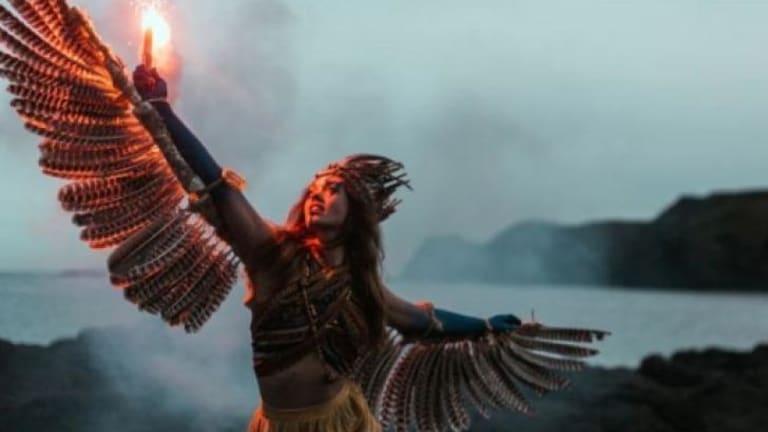 "There would be mass outcry if white English people were going to Glastonbury dressed up like Indigenous Australians," says Brisbane music writer Mitch Knox. "So why do we think it's OK for us to do that to other cultures?"
Knox spotted more than 20 feathered headdresses within a few hours of arriving at this year's Splendour in the Grass festival. While he admits that he's "possibly the world's whitest white man," he's connected enough to know of the debates that have been raging around the world for years now, and penned an op-ed for music websitethemusic.com.au titled Why Our Love of War Bonnets is Ruining Music Festivals.
It's interesting how rarely the term "racism" is employed by either side in this debate. Rather, those who condemn the practice of claiming Native American iconography point to it as unethical, disrespectful, inaccurate or patronising.
"You can see that there's not a racist intent behind it," says Knox. "But I don't think that necessarily reduces that it's still racially insensitive, at its core.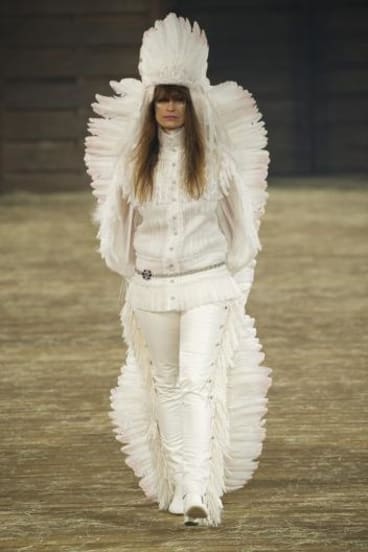 "I don't think that it's a deliberate, malicious act, but is steeped more in ignorance and not being aware of these sort of things."
Meredith's veto was a subtle one. Its rules this year prohibit "offensive signage, slogans, clothing, costumes" but also include a link to a well-known and oft-quoted article titled But Why Can't I Wear a Hipster Headdress? by Dr Adrienne Keene of US website Native Appropriations.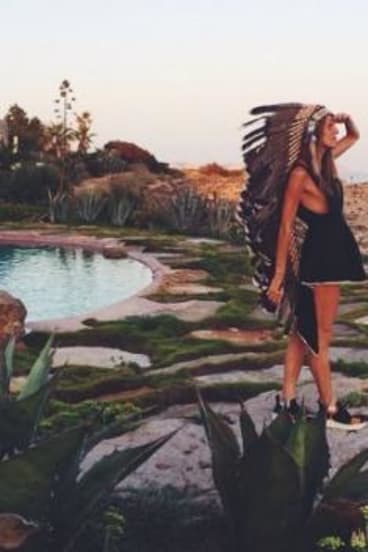 There, she sums up some of the defences she has encountered when explaining just what's so wrong with "playing Indian".
"The image of a war bonnet and warpaint wearing Indian is one that has been created and perpetuated by Hollywood and only bears minimal resemblance to traditional regalia of Plains tribes," writes Keene. "It furthers the stereotype that Native peoples are one monolithic culture, when in fact there are 500+ distinct tribes with their own cultures."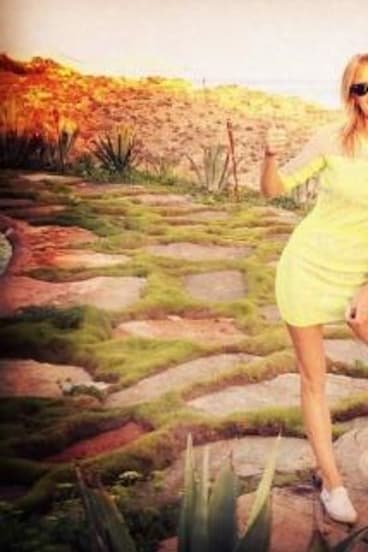 Keen says "playing Indian" has a long history in the United States but is no better than minstrel shows or dressing up in blackface. "You are pretending to be a race that you are not, and are drawing upon stereotypes to do so."
Kimberley Moulton, Curator and Project Officer of the Birrarung Gallery at Museum Victoria's Bunjilaka Aboriginal Cultural Centre agrees that playing an "Indian" is the same as blackface. "Blackface has been a faux pas for a long time now, you just don't do it," she says, but the 'redface' of headdresses and warpaint doesn't have the same stigma attached.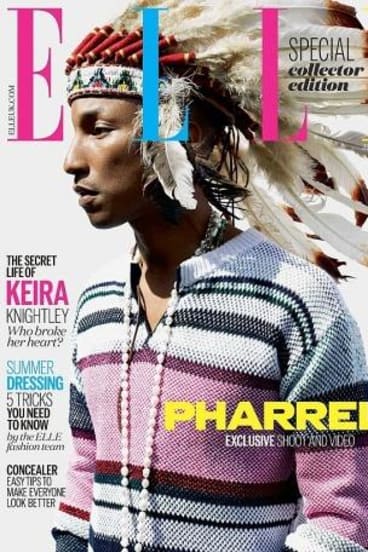 "You see musicians at festivals wearing this shit and you've got all these people replicating that style, which is just what happens in fashion. People aren't associating cultures to these items, they're associating a scene or a style.
"It may just be some little hipster 20-year-old at a festival wearing a headdress but it actually plays into a much bigger issue. Maintaining culture is integral to indigenous people across the world. That is what we have. There have been attempts for thousands of years to get rid of culture, to disperse and to dispossess aboriginal people of their lands and culture."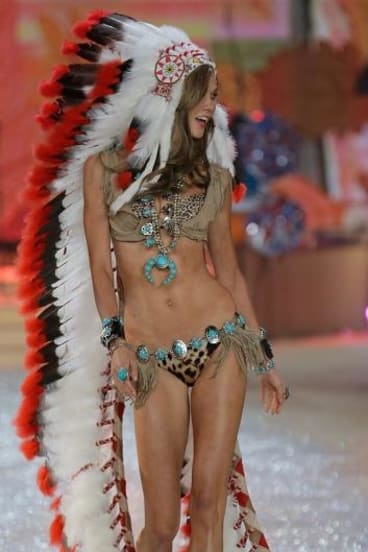 There's a school of thought (maybe it's more like a kindergarten) that argues for a complete divorce between fashion and politics. Keene counters that "if you're okay with being a walking representative of 500+ years of colonialism and racism, or don't mind perpetuating the stereotypes that we as Native people have been fighting against for just as long, by all means, go for it."
To the argument that wearing a war bonnet is a sign of respect, she retorts that "having a drunken girl wearing a headdress and a bikini dancing at an outdoor concert does not honor me ... Those costume shop chicken feather headdresses aren't honoring Native craftsmanship. And you will be very hard pressed to find a Native artist who is closely tied to their community making headdresses for sale."
"You're not honouring a culture by wearing a headdress made in Bali with neon feathers," says Moulton, "because if you knew the culture and actually wanted to honour it you'd know that only certain people out of the clan wore it. You would understand the significance of that object. And to honour a culture you don't have to appropriate or claim it. I think that's where people get confused."
Canada's Bass Coast Festival banned the wearing of war bonnets this year after consultation with representatives of the indigenous population of British Columbia. In a statement organisers stated that they "understand why people are attracted to war bonnets. They have a magnificent aesthetic. But their spiritual, cultural and aesthetic significance cannot be separated."
But, says Moulton, "it's one thing wearing a headdress and putting some paint on your face out of ignorance. But then for a festival to base its whole formula on this weird romanticised idea of native culture... that's really dangerous, because these festivals have a platform. They've got thousands of young people going."
That festival is Beyond the Valley, a New Year's Eve event to be held at Phillip Island with a capacity of 12,000. The festival's branding features young white folk in facepaint and feathers and beads, and dreamcatchers and arrows are all over its website. A luxury camping option – in teepees – was known as "Chief Camp" until earlier this month, when it was renamed "Lux Camp".
When negative comments began to appear on the festival's Facebook page they were quickly deleted, but a statement was recently issued on the same site defending its marketing choices.
"As seen in the launch video we have drawn inspiration from a variety of mythological creatures and ancient cultures to help support the festival's strong focus on freedom – a contrast to the arguably repressive norms of modern societies... Our artwork reflects a love of global traditions and is in no way intended to challenge or offend and we sincerely apologise to those who have perceived our artwork and branding as offensive."
Red Horse is a Native American Indian descended from the Mescalero Apache tribe who now lives in Melbourne. He's not personally offended by Beyond the Valley's imagery. "They are just like hippies wearing this stuff," he says. "They're not really mocking Native American people. They're doing it as a fashion thing and because they're interested and because they don't know that some Native American people get upset by it."
He has been surprised at how many Australians are "very, very fascinated" with Native American culture, but also at the level of misunderstanding he has encountered when it comes to the meanings of items such as war bonnets. People who wear one as a fashion accessory "don't know what it represents. What goes into it and why it's made." It traditionally took a lot of "blood, sweat and tears" to earn a war bonnet, he says. "It doesn't start out as a bonnet. It starts out with one feather, and that feather is usually for an act of bravery in battle.
"For different things that you did in battle you'd get different feathers. You wouldn't get a feather for shooting a guy from a distance, you had to go up right next to him. Or you had to do what is called 'counting coup' where you would touch them when you're able to kill them but don't. Because of that you'd be awarded a feather. Sometimes you were given a feather for acts of compassion. There are so many different rules."
To earn the sort of cascading, voluminous bonnet that many now don at outdoor festivals would traditionally require a long life of acts worth recognition. "All those feathers were earned," says Red Horse.
It's disheartening, he says, that "people are just putting them on because they look pretty. They have no idea of the spiritual value or what it was used for." He doesn't want to condemn people whose actions are merely the result of ignorance. "You can't stop people doing it. . . . But you can make them understand and educate them, and maybe through education they'll be able to look at it as something to revere," says Red Horse.
To that end, he runs an annual day-long event introducing participants to aspects of Apache culture. The interactive mini-festival includes dance, live music, meals, screenings and storytelling. "That's why we have these events, to educate people, because we wanted them to know that it's more than what you saw in the movies."
CULTURAL MISSTEPS
Treating Native American culture as a dress-up box has led to some high-profile controversies in recent years. Here are some of the incidents where "redface" has led to red faces.
- Elle UK initially crowed about having "persuaded" singer Pharrell Williams to don a feathered headdress for a cover shoot, but the backlash saw the singer eventually issue a public apology.
- Wayne Coyne of The Flaming Lips fired his drummer after the bandmember criticised a friend for wearing a war bonnet. Widespread condemnation of the incident led to both Coyne and companion expressing public remorse for misunderstanding the offence.
- No Doubt filmed a "cowboys and Indians" themed music video in 2012 but recalled the footage within mere hours of its release.
- In 2012 Victoria's Secret apologised after a runway show featured model Karlie Kloss in a floor-length headdress and animal-print bikini. The footage was edited out of TV broadcasts.
- Last December Chanel presented a similar runway show featuring imagery derived from Native American culture. A subsequent statement by the company "deeply apologize(d) if it has been misinterpreted or is seen as offensive as it was really meant to be a tribute to the beauty of craftsmanship."
- In April model Heidi Klum was lambasted after sharing images from a Native American-themed photoshoot taken forGermany's Next Top Model.
- Earlier this month Vogue Japan editor Anna Dello Russo posed for a picture of herself in a knee-length war bonnet. She posted the image to social media site Instagram with a caption describing it as her "Ibiza hat".
Morning & Afternoon Newsletter
Delivered Mon–Fri.