New wool order: Feeding the ravenous red dragon
In the past, most of Australia's renowned merino wool was refined in Europe's fashion capitals. Now, high-tech Chinese factories have quietly taken over – and created a new demand.
In the humid darkness of an underground carpark, I step into the back of a brown Buick minivan. The passenger inside barely registers my presence. Yang Li, the Beijing-born, Perth-raised, Antwerp-trained, London-based, New York-bound fashion designer, hides behind elliptical purple sunglasses. The peripatetic fashionista offers a delicate handshake and a quite plummy British "hello", but little more. Fair enough, too. Li, 31, has just flown to Shanghai Pudong International Airport direct from the United Kingdom, so he's sweaty and jetlagged.
He slumps in his seat, wearing what has become his uniform – black T-shirt, black jeans, black boots and hair pulled into a ponytail – because, he tells me later, "you can't spend half the day dressing yourself". Within minutes, this young man – described in the world of fashion as "a comer" (The Washington Post), "one of the most relevant young brands in the world" (The Business of Fashion), and "the poster boy for a new generation of Chinese designers" (South China Morning Post) – is hunched over, head tilted, contentedly snoring.
We hit the highway on the edge of Shanghai, a city with the same approximate population as Australia, and drive for four straight hours, enveloped in the torpor of slow-moving traffic on a smoggy 38°C day. The landscape is an endless rush of blockish apartment buildings and scratchy fields and nuclear cooling towers. We're headed to Danyang, a small city in the Jiangsu province, where Li has a meeting with a large textiles factory called Danmao. Li has come to inspect fabric samples he might use in a collection of new garments.
He was invited to make the trip, and create a capsule collection, as part of a series of lavish celebrations being held to commemorate roughly half a century of wool trade between China and Australia. These elaborate soirées and launches and ceremonies are being staged throughout the world in October by The Woolmark Company – the lobbying, research and marketing body that represents about 55,000 Australian growers of high-quality merino wool – and their back-slapping jollification is not without reason.
Australia has always ridden on the sheep's back, as they say, but we're now riding higher than ever before. Wool is hot (although its spruikers often point out that the natural fibre can keep you cool and aerated, too), and perhaps nowhere is it hotter than in China. Twenty years ago, virtually none of Australia's quality wool was sent here – 4 per cent, if that. But in two short decades the demand from Chinese mills – and markets – has become insatiable. Now, 80 per cent of the clothing-grade (that is, fine and superfine) wool grown in our paddocks is fed directly to the ravenous red dragon – 271,000 tonnes last year alone. Prices are high, too. Ten years ago, the fibre from our finest merino sheep was worth maybe $8 a kilogram. Now it commands a price closer to $21.
Demand is unlikely to slow. A global push is underway to capture Millennial fashion buyers, those for whom wool might still be thought of as that heavy, scratchy textile that nanna knits into daggy jumpers. Aggressive advertising campaigns are about to be launched, selling wool as the ecologically sound fibre – but also the versatile option. Wool is moving out of knitwear and into active-wear through new stretchy and porous textiles that breathe and cool and comfort, and require serious technological innovation.
And China is where that narrative unfolds. Once, the factories in a place like Danyang churned out substandard fabric swatches made on primitive Russian looms, and so our best product was instead sent to Europe, where it could be refined in the best Italian mills. Today, China has the edge, with the most advanced weaving and spinning frames in the world. Many of the factories are fully integrated operations – the raw shorn product known as "greasy" wool going in one end, fine suits coming out the other.
Li, who rouses from slumber as we arrive at the factory, and smiles after a cigarette and strong coffee, says he recently visited a nearby factory called Sunshine, which is basically its own small city, with dormitories for staff of around 18,000 and a 10-storey hotel for visitors. The "town of clothes", as it is known, produces around 35 million metres of wool and wool-blend fabric every year. And it's not the only one of its kind.
"China is surpassing everyone now," says Li. "The technology, the machinery, the capacity – the factories are 10 times bigger, 10 times better, 10 times cleaner. It's like the difference between a Lamborghini and a Hyundai. Or, you could say they see it as a science, whereas the Italians probably see it more as an art."
Designers have taken notice. Michael Kors shifted some of his production to China. Prada, too. And Coach. Indeed, when it comes to clothing, "Made in China" is a tag no longer synonymous with inferiority. In its own domestic market, after a recent campaign by first lady Peng Liyuan, buying Chinese is seen as patriotic. While in the West, wool is spoiling for a fight with synthetics such as nylon and polyester, by showcasing what a natural fibre can do in the hands of designers like Li. "The best way to describe my clothes," Li says, "is punk Max Mara."
His inspiration is basketball courts and halfpipes, the writing of William S. Burroughs and the music of Nick Cave, the minimalism of Helmut Lang and the elegance of Chanel.
Li's mother left China shortly after he was born, taking the opportunity to study English and work as a translator for a mining company in Perth. His father, a ping pong player, was in the Chinese army. Li was raised in Beijing by his grandparents, which is common. When he was 10, he and his father reunited with his mother in Western Australia, settling in suburban Inglewood. Emerging from the ongoing void of the Cultural Revolution, his teenage years were spent catching up – absorbing sport, music, movies – and diving in. Walking the streets without shoes. Jumping off rocks. Riding a bike. Skateboarding. Trying to surf. Not trying to fit in or stand out but rather, to sample his surrounds. "It was that wild feeling, learning about life. I tried everything and anything I could, the good and the bad."
Fashion was not something he ever thought he would pursue. Captivated by the exclusivity and beauty of Formula One racing, he wanted to be a driver. He only considered a career in clothes when he realised that fashion is, at its core, telling a story. "You're writing a character – what music does he listen to? How does she sit? What does he eat? And then what's she wearing? You're building a world, a unique DNA," he says.
That building begins with raw materials, and so inside the Danmao boardroom, Li begins opening a stack of big black books filled with various swatches that the manufacturer forecasts might be "in" next season. If Li sees something he likes, he can discuss sample orders. If he sees something he loves, he can order 1000 metres, which might make 800 coats. He can talk to the designers here, too, to tweak the finish of the fabric, or adjust the density, and they can generally respond in under a month, delivering whatever he needs to his studio in London's Whitechapel.
"When I'm looking at fabric, I have to touch it," he says. "Half the time, my design starts with fabric. You see something, feel something, and think about how it could be nice on a big shirt, huge cuffs, collar, whatever."
He picks up a piece of sheer black woollen mesh between thumb and forefinger. It's stiff, almost like flywire. The next piece in the booklet has a raw, imperfect quality, with an elastic and gappy weave. "This is quite interesting," says Li. "It makes me think of Seditionaries [the 1970s London boutique of designer Vivienne Westwood and punk impresario Malcolm McLaren], the Sex Pistols. They used to cover themselves in these cheap muslins – really shitty fabric. It was poor-looking but culturally important. For me, it's nice because my customers know this kind of music. So it evokes that same feeling, but it's quality – this is 100 per cent wool."
He keeps running through the books, pointing out various patches and examining the labels to see how they're made. Some of the fabrics, for example, feel quite luxe, like butter, or silk, yet they aren't even made from the finest quality wool. They're processed by what's called Optim technology, a relatively modern method of stretching, compressing and refining average wool into something better.
"This piece here is only half wool, but the technology the company uses makes it feel incredible, and it looks like 100 per cent merino," Li says. "So imagine if you own an airline company, and you need to make 50,000 black suits, and they can cost either $200 or $80. The Chinese have gotten everything they can out of that 50 per cent. It's something I just don't think the Italians or the English can do."
Colour is never an issue. Li could send the factory a leaf, or a rock, or a stain, and they can match any Pantone. We walk across to one of the dyeing houses inside the sprawling factory network. The area beyond the grounds is a mix of cottages and office buildings, rice paddies and glimmering aviation firms. "Look around you," Li says. "They've gone from agriculture to e-commerce in two decades."
Accompanying us on the walk is Madame Fu, the chief designer at Danmao. She was 21 when she started here, 26 years ago. When asked what it was like then, she laughs, pauses to smile, and laughs again. "It was a basic company. Basic," she says. "All we could do is produce yarn." Today it processes 3000 tonnes of Australian wool every year, making 10 million metres of fabric. Around us, thousands upon thousands of individual threads move through the waterless dyeing process, which uses only natural plant dyes. The spindles and cranks whir and spin in unison, while an automated duster creeps along each row, vacuuming up flecks of lint and dirt and organic matter.
This combination of attention to detail and environmental awareness is the kind of effort that drew Danmao one of its biggest clients, New Zealand outdoor apparel company Icebreaker. It's a leader in the high-performance active-wear space, selling its "Born in Nature" story to consumers, but it's not the only one. Walk the malls of Shanghai's French Concession district, as I did, and between every massive Gucci boutique or flagship Tiffany & Co. store, there are countless brands selling everyday clothes to China's affluent young who seek clothes they can "layer", and respond to slogans like "Go Hard" and "Play. Sweat. Live." High fashion and fitness fashion are merging.
"This morning, I had an independent label come to see me with their new collection," says Angelica Cheung, the editor of Vogue China, on the phone from Beijing. "It was almost like something between pyjamas and a suit. It's part of a whole lifestyle change globally. People are more inclined to wear things that make them feel relaxed."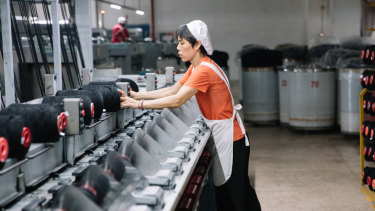 Cheung would know. She launched Vogue China in 2005, back when market research indicated that virtually no one in China knew the name Vogue. Yet the first wave of what are now known as "Crazy Rich Asians" was emerging and an appetite for luxury saw them snap up the initial 300,000 copy print run of the magazine. Now the Chinese edition is one of strongest titles in the Vogue stable. Cheung says the new Chinese buyers initially bought products with big logos – obvious signifiers of wealth – yet rapidly they grew into a more discerning and mature market. The pages of the magazine devoted more space to local designers, born in China but educated at Parsons School of Design in New York and Central Saint Martins in London (where Li studied before interning for Raf Simons in Belgium).
"Now Chinese buyers have the confidence to buy something for the sake of loving it, for its own cool, and not its symbol," Cheung says. "They're after something more casual. For want of a better term, call it 'sneaker culture'."
The work of Li, it should be said, is far from sneaker culture. His designs are darkly beautiful, and rebellious in nature. They're at times severe, yet accessible. On our return to Shanghai back in that minivan, only now at night, he explains his position in fashion, as he sees it. He says he operates in a space close enough to the fringe to be subversive, but near enough to the centre to reach an audience. He's busy preparing for a project in New York in a few days, then Paris Fashion Week soon after. He views a runway show as something akin to a concert – the designer as performer.
"Once we have the clothes, we need to tell people. So it's communicating, writing, art direction for photos and films. Then it's casting models, figuring out make-up, choosing music, choreography, catwalk design. It's endless, and that's what makes fashion interesting for me. I can't even sew. I couldn't make a shirt. But fashion isn't really about making a shirt."
Fashion is about sharing different worlds, and he has experienced more worlds than most. He's seemingly a child of everywhere and nowhere. He feels an obligation to bring some small part of his Western cultural life back to China, but his mind also drifts to Perth. He thinks for a second now about his school days, and how many of his friends came from huge farming properties, populated with sheep. "But I don't think I ever made that connection – that their product would one day come through China, then a studio in London, and arrive on a catwalk in Paris. I don't think they did either. It's a pretty unique chain."
The chain begins, of course, with people like Jock MacRae. MacRae has a 700-hectare farm in Metcalfe, 90 minutes from Melbourne, where he runs 1400 sheep. His family has been growing wool for 120 years, so he knows the story of the beast inside and out. The first sheep to arrive in Australia, he says, came with the First Fleet in 1788. Wool exports began in 1807, and by the 20th century Australia had become the largest producer of merino wool in the world, a title it has never relinquished. There are close to 71 million of the animals baa-ing in paddocks throughout the country, including the one we're standing in now, bordered by wattles and red gums.
"The merino sheep is one of the world's great renewable resources. You get a crop of wool more than once a year, they can be eaten, and they're a hardy animal that can be used to manage the landscape," MacRae says. "In a way, we're just guardians of that flock."
And what a flock it is. Ninety per cent of the wool used in apparel throughout the world comes from Australia. The wool grown in most other parts of the globe is used for little more than heavy fabrics like rugs, and drapes. This is a reflection of quality and one element of quality is fineness, and one measure of fineness is the "micron", otherwise known as a micrometre or a millionth of a metre. Australian wool averages around 20 micron. MacRae's best wool is around 15 micron. "But if you go to New Zealand," he says, "the average would be 30 micron, which you put into a carpet."
This is not because Australia has a unique climate, but because Australian farmers have dedicated the past 200 years to breeding the best possible merino sheep. The gene bank is here. On MacRae's fridge, for instance, is a photo of Harvey, a ram which won Supreme Merino at last year's Australian Sheep and Wool Show. "He was magnificent," says MacRae, wistfully. He sold Harvey recently to a farmer in Tasmania for $52,000.
He shows me a video on his phone now, of a bunch of ewes, strapped to vertical gurneys. One by one they're wheeled into a shed and then artificially inseminated to produce Harvey's progeny. There's a calm efficiency to the process; industry advancement isn't confined to the mills in China. Farming practice here now involves embryonic transfers and computing power as much as it does itinerant shearers. They're experimenting with sensory technology on animals – photovoltaic ear tags, for instance, equipped with a gyroscope plus heat and humidity sensors. They use algorithms to monitor and track the movement within a flock. In the middle of the night, if the sheep move swiftly, a ping is sent to the farmer's phone, so he can race into the fields in case of a wild dog attack. If the flock moves as one but a solo sheep stays put, the farmer will know that animal needs attention.
Stuart McCullough, chief executive of Australian Wool Innovation (AWI, which owns The Woolmark Company), points out that at any one time, the not-for-profit will have about 400 projects on the go, carried out by 200 people in 13 countries. Many of the projects are in research and development, but many are also in marketing. AWI devotes $4 million every year to the International Woolmark Prize, promoting a pre-eminent fashion designer, because that's the association it wants.
"We pitch at the pinnacle of the fashion pyramid. It's Woolmark and Max Mara. Woolmark and Zegna," says McCullough. "We want to deal with partners who have enough elasticity in their pricing to absorb the variable nature of ours. I don't want to play with Target and Walmart. Demand is big. There are 300 million affluent Chinese on our doorstep, and another 300 million coming up behind them. The runway is good."
The only thing that might hurt is drought. The wool industry expects at least a 10 per cent drop in lambing rates as the worst of the current big dry kicks in this spring. MacRae is on the southern edge of the drought, and just starting to see its effects. He's begun feeding his sheep some oats and silage, when in better conditions they would simply graze on the rye grass and clover covering the hills here. "They eat what's in season," he says. "They like a smorgasbord."
He remembers the Millennium Drought well. Ten years spent wondering if it was ever going to rain again was enough to scare his two daughters away from the family business. He understood completely. "It's testing, waiting for your livelihood to fall from the sky."
It's a sunny day, and a cold wind whips across the field. Big clouds move across the sky, plunging paddocks into and out of shadows. A cigarette paper dangles from MacRae's lips as he grabs a pinch of tobacco from a pouch. He thinks about how the industry has changed. How the product has changed. Even how the language around it has changed – how they no longer mention the "prickle factor" of their wool but instead the "comfort factor". It's an exciting time.
"When I was teenager, I remember people saying China was going to be a big deal. I don't think I realised what that meant," he says. " It's been 50 years, a long collaboration, and they've found their way," he says. "They entered low. Now they're on top of the mountain, and so are we."
To read more from Good Weekend magazine, visit our page at The Sydney Morning Herald or The Age.