Just when we thought high-profile women were starting to take a turn for the curvy - thanks largely to highly visible figures like Kim Kardashian and Kate Upton - it seems the opposite could be at play.
According to UK magazine Grazia, more and more brands targeted at young females are rolling out size triple zero clothing due to a new - and dangerous - obsession with extreme slimness.
"Right now it's in to be thin in Hollywood," an LA source told Grazia.
"It's not about a size zero anymore. These days, double-zero sizes don't cut it either. Size triple zero is the number-one goal here."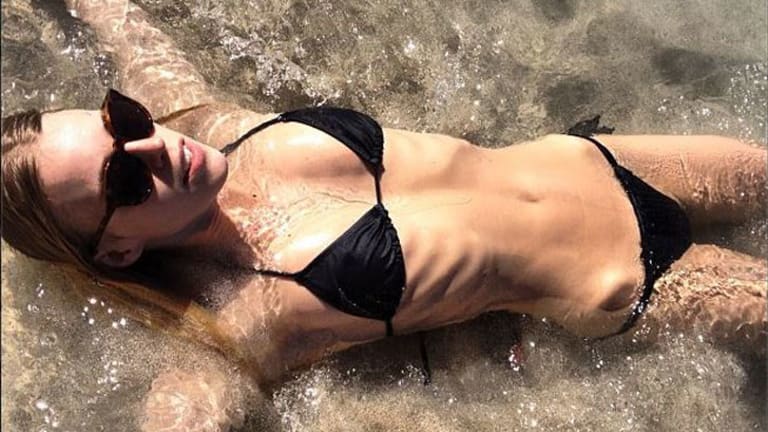 So what's to blame for this resurgence of pin-thin role models?
"Although there are thankfully curvier role models out there, from Kim Kardashian to Beyonce, it's a cut-throat industry and it's no secret that stars can make headlines out of being scarily skinny," said the same unnamed source.
And scary it is. While the original American size zero is the equivalent of a AU size four, a double-zero equates to a AU two. This new extreme, the triple size zero, is a AU zero - a whole five sizes smaller than a AU size 10.
To put it in context: a size zero measures 25 inches (63.5 centimetres) around the waist; a triple zero is 23 inches (approx 58 centimetres) - about the same as the waistband on a six-to-eight-year-old girl's skirt.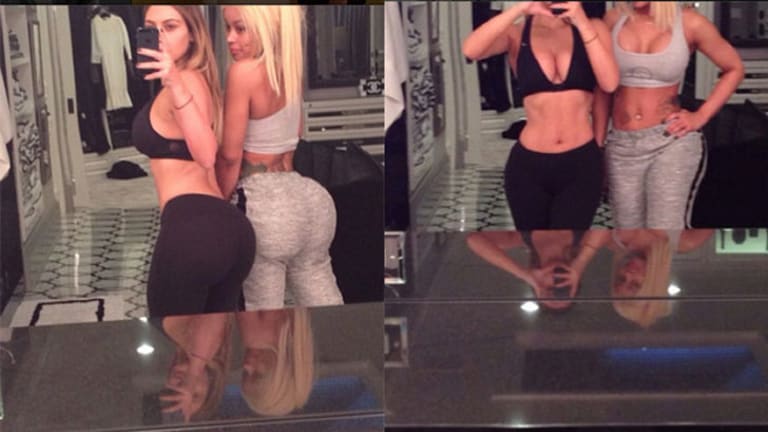 While the concept of vanity sizing plays a role at some stores - that's when retailers label bigger clothing with smaller sizes in an effort to boost shoppers' self-esteem - social media seems to be bearing the brunt of the blame for the rise of size triple zero.
Numerous models, 'It' girls and actresses have jumped on the bandwagon - posting photos of themselves in minimal clothing often looking lean beyond belief.
In the article Grazia points to, among others, Alexa Chung, Kate Bosworth and 26-year-old model Mary Charteris. Charteris, who is the daughter of an earl and is married to the frontman of rock band The Big Pink, has an Instagram following of more than 26,000. She has appeared in Vogue, Tatler and Vanity Fair and is the face of the Ashish x Topshop collection.
"The selfie craze in particular has intensified this, and celebrities know that if they post a picture of themselves looking skinny, with ribs on show, they'll get attention," celeb trainer James Duigan told Grazia.
"But it isn't always real - sometimes they're breathing in and sometimes the angle makes them look thinner than they really are."
Several high-profile social media stars are also said to use new 'skinny apps' to whittle themselves down in seconds for Instagram pics.
Add to that the widespread use of Photoshop across all platforms of social media (Kim K we're looking at you) and it's clear we're no longer seeing the 'body real' images we once were.
Grazia quotes doctor and nutritionist Dr Adam Carey on the craze of trying to be sub-size.
He explains that when women become too underweight it can lead to irregular periods, hormone imbalance and puts them at greater risk of osteoporosis.
"When you crash-diet, you start to lose muscle mass instead of fat," he adds. "This is the engine in your body that burns fuel; without it you start to get that wasted-away look. It also slows your metabolism, so eating the same amount of food causes weight gain and you have to eat less and less as time goes on.
"It also reduces your fitness levels, no matter how much exercise you do. Perhaps most frightening of all, chronic underfeeding causes you to lose heart muscle, which puts you at a greater risk of a heart attack.'
What do you think? Should the rise of size triple zero be blamed on social media?
Stuff.co.nz and Fairfax Media

Morning & Afternoon Newsletter
Delivered Mon–Fri.