Pan-fried
LIGHTLY flour both sides of a thin slice of haloumi, then gently pan-fry in butter on each side for 30 seconds until browned and melting. Drizzle with extra-virgin olive oil and serve with lemon.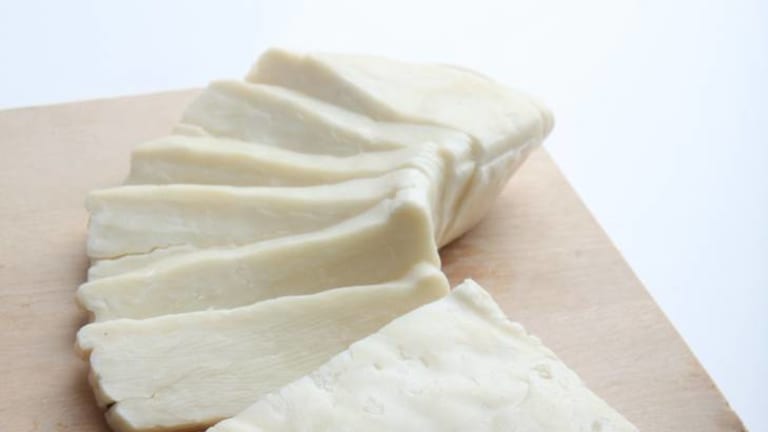 Fritters with orange blossom honey
MAKE a dough for the fritters by dissolving 15g of fresh yeast and 1tsp of sugar in 2½ cups of warm water. Add 3½ cups of plain flour and beat well (dough should be very elastic and wet). Add some chopped mint then take a small ball of dough, insert a small square of haloumi into the middle and fry in a deep fryer for two minutes. Drizzle orange blossom honey over hot fritters.
Lebanese pie
MAKE a dough by dissolving 10g of yeast in warm water with 20ml of oil. Add 500g of baker's flour, a pinch of salt and knead well. Roll into balls and roll out into 20cm rounds. Place some mix comprising one sliced sucuk (Lebanese sausage), one diced red onion, two diced tomatoes and grated haloumi in the centre. Fold dough to make a semi-circle and seal the edges by pinching. Bake until golden-brown.
Pizza
MIX some grated haloumi, 400g chopped, blanched and drained spinach, one chopped red onion and mint. Spread the mix on pizza bases made with the same dough recipe as the Lebanese pie, bake and serve with lemon and chilli.
Salad with vine-ripened tomatoes
SLICE four vine-ripened tomatoes and one red onion. Toss with mint, parsley, coriander and pitted green olives. Grill eight slices of haloumi until browned and place on the top of the salad. Dress with extra-virgin olive oil and season.
According to Matthew Fegan of Mr Carsisi, 37 Piper Street, Kyneton, 5422 3769.
Morning & Afternoon Newsletter
Delivered Mon–Fri.