'I'm not a model, I'm a businesswoman, that's what makes me interesting'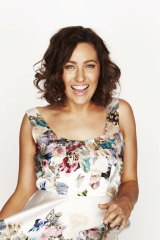 Ask a 20-something who she enjoys following on Instagram and a pattern will emerge.
Zoe Foster Blake (675,000 followers), a cosmetics entrepreneur and the author of 10 books, is almost always top of the list. She's followed by blogger-turned-fashion-entrepreneur Sophie Cachia (234,000), PR mogul Roxy Jacenko (223,000), fashion designer Pip Edwards (137,000) and digital media doyenne Eleanor Pendleton (80,000).
These are all driven, career-focused women who leveraged their affinity for connection into thriving businesses.
Relevancy in this era requires more than being a bikini model with a penchant for green smoothies. To have currency, you need to build something. You need to work hard and reap the benefits of that work.
Don't believe me? Start paying attention to how women are branding themselves online. When selecting which "category" of Instagram account they run, women are increasingly opting for the label of "entrepreneur" – eliminating any confusion when someone new stumbles on their profile.
"I'm not a model, I'm a businesswoman," they tell us, "and that's what makes me interesting".
It's a curious shift. While ambition is the crux of a 20-something's appeal online, it's also what makes older generations of women instinctively wince.
When Reese Witherspoon gave her acceptance speech at Glamour's Women of the Year awards night in 2015, she exposed this generational divide.
"[I] started wondering lately why female ambition is a trait that people are so afraid of," the Academy Award-winning actress and producer said to rambunctious applause. "I believe ambition is not a dirty word."
It's a step in the right direction. Valuing women for their minds and determination as opposed to their bodies is always a good thing.
The speech flooded my social feeds, raking in comments and shares. Podcast hosts gathered in front of microphones to discuss. My mum nodded so much I thought her head might topple off her neck. My bosses praised Witherspoon's candour and bravery in voicing what so many of them have felt, very deeply, for a very long time. Finally, they explained, someone was weaponising the word that had been used to cut women down for so long.
Meanwhile, those of us in our twenties looked around. Perplexed. Bewildered. Confused.
"Um, what?" we thought to ourselves. "Ambition is cool, not dirty."
So cool, in fact, it can feel slightly daunting.
Last month in an Instagram story, Sophie Cachia told her followers, "I'm really proud of – and passionate about – my ambition, my hard work, my ability to wear multiple hats, and my constant desire for self improvement."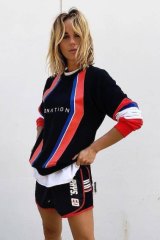 That sentiment is woven into the fabric of the 28-year-old's online presence. Her profile, which describes herself as a "business owner and author" before tagging her three businesses, is enough to make any mere mortal feel a little bit lazy.
Then there's Jacenko, who famously began replying to work emails an hour after her son Hunter was born. Foster-Blake launched her GoTo skin-care line in the US one minute and announced the launch of her new book LOVE the next. Pendleton became a beauty editor at age 20 when most of us were spending our last $10 on raspberry vodkas. Each day on Instagram, Edwards buzzes back and forth between photo shoots and meetings, pairing her own activewear designs with pointy heels.
For many of us who escaped the #thinspo that defined our teenage years, #careerspo feels like a less toxic reminder of our own inadequacies. It might have nothing to do with "thigh gaps", "bikini bridges", or washboard abs, but constantly scrolling past book deals, product launches, and glittering success doesn't tickle the ego. In our lowest moments, it can sting.
It's a step in the right direction, of course. Valuing women for their minds and determination as opposed to their bodies is always a good thing.
What's not yet clear is if our fetishisation of hard work is just another way to tell women they need to deprive themselves. To enjoy ourselves less and work more. To wake up earlier, stay up later and live our lives through the frame of our laptop screen.
What is clear is that the present-day "it girl" isn't going to PR events and sipping on free cocktails – she's skipping them and live-streaming from the office.