One in 10 Australians have perpetrated 'image-based abuse'
One in 10 Australians have taken, shared or threatened to share nude or sexual images of another person without their consent, research has found.
A large-scale survey conducted jointly by RMIT and Monash University found "image-based sexual abuse" is widespread, with men aged 20-39 most likely to admit to being perpetrators.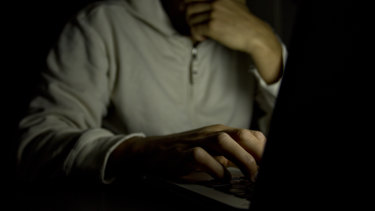 RMIT Associate Professor Nicola Henry, a co-author, said the figures were "likely to be a conservative estimate" of the prevalence of image-based sexual abuse as they were self-reported.
The survey, involving 4200 people aged 16 to 49, is the most comprehensive research into the prevalence of image-based sexual abuse in Australia.
Nearly 9 per cent of respondents said they had taken a nude or sexual photo of another person without their consent, while more than 6 per cent had shared these images.
The same team found in 2017 that one in five Australians had suffered image-based sexual abuse, a category of abuse wider than "revenge porn" as it includes images not necessarily used for the purpose of vengeance.
"Perpetration can range from upskirting and downblousing to a partner out to get revenge after a break up by sharing or threatening to distribute images," Associate Professor Henry said.
"[But] we also know of computer hackers accessing a victim's webcam and their personal computer files as well as sexual assaults or rapes being filmed."
Deepfakes, fake pornography using the likeness of a victim created using artificial intelligence, are also considered image-based sexual abuse.
Researchers found men were more likely than women to report having perpetrated image-based sexual abuse. Five per cent of men said they had taken images and 9 per cent said they had distributed them, roughly double the rate of women who admitted to the same behaviour.
Victims of image-based abuse were also more likely to also identify as perpetrators than non-victims.
The majority of respondents indicated they believed the sharing of sexually explicit images without consent was wrong, although a large number also said they believed these pictures shouldn't be taken.
More than 70 per cent of survey respondents agreed with the statement that "people should know better than to take nude selfies in the first place", although 81 per cent believed "it should be a crime for someone to share a nude or sexual image of another person without that person's permission".
Australian criminal jurisdictions are well ahead of most of the rest of the world when it comes to dealing with image-based sexual abuse, Associate Professor Henry said.
"Because there have been extensive inquiries and submissions from members of the public, we have seen some good laws introduced," she said.
In 2013, South Australia became the country's first jurisdiction to criminalise the sharing of "invasive" images without consent. This legislation was amended in 2016 to include threats of distribution.
Now, some form of legislation covering the practice exists in every Australian state and territory except Tasmania and the Northern Territory, after Queensland's parliament passed a bill criminalising sharing or threatening to share intimate images last week.
Image-based sexual abuse can be reported to the office of the e-Safety Commissioner, who has the power to issue a removal notice, and a federal civil penalties scheme was introduced in September.
Hayley Foster, director of the Women's Domestic Violence Court Advocacy Service NSW, said she was not surprised by the new statistics. Although the Australian legislation was comprehensive, she said more should be done to support women who are victims of image-based abuse.
"Women who report these behaviours to us are often reluctant to report to police and other authorities due to shame and embarrassment and fear of victim blaming," she said.
"We would thus like to see reforms to the way in which these matters are addressed through the justice system so that we can promote this path to women with confidence... closed court proceedings, abolishing cross examination by perpetrators etc."