Question Time: with Kristen Alexander
My ideal weekend in Canberra would be sleeping in, wandering off for brunch (As Nature Intended at the Belconnen markets does a scrummy bircher muesli and an even yummier big vegan breakfast), then perhaps a film at Palace Electric, finished off by a quiet afternoon with my nose in a book.
My favourite places to eat out in Canberra are the aforementioned As Nature Intended for tea and scones; Sammy's Kitchen for a casual lunch; and Boffins for special occasions.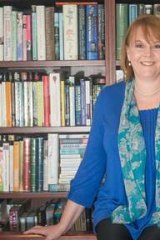 My favourite place in Canberra is the pool at the Hyatt clubhouse. Counting the strokes as I swim somehow frees up the creative process and without realising it I have worked out my daily writing plan.
My upcoming book is Australia's Few and the Battle of Britain, which is about eight Australian pilots in the Battle of Britain, including Des Sheen, who grew up in Canberra, and Pat Hughes, who grew up in the Monaro. It will be published by NewSouth in September.
Running a military themed bookstore is a labour of love for myself and husband David. He mans the fort (so to speak) at Alexander Fax Booksellers in Mawson and I do all the behind-the-scenes work such as listing our inventory, managing the website and producing our e-catalogues.
I love writing about Australia's aviation history because I want to highlight the contribution of our Australian pilots. Sometimes it is hard to get a handle on the big picture of war but by focusing on a few individuals, I can reveal a more intimate perspective of our aviation history. For my next book I am changing direction somewhat and looking at Lores Bonney, a female pilot who achieved great things in the '30s.
My favourite tea is Devonshire. A pot of Darjeeling (or Prince of Wales if I'm feeling regal) and a plate of scones with fig jam. Served on/in fine china such as mum's Noritake tea set.
My favourite film is High Society. Bing, Frank, Grace. What more could you want from a film?
I am currently reading: Philippa Gregory's Tudor series and Peter Stanley's Lost Boys of Anzac.