Around the country home cooks praise beloved Australian food queen Belinda Jeffery for her wonderful knack of creating recipes for dishes that you want to cook over and over again – and the recipes in her latest cookbook, Utterly Delicious Simple Food, prove no exception.
Speedy summer peach and amaretti tartlets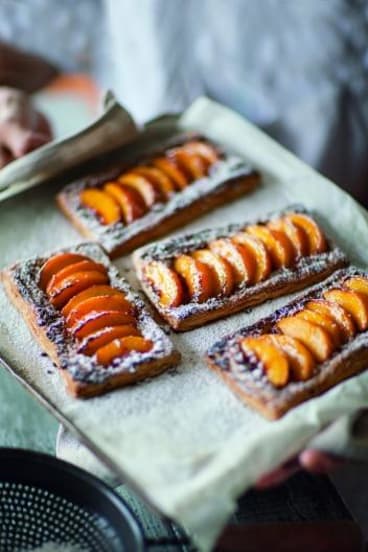 Serves 4
These tartlets really are the most delicious things, and they're remarkably quick and easy to make for such a gorgeous result. I have to admit that as soon as we'd taken this photo, Rodney, the photographer, and I sat down and demolished one each in an embarrassingly short time! I'd also have to say that if anything they're even better served barely warm with a scoop of icy-cold vanilla ice-cream. The two important things to remember when you're making them is to use sweet, ripe peaches as otherwise they will taste a bit insipid, and to use butter puff pastry.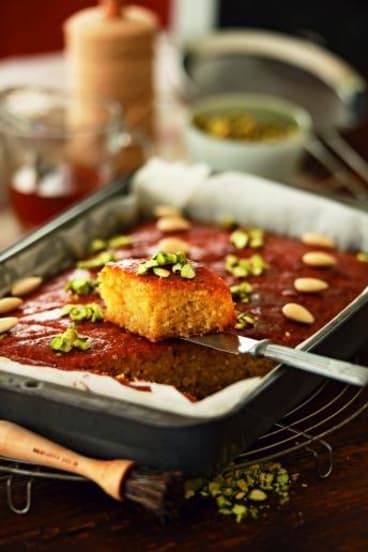 If you would like to prepare these ahead of time, the night before you can cut out the tartlet bases, put them on the baking tray, cover them lightly and chill them. You can also make the amaretti crumbs and store them in an airtight jar. You need then only prepare the peaches and you'll have them in the oven in no time.
2 sheets ready-rolled butter puff pastry
4 medium-sized sweet, ripe (but not squishy) yellow peaches
⅓ cup (75 g) caster sugar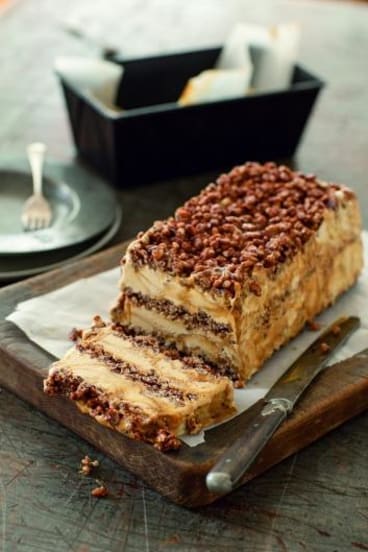 ½–1 teaspoon vanilla extract
about ⅓ cup (110 g) apricot jam, warmed so it's runny, then strained
pure icing sugar or icing sugar mixture, for dusting
vanilla-bean ice-cream or double thick cream, to serve
Amaretti crumbs:
60 g amaretti biscuits
3 teaspoons caster sugar
½ teaspoon ground cinnamon
1 tablespoon plain flour
Line a shallow baking tray with baking paper and set it aside.
For the amaretti crumbs, pop the amaretti biscuits into a thick plastic bag (a zip-lock bag is ideal), seal it tightly, then finely crush the biscuits with a rolling pin. Tip them into a bowl; thoroughly mix in the sugar, cinnamon and flour, and set the mixture aside.
With a ruler as a guide, cut each sheet of pastry in half, then trim each half into a neat rectangle measuring about 9 cm × 16 cm. Use the tip of a sharp knife to lightly score an 8 mm border all the way around the edge of each rectangle, being careful not to cut right through. Sit the rectangles on the prepared baking tray and pop them in the fridge for 15 minutes.
In the meantime, preheat your oven to 200C.
Halve the peaches, and carefully peel away the skins before slicing them into thickish wedges. (I usually pull away a little skin before I halve the peaches to see how easily they peel. If the skin clings stubbornly to the flesh, you're best to dunk the whole peaches in boiling water for 20 seconds or so, then quickly drop them into a bowl of cold water. Now try peeling them and the skins should pull away easily.)
Scoop the peach slices into a bowl and sprinkle the caster sugar on top. Drizzle in the vanilla and, using your hands, gently mix them all together.
Sprinkle 2 tablespoons of the amaretti crumb mixture into the centre of each rectangle and spread it out evenly, being careful to keep it within the scored border. Now sit a fairly tightly overlapping row of peach slices down the length of each rectangle, again keeping them within the border. There will be some sugary peach juices left in the bowl, so drizzle the peaches with these, being careful not to get the juice onto the border as it may burn or dribble down the sides and stick the pastry layers together so they don't rise properly.
Pop the tray in the oven and bake the tartlets for about 20 minutes, or until the pastry is crisp and the peaches are tender.
Preheat the grill to medium-high. Brush the tartlets (including the pastry border) with some of the warm apricot jam, then run them briefly under the grill for about 1 minute or until the edges of the peaches and pastry start to caramelise and darken (there may be some very dark bits but don't worry, they taste delicious). Watch them like a hawk as they can burn quite easily, and as soon as they're ready, whisk them out from under the grill, dust them with icing sugar and leave them to cool a little. (If the tartlets are a good colour when they come out of the oven, there's no need to grill them. Simply brush the peach slices with the jam, leave them a few minutes then dust the tartlets with icing sugar.)
To serve, simply sit a tartlet on each plate, dust with a wee bit more icing sugar if necessary, and serve with a scoop of vanilla ice-cream or cream.
Sticky couscous, almond and lemon cake
Makes about 24 pieces
Although simple, this recipe will take more time to make than many others in this book, but I couldn't bear to leave it out as it's such a terrific cake. I love the way the little grains of couscous swell and develop a really fabulous, slightly chewy texture. On that note, the cake needs to sit for at least 6 hours before you eat it, otherwise the couscous will be too hard; in fact, to my mind it's best both texturally and flavour-wise if it's gently warmed in the microwave after a few days in the fridge.
1½ cups plain flour
¼ teaspoon fine salt
3 teaspoons baking powder
1 teaspoon ground cardamom
2 teaspoons ground cinnamon
80 g couscous
110 g almond meal
220 g unsalted butter, at room temperature
200 g caster sugar
6 eggs, at room temperature
2 teaspoons vanilla extract
2 tablespoons finely grated lemon zest
about 24 whole blanched almonds (or finely chopped pistachios)
softly whipped cream or Greek-style yoghurt, to serve
Lemon syrup:
300 g caster sugar
zest of 2 large lemons, cut into 1 cm wide strips
1 cup freshly squeezed lemon juice, strained
Lightly butter a 32 cm × 24 cm × 5 cm baking tin, then line the tin with baking paper and set it aside.
For the syrup, put all the ingredients and 2 cups (500 ml) water in a medium-sized saucepan over high heat. Stir them until the sugar has dissolved, then stop stirring and bring the syrup to the boil. Reduce the heat so the syrup bubbles gently and steadily, leave it for 12 minutes, then turn off the heat and allow it to cool.
Preheat your oven to 180C.
Tip the flour, salt, baking powder, cardamom and cinnamon into a large bowl. Whisk them together with a balloon whisk for 1 minute. Now whisk in the couscous and almond meal until they're well combined, then set the bowl aside.
Put the butter and caster sugar in an electric mixer (or use a hand-held electric beater) and beat them together on medium speed for 5 minutes, stopping and scraping down the sides once or twice as you go. Whisk in the eggs, one at a time, making sure that each one is well mixed in before adding the next. Please don't be alarmed if the mixture becomes very curdled-looking – it will be fine in the long run. Add the vanilla and lemon zest and mix them in until they're just combined.
Now tip the flour mixture into the butter mixture, and gently mix them together on low speed until they're combined (try not to overdo this as it may toughen the cake). Scrape the batter into the prepared tin and smooth it down evenly.
Pop the cake in the oven and bake if for 30–35 minutes, or until the top is golden and springs back when you press the middle gently with your fingers.
Remove the cake tin to a rack, and let the cake settle for 5 minutes. Using a ruler as a guide, lightly score the surface into diamonds with the tip of a sharp knife – I usually space my markings about 4 cm apart. (By all means score the cake into bars if you prefer.) It's a good idea to wipe the blade of the knife regularly as you go or it can tear the delicate surface of the cake.
Strain the cooled syrup through a fine sieve into a jug, then pour it evenly over the cake (it may seem to be rather a lot of syrup, but it makes the cake wonderfully moist). Let the cake cool to barely warm. Once it has, again using the ruler as a guide, cut the cake into pieces following the scored lines and sit an almond (or some chopped pistachios) in the centre of each piece.
Once the cake is completely cool, cover the tin and pop it in the fridge for at least 6 hours. To serve the cake, lever the pieces out of the tin onto a plate and warm them gently in a microwave. Serve with a good dollop of cream or yoghurt (or a mixture of the two). Store leftover cake in an airtight container in the fridge for up to a week.
Chocolate crackle and caramel ice-cream loaf
Serves 8–10
I have to confess that this recipe is a bit of a cheat, yet it's so divine and so much fun that I felt I couldn't possibly leave it out. Basically, it's just really good bought ice-cream (even better if you have homemade) layered with crunchy chocolate crackles. It's a snap to make (I'm sorry, I couldn't resist!) and yet it's utterly scrumptious – and a must if you continue to secretly lust after the chocolate crackles at children's birthday parties! I use Maggie Beer's utterly wonderful burnt fig, honeycomb and caramel ice-cream for this, but coffee works really well too. This quantity makes rather a substantial loaf, but you can easily reduce the quantities to make a smaller one. Just be mindful that it needs to sit for at least 8 hours, or preferably overnight, in the freezer or it will be too soft to slice.
80 g unsalted butter, roughly chopped
75 g good-quality dark chocolate, roughly chopped
100 g rice bubbles
just under 1 litre top-quality caramel (or coffee) ice-cream
Line a smallish (about 34 cm × 23 cm × 2 cm) baking tray with baking paper.
Put the butter and chocolate in a medium-sized saucepan over low heat. Let them melt gently, stirring regularly, until the mixture is smooth. Remove the pan from the heat and gently but thoroughly mix in the rice bubbles. Spread this mixture out evenly on the prepared tray (it will be clumpy but just do the best you can), then sit it in the freezer for about 2 hours until it is firmly set.
Line a lightly oiled 20 cm × 11 cm × 7 cm loaf tin with baking paper, leaving an overhang all around – this gives you something to grasp hold of when you turn the loaf out. Once it's ready, pop the tin in the freezer to chill.
Break off pieces of the frozen chocolate crackle, and sit them in the bottom of the tin in a single compact layer – just imagine you're doing a jigsaw, breaking up pieces of crackle to fit the gaps. (If you would rather be more scientific about it, you can use the prepared tin as a template and cut rectangles of crackle to fit the tin.) Now scoop half the ice-cream on top, and use the back of a spoon or palette knife to spread it out as evenly as possible. Return the tin to the freezer for 10 minutes, then repeat with another layer of chocolate crackle and the remaining ice-cream. Finish off with a final layer of chocolate crackle. (Any leftover crackle can be stored in an airtight container in the freezer and used as a topping for ice-cream.) Cover the top with plastic film, and press down gently on the surface to compress the loaf. Now, place the tin in the freezer and leave it for at least 8 hours or overnight.
Two hours before serving time, invert the loaf onto a chilled platter, then use the baking paper overhang to help ease it out of the tin. If it is a bit recalcitrant, dunk the tin very briefly up to the rim in tepid water, wipe it dry, and give it another go. Peel away the paper, then return the loaf to the freezer.
When you're ready to serve, use a sharp serrated knife to cut the loaf into slices. I tend to serve this as is, because it's very rich, but if you really want to gild the lily you could serve it with a drizzle of the scrumptious salted caramel sauce on page 191. If you have any ice-cream loaf left over, it will keep well in the freezer for a week or so, but be aware that the crackle will lose its crunch the longer it sits.
UTTERLY DELICIOUS SIMPLE FOOD, by Belinda Jeffery. (Lantern, $49.99.)
Morning & Afternoon Newsletter
Delivered Mon–Fri.