It's been almost three years since I created my mother. We've had our ups and downs, as you do in any relationship, and believe me, this is definitely a relationship.
If you forget about your mother, it goes very dark, literally. When I came back from a holiday earlier in the year there was a black layer about a centimetre thick across the top of the ferment. It was also very runny, not its usual thick pasty self. And the smell, phew, it was like that layer of gunk you get on the bottom of the pig's bucket. It was alive still, but pretty funky.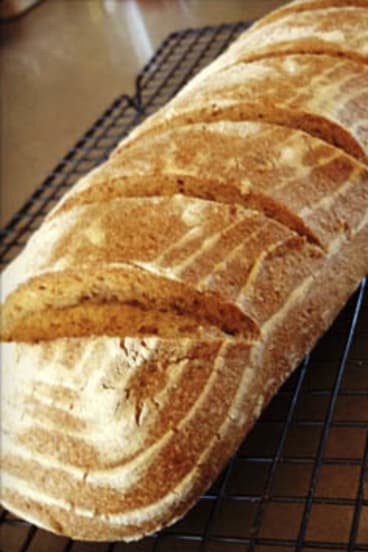 I had a few choices. I could track down someone to whom I've passed on the mother and get some back - it's like a survival skill, you disseminate the active yeast in the hope that when you have troubles like a black sludge, you can retrace your steps. This assumes that the person who received your little gift hasn't put it in the too-hard basket and not used it. That's why I always part with my mother if someone is interested - the more people with it, the better the chance of someone looking after it. And the nature of yeast is that it's endlessly extendable.
Another option is to try to rescue your starter. As soon as I got the culture working, I froze a batch in the hope that, like cryogenics, sometime in the future someone would find a way to bring it back to life. But this is pretty extreme.
So working on the assumption that something doesn't have to glitter to be gold, I scraped off the dark goo and spent three weeks building the black mother up. Eventually, it worked and now my yeast charges on good as new, like Malcolm Turnbull.
My breadmaking techniques have evolved quite a bit - and the loaves I'm making at the moment are much denser and darker, using more wholemeal and rye.
The common theme to all good recipes is the mother - you can see why many cultures revere this weird semi-liquid growth and pass it down generations. With a good starter culture you can turn water and wheat into something wondrous.
I can relate to the mysterious world of bread starters in a way that I can't with many other areas of modern life. My son has been trying to get me to help him with Minecraft, but when it comes to computers I'm lost at sea. It's not from want of trying. We bought our first computer way back in the mid- 1990s, a Macintosh Classic 2 with a 16MHz processor, 2MB memory and I believe 40MB hard drive. These numbers mean the same to me now as they did then - close to nothing - but they sounded huge. So having one of these at our little hotel in Tasmania we felt connected and up to date. Our new daughter sat looking at it with little interest; little did she know that 18 years later it would so totally absorb her attention in the form of an iPhone.
Her mum used the Mac to complete her Masters. Enter Ray Smith, our cheerful handyman, ex Navy, tough as an oyster shell from Barilla Bay. About the point when the final section of her two years of hard work was ready to print, Smith ambled over to our house at my request and turned off the power. Apart from being the go-to handyman, he was an experienced abalone diver and had an uncanny sixth sense about approaching danger, which being in Tassie, was most likely a big white pointer. He passed me this day, pale-faced, not knowing what had happened but knowing he had to flee.
Which taught us a lot about electricity and computers and backing up, but to this day I can't work out how to do seemingly simple jobs like downloading a mod for minecraft.
Which is why I'm writing a cooking column.
Mark Best, of Sydney's well-hatted Marque restaurant, has a book out which I like a lot, and I'm basing my loaves on his bread recipes: a sourdough mother, hearty rye and wholemeal flours, beer as the liquid, and caraway seeds. I've had a crack at this recipe a few times now and seriously this is a great loaf of bread. I hope he doesn't mind me passing on a version that I've come up with using his technique.
If you haven't got a starter or a friend with some to share, you can use a technique called old dough or sponge to get some of the interesting yeasty characters into your bread.
A day before you want to start making the loaf, mix together 125ml of warm water with 125g flour, add a pinch of bread yeast and leave it somewhere warm to brew away. Once it's fairly active, whack it in the fridge to slow down its activity. Use this as the starter.
Red Back, rye and caraway sourdough
250g sourdough mother
450g wholemeal spelt flour
100g white spelt flour
100g rye spelt flour
1 bottle Red Back wheat beer
50ml hot water
18g salt
14g caraway seed
Mix together the flours, make a well and add the beer and water, dissolve the mother in this and roughly mix it all together. Leave for an hour as this mass of gloop.
Add salt and caraway and mix briefly to form a wet round ball of dough, using extra flour to smooth over. Leave for 10 minutes. Knead for about a minute, stretching the dough and re-form to the ball. Repeat two more times with the resting in between.
This is quite a dry dough so it'll take a while to show any give but don't worry too much about kneading it. Time will sort it out.
Once done, flour liberally and place in a sealed container to keep the moisture in. Prove for about four hours or until you see the telltale signs of fermentation. Don't let it double in size, just rise up a little.
Roll out to a thin square and roll up tightly, tucking the ends in until you get a nice tight loaf. Place in a well-floured bread basket, seal with cling film, and put into the fridge for 24 hours.
Nothing much will happen through this stage externally, but inside the yeasts are busy working on the starch and making tiny bubbles of carbon dioxide.
After 24 hours, bring the dough back to room temperature to just start to rise up again - four hours should have the dough ready to bake, depending on the temperature.
Preheat the oven to 240C. Turn the dough out to a tray - it should still be quite firm. Bake for 25 minutes, lowering the temperature to 180C after 10 minutes. Use steam throughout to help with the crust (I use a little water atomiser).
After 25 minutes, turn the oven down to 120C and let the heat out. Bake for 10 more minutes.
This is quite an amazing loaf, full of sour and malty smells. It's a loaf that slices easily and keeps for a week. With good butter, scrambled eggs and chives, this is as good as food gets.
Bryan Martin is a winemaker at Ravensworth and Clonakilla, www.bryanmartin.com.au
Morning & Afternoon Newsletter
Delivered Mon–Fri.