Trupps' Wholefood Kitchen

Walter and Dorota Trupp, Victory Books (MUP), $34.99
UH, OH. For those who've felt a little self-satisfied throwing a bag of millet or buckwheat flour into the supermarket trolley, along come the Trupps to spoil the party by telling us we really should invest in our own grain mill and ''flaker''. Launching their Prahran cooking school last year, Mr Trupp, world-renowned chef, and Mrs Trupp, nutritionist, have pooled their collective talents again, this time producing a great take-home resource for those wanting ''optimal nutrition'' from their diet. Mostly a cookbook with tasty-looking recipes resplendent with wholegrains, pulses, organic fruit and vegetables, it's also a bilingual dictionary that pits food manufacturers' use of words such as ''natural'' against a nutritionist's translation. Ever wondered what ingredient E953 was? If you would prefer not to know, this might not be the book for you. The highlight is the chapter on fruit and vegetables. The only criticism? Wondering at times whether it was actually an ad for Le Creuset.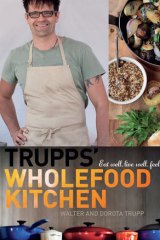 Favourite recipe: Beetroot, pumpkin and tempeh salad with macadamia and honey dressing.
THE Swedes - Magnus Nilsson and that toque-toting character from The Muppets aside - are not renowned for their food, at least not in this country. Under the walnut tree showcases the best of Swedish food writer Anna Bergenstrom's repertoire with beautiful pictures by her daughter. Far from focusing solely on Scandinavian dishes, the 350-odd recipes traverse the globe from Spain to Bali and everywhere in between. Each of the 17 chapters is devoted to one of Bergenstrom's fave ingredients: chillies, citrus, vanilla, nuts and seeds, etc. The curious name gives a nod to the book being created under said tree at the family's summer home in the country. Simple and well-written, it provides an insight into Swedish fare (horseradish brisket, anyone?) and features some fun variations on classics.
Reason to buy: Its United Nations approach to food.
KERRIE O'BRIEN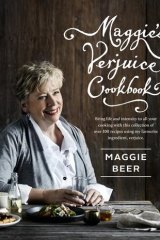 ---
Maggie's Verjuice Cookbook
Maggie Beer, Lantern, PB, $39.95
ARE you a verjuice convert? Someone who trialled the stuff and hasn't looked back? This book is for you - and anyone else who's heard the testimonials and wants to join the club. Beer believes she is the first in the world to make verjuice on a commercial scale and her name is certainly synonymous in Australia with this, the juice of unripe grapes. Use it to add sour flavour or sharpness to all manner of recipes, a gentle alternative to lemon juice, vinegar or wine. She tells novices to start by adding verjuice to a pan of hot roasted vegetables towards the end of cooking (''this transforms ordinary roasted veg into something really special'') and, from there, play around. Make a post-cooking marinade for grilled vegetables, use it instead of wine in risotto, sharpen a lentil salad or add ''pow'' to chicken breasts. With 100-plus recipes, this is a rare example of cross-promotion that doesn't make you wince.
What I loved: Maggie's ''perfect'' roast chicken.
JANE WILLSON