Wesley Enoch: 'Our job is to keep provoking people to think in different ways'
Wesley Enoch, 48, is artistic director of the Sydney Festival, which has transformed the city during January for three decades. He is a Noonuccal Nuugi man from Minjerribah (Stradbroke Island).
Let's get straight to the important issues. What do you think happens when we die?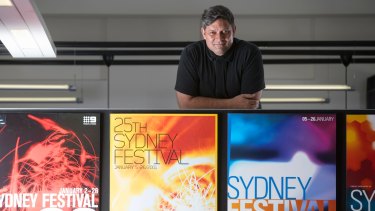 Don't really care. I think it's a much better thing to think we live an ephemeral life, rather than to think we have something to work towards, or that we have to make our mark on the world. It's a much more responsible position to think the relationships you have now, the people you're with, the things you do amongst the people that have gathered around you – all that is more important than anything that's put off until after death.
Capitalist or socialist?
Can I be both? So much of what we do is socialist. You think about arts funding, about roads, public transport. Whether we like it or not, they're all socialised services and things.
A lot of the arts industry is subsidised, but so is the mining industry. Yet the conversations around the latter are never framed that way.
Exactly, it's a huge contradiction. Remember car manufacturing in Australia? It was hugely subsidised for a very long time.
When does your capitalist streak come out? What do you like spending money on?
My dirty secret is I own four houses. Hence, I house my family or I offer cheap rent. We were very much a housing commission kind of family, renting all the time, so the sense of stability a house gives you is very important in my psyche. And I'm good with money.
I don't have kids, have a great job, haven't had a car for 20-something years: public transport is a much better way of getting around. But being good with money also means I'm always good for a loan. Is there any member of my family who hasn't borrowed money from me? I don't know. But when they read this they'll know they can.
A survey recently suggested that the most stressful job in the world – above working in the military or hospitals – is events management. Does that make you one of the most frazzled people in the country?
[Laughs] To be honest, we have amazing staff. My job is to just keep turning up on time and hopefully not falling asleep with exhaustion.
As an artistic director, is it important to have your voice heard in debates about the arts?
Yes: artistic directors of companies or festivals, we're kind of an unelected parliament in some respects. We're there to offer leadership and analysis. Our job is about trying to keep provoking people to think in many different ways. It doesn't always mean we succeed. Sometimes we have to fail miserably to try to stay out there to take risks.
How would you describe what the Sydney Festival is to someone landing in the city in summer for the first time?
It's an introduction to all facets of Sydney: from the party hedonism to the intellectual leadership. It also captures the moment of the city. Everyone's in holiday and New Year's resolution mode. We're thinking about the year ahead, but we're also out there enjoying the company of our friends and family. So there's a real sense of coming onto the streets and beaches, making memories together.
January 2018 will be your second year helming the festival. What's changed for you from your first one at the start of this year?
The first one was so massive. We had an audience of 650,000 – up by 150,000. I don't think we can do that again, but we can ask, "Okay, how did we do it? How can we talk to people differently? Do we feel confident about some of the big stories we want to tell?"
Writer, author of The Family Law and Gaysia.