These are the guys big retailers like Harvey Norman, David Jones and Myer love to hate. Mitchell Harper and Eddie Machaalani provide the tools that allow enterprising individuals to run an online store for peanuts.
But the rewards for the company they co-founded, BigCommerce, and their clients are anything but peanuts.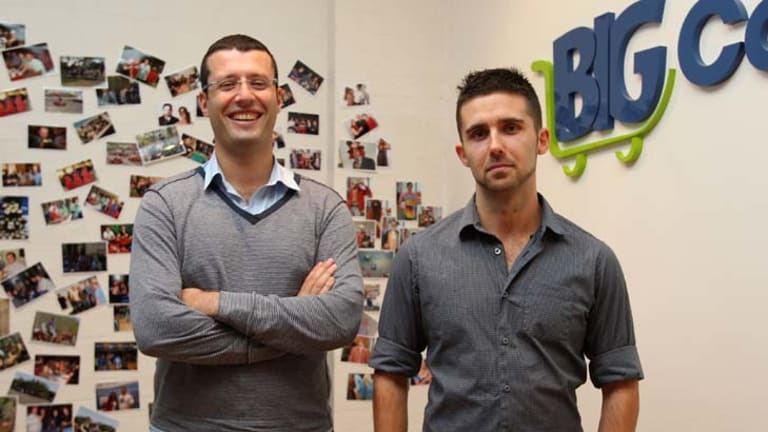 The Sydney-based start-up provides an e-commerce platform for about 25,000 online stores and is on track to turn over more than $US20 million ($19.3 million) this year, after attracting $US15 million in venture capital from an investor last year.
Like many of their customers, it all started at home. ''Eddie and I were both setting up software companies when we met in a chat room. We realised we were building similar software and we both lived in Sydney so we decided to set up a business together,'' Harper says.
That was in 2003, when Harper was barely 20 and Machaalan 24.
Together they built a software product that allowed people to build an online store but they soon realised that rather than selling a perpetual licence to their software, it would be better to offer a subscription service for an e-commerce platform. So in 2009 they launched a service with a monthly fee of $25 to $300, which allows customers to set up an online store and, for a small additional fee, to accept credit card payments. BigCommerce then provides technical assistance and back-up.
About 70 per cent of their clients are in North America, where they have an office in Texas and 70 staff.
The rest are divided between Europe and Australia. ''The US is a few years ahead of Australians in terms of comfort in using technology, so they took to our product more naturally,'' Harper says.
BigCommerce targets small-to-medium businesses with revenue of up to $10 million.
The boxer Danny Green uses their platform to sell his merchandise; some customers already have a retail store such as a fashion boutique and want to sell more online; others might work from home and just take orders, which they source from suppliers.
''There's been a huge shift from typical bricks-and-mortar stores to online in recent years and most of these are using our service, so I think we've timed things quite well,'' Harper says, without a hint of understatement. He went on to answer our questions on his investing approach.
BIG BREAK A US venture capital group, General Catalyst, invested $US15 million in the business last July.
MENTOR When I hit a roadblock and don't know what to do next I find a mentor. In the past five years I've had five different mentors – some are executive coaches and others have run their own companies. My current coach works with (motivational guru) Anthony Robbins.
BEST INVESTMENT Education. I spend $50,000 a year on education – coaching, books and workshops. I didn't go to uni – I taught myself to program when I was a teenager. I got to a point where I knewI was good but not great. You've got to know when to step aside and bring in people to take the business to another level.
WORST INVESTMENT I bought quite a few BHP shares five years ago based on a tip. I realised you've got to learn about an asset class and be careful who you listen to.
MONEY PHILOSOPHY I'd rather invest other people's money than my own because it minimises your risk and maximises the upside. I set up a good structure, use professional advisers and do due diligence. Money should never be the primary motivation in business. You have to do something you are passionate about or you won't stick to it.
PLAY MONEY I don't spend a lot, I invest in property. But when I hit a goal in business I like to travel with my wife to celebrate.
WHAT'S NEXT We plan to double our revenue this year after doubling it every year for the past seven years. We're hiring 50 engineers in our Sydney office this year and we want to go to 200 employees by the end of the year.
Morning & Afternoon Newsletter
Delivered Mon–Fri.