The power game: electricity's winners and losers
As energy prices continue to soar, it's not easy to know who to back.
The way electricity prices are surging, there should be some high-voltage returns from power companies.
Well, you'd think so.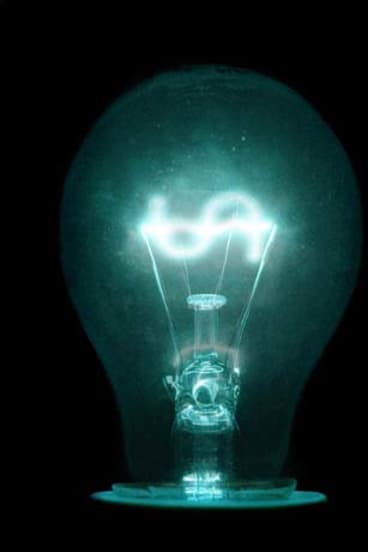 But the generators are struggling with - you're not going to believe this - falling wholesale prices.
So it must be further down the wires where the money is being made.
How about the companies that bill you, then? A few are listed: Australian Power and Gas , ERM Business Energy and Infratil.
But on their recent form it can't be them, either. One runs at a loss and the already modest profit of the other two is falling.
They're getting their power supply more cheaply except there's, uh, a leakage. Thanks to ferocious competition for customers, what they gain on the swings, they lose on the roundabout.
NOTE THE NETWORKS
That leaves the network - the companies with the transmission towers and wires strung from them - and there's the rub.
Most of them aren't in private hands, but are government owned. Bummer.
The only listed stock that is mostly an electricity network supplier is SP AusNet, although it also sells gas.
It's the biggest holding of fund manager Allan Gray, but even that's due to the dividend, not the prospect of a price surge.
Yielding 7.7 per cent, it comes with a small tax break as it's one-third franked.
So if you bought the stock at its current price, the pre-tax yield would be about 8.7 per cent - way above what you'd get on a term deposit.
"It's a stable, basic business that does nothing fancy. It seems to do quite well," Allan Gray's Simon Marais says.
A senior analyst at Morningstar, Adrian Atkins, says SP AusNet "looks modestly undervalued".
One reason it's been marked down is litigation over the 2009 Victorian bushfires, which will probably be covered by insurance but might not be counted by the regulator in setting its return. As you'll see, rules and regulations for the electricity industry are in a world of their own, with often bizarre consequences.
PROBING THE GIANTS
No, the real money is in the two network giants of Origin Energy and AGL Energy, and running an electricity network isn't even their biggest business.
They operate under some very odd rules set by the states that control how much they can earn. Or, at least, they are supposed to.
One idiosyncrasy is that lower interest rates should cut profits in the view of the regulator. This is by stint of a revenue allowance based on how much they'll be spending. So lower interest requires less revenue. Get it?
Naturally, the way around regulations that penalise lower costs is to erect more towers and wires so more revenue is needed and so a higher tariff becomes essential. Should you ever get up close to one of those towers, not that I recommend you try, let me know if it's gold-plated with platinum wires.
There are more than 1300 pages of rules, the 51st version in six years, set by a Beijing-sounding Standing Council on Energy and Resources along with separate state and federal regulators who would only agree what day it was purely by coincidence.
Not even the banks have their return regulated, as you've probably noticed.
THOSE PESKY PRICES
A plethora of government reports and inquiries, along with mounting pressure from politicians, suggests the rules are going to change eventually, though goodness knows in which direction.
'The challenge will be the massive asset base they work with," the chief executive at Lincoln Indicators', Elio D'Amato, warns.
As the biggest power supplier, Origin Energy is loved by super funds because it does everything from producing gas and electricity to connecting customers.
Here's the bad news. The shares have slumped to a five-year low on a forecast fall of 10 per cent in its underlying profit for 2012-13 after Queensland played hard ball over power prices.
If you've got your head around falling wholesale but rising retail power prices, you're ready for what's next. If you haven't, just try to keep up.
It turns out that rising retail prices aren't good for the power companies.
The reason is that demand falls as a result, and selling power is all about volume. In fact, demand has been falling for a few years, due to rooftop solar panels, the dollar gutting manufacturing and miners generating their own power.
Oh, and because of the higher prices, turning the airconditioner down does wonders for the household's cash flow.
So the more politicians control electricity price rises, the better for Origin and AGL.
ORIGIN UNDERVALUED?
Even if nothing changes - and the states and the feds have to agree - Marais says Origin at its current price of just above
$10 "may start to look interesting". Morningstar senior research analyst, Gareth James, values it at close to $16 a share.
"The market has attributed no value to Australia Pacific LNG [the Queensland coal seam gas-to-LNG joint venture]," he says.
It doesn't seem impressed by AGL buying out the Loy Yang coal-fired generator next year. But James argues this is a good buy because brown coal-fired generators are the cheapest to run even with a carbon tax.
It's also a bet on wholesale prices rising again. That seems inevitable considering some generators are already closing because of the oversupplied market.
AGL also has wind farms, and the mandated growth in renewable energy is the other reason for rising power prices. Analysts value the $13.70 stock between $14.60 and $15.60 a share. At least a change in regulations could work in their favour.
The federal government's energy white paper wants tougher (and presumably additional) rules to go with the 1300 or so pages of them already there, as well as some acknowledgement of consumers, and for the states to be "encouraged" to show "greater commercial efficiency and discipline" (good luck there).
Even with the existing rules, costs, volumes supplied and borrowings can all be tweaked so they're more profitable than the regulator assumes in setting tariffs.
FINDING A WINNER
In the meantime, you could always consider an energy company with all bases covered.
One of two likely candidates is Duet Group, which also supplies smart meters and gas.
But Atkins warns "the combination of an aggressive distribution payout ratio, high gearing and lower returns at future [regulated price] resets could see distributions cut again in a few years".
He says gas supplier APA Group is better because two-thirds of its revenues are from the unregulated energy sector.
The other dual electric and gas stock is Spark Infrastructure, worth considering just for the name.
It yields 6.6 per cent unfranked. It has the advantage that its indexed tariff isn't reset until 2015. And it doesn't have heavy investment spending because it's a trust that invests in other companies that do.
There's also a myriad of renewable energy stocks, the penny dreadfuls of power generation that mostly lose money but could one day strike it rich.
Because renewable energy is expensive, and needs a carbon tax to look remotely competitive, it's the other main cause of rising electricity prices for households.
Wind and solar will struggle while wholesale prices and consumer demand are falling, even with green energy targets and government subsidies.
The biggest wind farm stock is Infigen Energy. But falling prices have left it, uh, blowing in the wind.
Morning & Afternoon Newsletter
Delivered Mon–Fri.