More than 200 guests were evacuated from the hotel at Canberra Airport following a fire in its kitchen on Sunday night.
ACT Fire & Rescue extinguished an oven fire in Vibe Hotel's kitchen after receiving a 000 call about 11.30pm.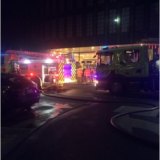 Damage was contained to the kitchen, but smoke from the fire spread to most of the hotel.
No injuries were reported and all guests were accounted for.
Fire crews conducted ventilation and atmospheric monitoring of the building, and the hotel was scheduled to be reopened in the early hours of Monday morning.