$405m dam operational, but more work to be done
The Enlarged Cotter Dam has been declared fully operational, but the completion of the $405 million project is likely to be delayed until the end of August.
Treasurer Andrew Barr said the dam now had a capacity of 78 gigalitres and was up and running, but some work still needed to be completed.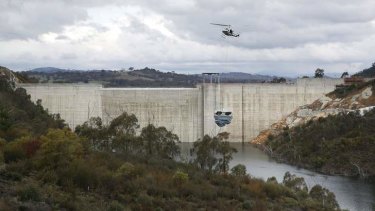 ''The new dam is fully operational and has been connected to the town supply so that it is available to service the community when needed,'' Mr Barr said in a statement tabled in the Legislative Assembly.
''The remaining downstream works include laying some sections of structural concrete associated with the non-overflow walls along the crest of the wall as well as at the downstream filling basin, developing permanent operational access roads and undertaking river bank revetment works immediately downstream of the wall.''
ACTEW managing director Mark Sullivan told an Assembly committee in June that the dam should be completed by the end of July. But related works, including landscape remediation, would continue for between three and four years.
The enlarged dam has increased the ACT's water storage capacity by more than one third. Construction work began in 2009.
The ACT opposition has repeatedly raised concerns about the management of the project, including cost blowouts.
The government last month commissioned barrister Bruce Cohen to conduct a major review of government-owned utility company, ACTEW Corporation. Dr Cohen will investigate whether ACTEW's governance arrangements are appropriate to ensure ACT's water and sewerage services are delivered effectively.
A separate review of ACTEW's governance has been conducted for the corporation's board by PricewaterhouseCoopers.
Mr Barr and Chief Minister Katy Gallagher are the two official ACTEW shareholders.
Earlier this year, John Mackay resigned as chairman of ACTEW after Mr Sullivan's salary was mistakenly under-reported by $234,000.