A career of 'broken glass ceilings': pioneer Canberra judge retires
Justice Hilary Penfold's four -decade-long legal career has been one of many firsts.
She was the first woman to hold the position of Commonwealth First Parliamentary Counsel, the first female Commonwealth Queen's Counsel, and the first female resident judge of the Supreme Court of the ACT.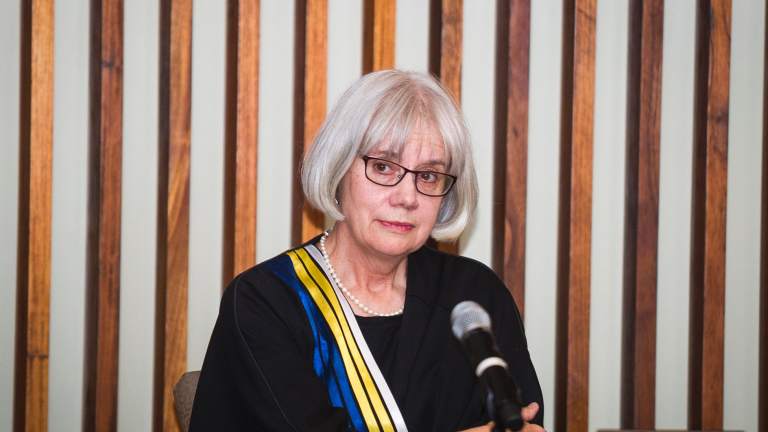 ACT Attorney-General Gordon Ramsay said the judge was "without question … one of the most remarkable and pioneering lawyers in the history of the ACT legal profession".
Justice Penfold was hailed as a trailblazer, whose career has been one of "broken glass ceilings", at a packed ceremonial sitting of the ACT Supreme Court to mark her retirement on Friday morning.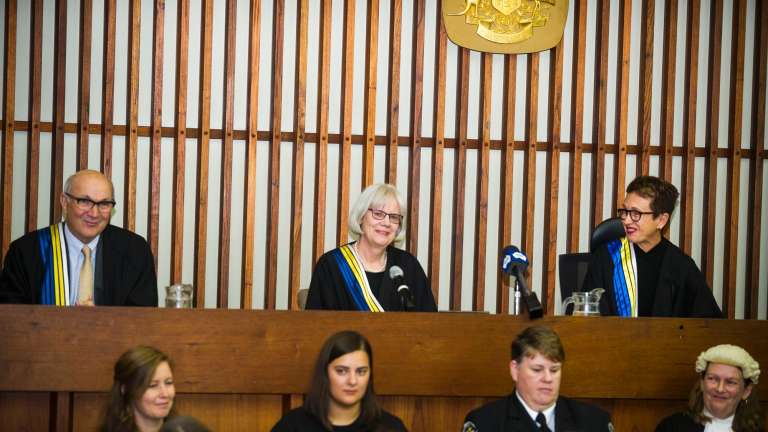 In a humble farewell speech, the judge noted she had not been the first woman approached to become the first resident female judge in the ACT, but she had been the first brave enough and "stupid enough to accept".
"I'm proud it seems to have worked," Justice Penfold said.
Justice Penfold reflected with great pride on a number of significant cases she ruled on during her decade on the bench, including a rare human rights compatibility judgement and a decision, regarding unsworn evidence of child witnesses, which was later upheld in the High Court.
Judges are compelled to retire at age 70, but Justice Penfold, at 64, chose to retire early.
She said there had been two main reasons behind the decision to retire, including a desire to live life to fullest and reduce an already heavy workload.
Despite her success, Justice Penfold's appointment in 2007 had been the source of controversy among the profession.
During the ceremony, the court heard Justice Penfold's path to the Supreme Court had been unconventional, in that her appointment had not come after years as a barrister, but instead via a successful public service career, which included time as secretary of the Department of Parliamentary Services, where she ran the bureaucracy at Parliament House.
Before that, she was the Commonwealth's First Parliamentary Counsel for a decade, where she drafted legislation that covered human rights, sex discrimination, forensic procedures, industrial relations, defamation, taxation and corporations law.
Justice Penfold, however, was not deterred by the controversy.
Bar Association president Ken Archer recalled a speech the judge gave shortly after her appointment, where her message to the profession had been to "suck it up and get used to it".
Mr Archer described the judge as a "descent human being" who was a "straight shooter" and "not to be messed with".
He said barristers appearing before the court were never left guessing what was on her mind.
Chief Justice Helen Murrell noted Justice Penfold's contribution to the law and how her patience with self-represented litigants helped make justice more accessible to the Canberra community.
ACT Law Society president Sarah Avery thanked Justice Penfold for her courtesy and tireless work.
"You have our profound respect," she said.
ACT Attorney-General Gordon Ramsay said the judge was "without question … one of the most remarkable and pioneering lawyers in the history of the ACT legal profession".
"You have made an enormous contribution to the work of this court, and your legacy will be significant.
"While our farewell to you as a Judge of the Supreme Court marks the end of your tenure as a member of the ACT Judiciary, I am certain it will not mark the end of your contribution to the ACT community."
Justice Penfold's replacement, Chrissa Loukas-Karlsson SC, will be sworn in on Monday.
Michael Inman is a courts reporter for The Canberra Times