A cutting encounter for hospitality pupils
Watching a master butcher break down a spring lamb with his blade is an enthralling lesson in precision and care.
But what was most surprising for students watching butcher Gary Whetton at work yesterday was that less than a quarter of the lamb could make its way on to a meat tray as sellable product.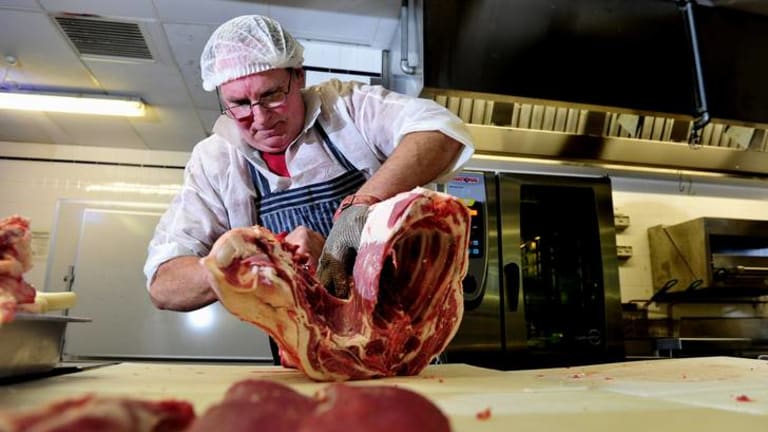 Mr Whetton, a butcher from Mastercut Meats, showed hospitality students from the Canberra Institute of Technology how to break down a carcass of spring lamb as part of the International Secondary Schools Culinary Competition Week.
Lifting three trays, he showed students the waste. One tray of trimmed fat and one of discarded bones, and one of the finished cuts of lamb. A carcass of lamb costs about $135. Butchers generally work with a 33 per cent profit margin.
Discussing the various cuts and cooking techniques with executive chef of the Royal Canberra Golf Club, Neil Abrahams, both men outlined their love of lamb.
''My father and I used to fight over the single lamb shank at dinner, now I bring two,'' Mr Whetton said.
Mr Abrahams said developing a relationship with a local butcher, understanding the product and different cuts was the key to great lamb.
''If you know how to use it, it's a fantastic meat … it can go the other way too,'' he said.
By hand, it takes a butcher an hour to break down a lamb carcass versus three minutes with a bandsaw.
''It's gotten a lot lazier,'' Mr Whetton told students.
Taking questions from the students, the permanently stroppy debate between Australian lamb and New Zealand lamb arose.
So do our woolly neighbours trump us in lamb?
''No,'' Mr Whetton told students flatly. ''New Zealand lamb is older. Don't get me wrong, it tastes okay. but if I had a choice I would go with Australian lamb.''
The Culinary Competition Week will see 18 students from across the Asia Pacific competing this Friday at the CIT Reid campus. Erindale College won the ACT competition last year and went on to the win the international final.
This year, two students from St Edmunds College will represent the ACT and Australia.
Morning & Afternoon Newsletter
Delivered Mon–Fri.