A workplace tragedy
With an 'unprecedented' number of industrial deaths in the past five months, LISA COX examines the ACT's workplace safety system
A week ago, Fiona Vickery's daughter Skye celebrated her 16th birthday.
A group of family and friends marked the occasion together, but there was one notable absence.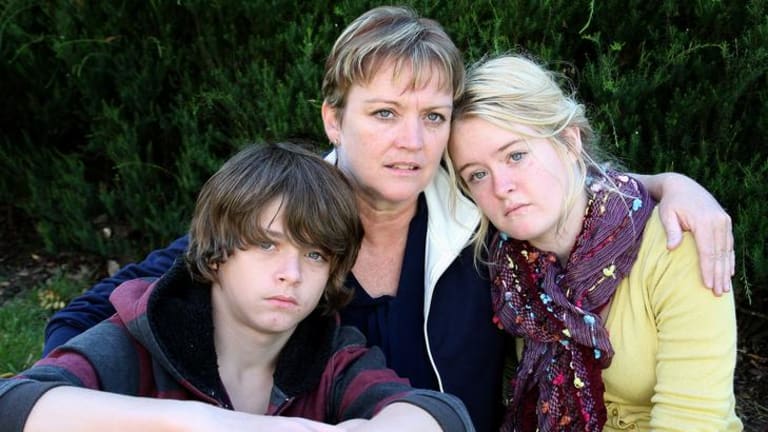 ''We had 20 people there and it just hit me that Wayne wasn't there,'' Mrs Vickery said.
''Life as we knew it has changed.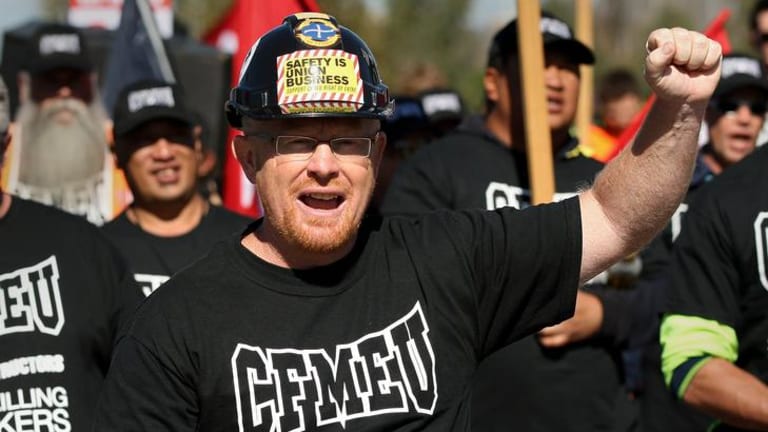 ''Financially, we're ok - we've got a lot of support from the union and the construction industry - but emotionally it's tougher.''
Mrs Vickery's husband Wayne was killed in a workplace accident in December.
The 45-year-old construction worker was on a building site in West Macgregor when he was crushed by a road grader.
Since Mr Vickery's death, two more construction workers have been killed in workplace accidents in Canberra.
A self-employed painter was killed late last month, after slipping and falling from the roof of a one-storey house.
In March, 48-year-old Gunning truck driver Michael Booth died after allegedly suffering an electric shock at a Kenoss Contractors site in Turner.
The Construction Mining Forestry and Energy Union says the deaths, along with a spate of worksite shutdowns due to safety concerns, should serve as a wake-up call to the construction industry.
At a rally yesterday commemorating the international day of mourning for workers killed on the job, Unions ACT secretary Kim Sattler said the number of workplace deaths in the territory in the past five months was ''unprecedented''.
Figures from Safe Work Australia show there were no work-related fatalities in the ACT in 2009-10, two in 2008-09, one in 2007-08 and two in 2006-07.
But the construction industry, Work Safe ACT and the ACT government are reluctant to say the recent jump in deaths is indicative of an overall decline in work safety standards across the city.
''We've got more compliance and regulation in place but workers are still dying,'' Ms Sattler told hundreds workers at yesterday's demonstration.
''It is not good enough that we have all this compliance in place, but we are still giving contracts to employers who pay no regard to those regulations.''
Since her husband's death in December, Mrs Vickery has spent a lot of time asking herself questions about Wayne's accident - things, she says, that ''have been going around in my mind''.
A coroner's report is due any day and she hopes it will give some answers.
''Why was he where he was?'' she said.
''Why was the grader backing up when he was there?
''They shielded me a bit from the detail, I think, but that report will tell me what no one wants to tell me.
''I need to know for my sake and the kids.''
The ACT Greens and the CFMEU have called on the government to give an assurance that it will award contracts for its civil construction projects to companies that demonstrate high workplace safety standards - and not to those that cut corners to offer a cheaper price.
The government denies it prioritises price over safety, which Treasurer Andrew Barr said was ''first and foremost'' when assessing tenders.
Attorney-General Simon Corbell said the government's restructure of WorkSafe ACT in 2010, and subsequent reforms to work safety legislation, were evidence of the emphasis it placed on employee safety in territory workplaces.
But CFMEU ACT branch secretary Dean Hall said the union feared a small percentage of construction businesses were flouting regulations to their commercial advantage, and this was driving down standards across the industry.
''We have people being placed in dangerous situations all the time - people working on roofs without fall protection, equipment in poor condition, machines in poor condition,'' he said.
''People are running the gauntlet every day.
''The tendering process of the ACT government has allowed this to happen.''
The CFMEU also believes the independent authority WorkSafe ACT is reluctant to prosecute safety violations in court.
The union is now preparing to mount a case against one Canberra contractor which it alleges has instructed employees to perform high-risk construction work without the licence required by law.
''We have to do something to send a message to the industry that if the WorkSafe authority is not going to pursue it, we will,'' he said.
''There needs to be more work in terms of being proactive and sending a message to people that we will stop you before someone gets killed.''
Work Safety Commissioner Mark McCabe said in the two years since the creation of WorkSafe ACT, there had been a 50 per cent increase in the number of safety breaches that had been identified at territory workplaces and resolved.
This year alone, the body has issued more than 200 improvement notices and more than 100 prohibition notices to companies that have failed to comply with safety laws.
Mr McCabe said just one business was prosecuted last year, but the number of companies facing charges would reach double figures this year.
''The reality is that we have a raft of prosecutions that are in the pipeline and the difficulty is that we can't talk about them until charges are laid,'' he said.
''That's [prosecution] a really important part of the regulatory activity because if people don't think there's a consequence they will flout the law.''
Mr McCabe said the majority of companies WorkSafe planned to prosecute were in construction and manufacturing.
''Prosecution is necessary sometimes, but a prohibition notice can be very effective,'' he said.
''If you look at the prohibition notice we put on Kenos recently, they were out of business for a couple of weeks.''
Mr McCabe said the government, for its part, should be leading by example when employing companies to deliver infrastructure for the city.
''We would like to see a high emphasis given to safety in the allocation of government contracts,'' he said.
Master Builders Association ACT deputy executive director Jerry Howard said the organisation was concerned about a small percentage of businesses that took a ''tick and flick'' approach to safety on worksites.
The association will hold an industry roundtable this week to discuss the most recent workplace accidents and how employers, workers and the government can all play a part in addressing workplace safety issues.
''I've seen the industry change from a more hands-on involvement with workplace safety to more paperwork,'' he said.
''I certainly think we need those processes, but sometimes I think we overdo it.
''We wouldn't want to get stuck and say the system we have now is working - obviously there's some issues, but we need to work collaboratively to get to the root of the problem and address those issues.''
Canberra Liberals industrial relations spokeswoman Vicki Dunne said the government would need to assess whether harmonisation of occupational health and safety laws across states had made a genuine difference to the safety of Canberra workers.
''There are real problems with the intricacy and complexity of some of the codes, particularly in the building industry,'' she said.
''My question over time will be do you deliver improved workplace safety through those laws?''
Greens industrial relations spokeswoman Amanda Bresnan said the number of deaths in such a small jurisdiction over the past year was extremely concerning.
''My concern is that those incidents have been on government projects,'' she said.
''The next big project is Majura and I hope that when the government is doing that, that work safety is at the forefront and they're not just going for the cheapest price.''
Mr Corbell said the government had a strong track record of protecting workers in their places of employment, but he was eager to see this improve through more inspections of worksites and more
reporting of employers who violated safety laws.
''I urge all Canberrans who participate in construction activities or who are employed in higher risk workplaces to be vigilant, and also provide assistance to regulatory authorities, by informing WorkSafe ACT when bad work safety practices are being observed.''
Mrs Vickery said without the coroner's report on Wayne's death it was too early to tell if the territory's safety regulations should be tightened.
''I personally would like to see them tightened, but if you don't follow them in the first place what's the point?'' she said.
''It just makes it harder for everyone else that's doing the right thing.''
What she can share is the experience of watching her husband go to work one morning, but never seeing him return.
She said the days since Wayne's death had been ''good and bad''.
Things became more difficult when Skye and her son Jay, 13, returned to school in January and she has reduced her work hours to help them cope.
But she says they're not ready for counselling yet.
''We talk a lot about Wayne,'' she said.
''It's not a taboo subject.
''I just hope my children are happy in whatever they do and this doesn't affect them too much, doesn't scar them.
''I'm already old and I've had a pretty good life.
''And I've still got a lot of life left to live.''
Morning & Afternoon Newsletter
Delivered Mon–Fri.